Why do you say "even" comics?


Because, while an amazing medium, the sheer most of them are, inexplicably, even more retarded than movies. Only small handful of comics genuinely achieve something.

Is it true that only a reduced number of comic books achieve something? Is this situation worse than any other medium? Are comic books reduced to this due to some of the best they can offer being relegated to obscurity? And
what
does the sequential art have to offer in its approach and in the original stories created for it?
When I read some posters say they didn't know
Tintin
prior to the 2011 film, I thought on opening this thread so we could share comic book works that might happen to be unkown for other posters but they might find them enjoyable, although later I forgot about it.
I think that some of what I have in mind are classics inside the world of comic book readers but are little known outside of it, others are more obscure, and others aren't obscure at all. My idea is describing comic books of all kinds that I find to be genuinely awesome.
So I thought I'd start with one of my recent loves.
Hungarian Rhapsody
(Vittorio Giardino, 1982).
In 1938, after the destruction of the Hungarian Rhapsody, a French spy group operating in Budapest, the French secret service forces ex-spy Max Fridman to leave his home at Genova, his daughter and his business to investigate the murders. Soon he meets the lone survivor and finds himself the target of every organization in the city.
I'll be honest. I can't help gushing here. The best possible word to describe this book is
elegance
. The artwork is wonderful, meticulous. I love some he plays with shapes to fit small details like reaction shots. Giardino makes the most out the 30's setting, recreating this moment in a time in a way that seems right out of an old film. I also notice great beauty and expression in his women characters; it turns out he's also drawn erotic comic books.
Giardino's world of spies is anything but romantic, however, the humanity of the characters makes it worthwhile.The author makes great use of conventions of the medium; the pace whithin scenes and whithin the whole book is clocked to perfection, managing a very delicate balance of danger throgrhout a story that goes further than it seems initially and that reminds myself of classic novels of the genre. The characterizations are quick and exquisite, and Max Fridman is probably among my favourite spy characters after 90 pages.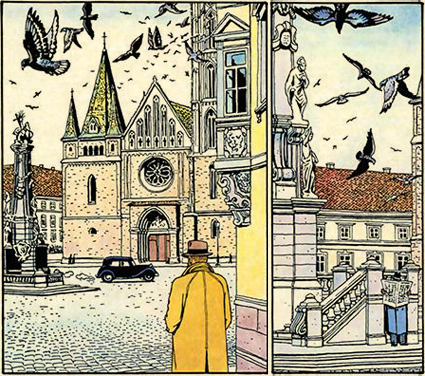 This work destiles an absurd amount of cool at every page. Thankfully, there's more, as this particular series continues in a few more books, with more settings in Istanbul and Spain during the Civil War. Yay for me.