Who uses the standard camera app on a smartphone, anyway? With third party developers offering more creative, responsive and higher quality camera apps for iPhone and Android, there's no reason to stick with stock. So it was with a small piece of advice to my wife that I handed her my phone to take a picture of me and my niece with Darth Vader and the gang from the Cloud City Garrison about an hour before John Williams took the stage at the Hult Center in Eugene, Oregon, last night.
"Hold it with both hands and press the volume key to focus. Let go to take the picture."
My eleven year old niece, attending her first symphony concert, stood next to me and in front of a rather imposing Dark Lord, smiling as dozens of onlookers waited for my wife to finish the job. I got the geeky idea of pulling my hand into my sleeve. Big grin. Check. Picture taken? My wife nods approvingly. We step away and my wife has that "oops" look on her face. The picture is blurry. She mistakenly tapped the screen to focus and moved the phone in the process. So much for my advice.
Right on cue, John Williams bounded on stage looking ageless in his trim black suit and white hair and beard. Roars from the crowd and a quick standing ovation preceded the downbeat for the concert opener, "The Cowboys" Overture. The orchestra performed admirably throughout the piece, and the evening generally. The horns hit a couple clunkers at different points, but nothing to spoil the fun. Kudos especially for the principle flutist who really seemed to have a read on Williams' work. Her playing was top-notch on every piece.
The program was rather conservative. Many of them are staples to even non-Williams-conducted film music nights. After "The Cowboys" came "Excerpts from Close Encounters," a personal favorite, three pieces from "Harry Potter" (including the charming woodwinds-only "Nimbus 2000"), and "Adventures on Earth from E.T."
Williams took to the microphone and spoke mid-way through the first half. He shed light on his reasons to come to Eugene: 1. He always wanted to see the city (and toured the campus earlier that day), 2. Los Angeles recording orchestra flutist who lives in Eugene urged him to give the orchestra a spin, and 3. His longtime music editor Ken Wannberg had retired to Oregon a few years ago (and was in attendance last night). Whatever the reasons, it's nice to have him back in the Northwest. By my count, it's been 23 years since Williams brought the Boston Pops Esplanade Orchestra to Portland.
Part two of the program kicked off with "Theme from Superman" and "Suite from Far and Away." LA Philharmonic violinist Bing Wang then joined Williams on stage to perform two pieces arranged by Williams, "Tango from Scent of a Woman" and "Excerpts from Fiddler on the Roof." Both pieces were nicely played by soloist and orchestra and the crowd seemed to love it all.
The last part of the concert featured a good rendition of three pieces from Star Wars: "Imperial March," "Luke and Leia," and "Main Title." Williams left the stage and returned with Ms. Wang to give us a tender reading of "Theme from Schindler's List" as the night's first encore. After even more applause and ovations (and shouts from the crowd "We love you, Johnny!), we got a nice close out for the evening with "Raiders March." John Williams accepted our appreciative applause and long standing ovation until giving the final "bedtime" gesture and quickly exiting the stage.
It was a winning evening all around and I'm sure something my young nieces will remember for the rest of their lives!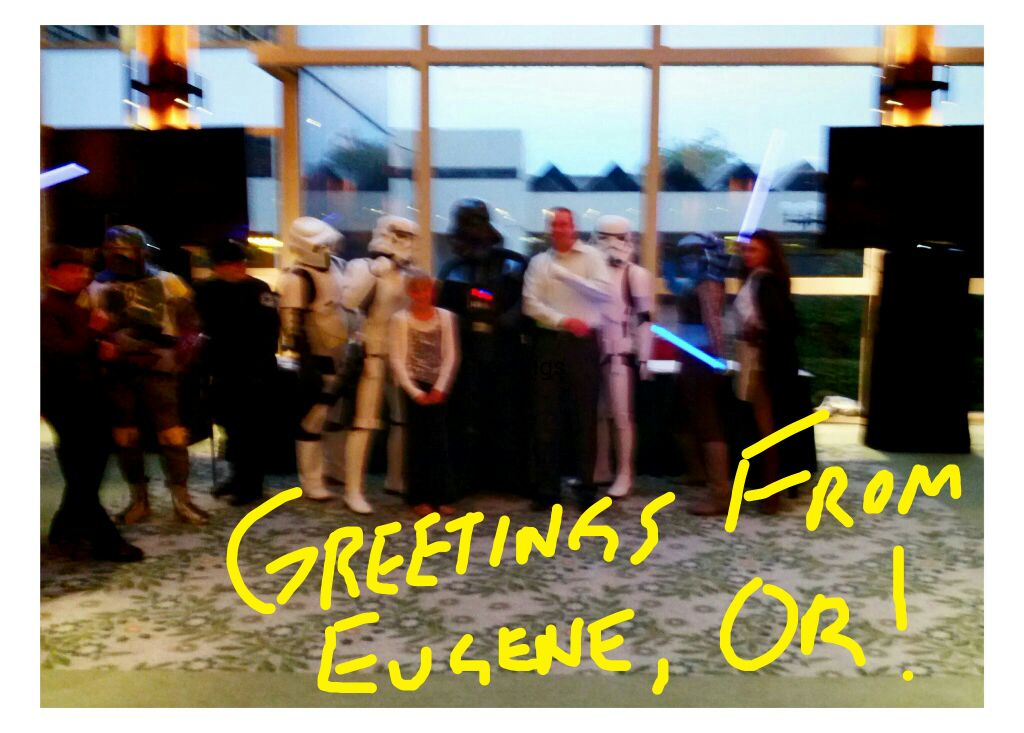 TJH