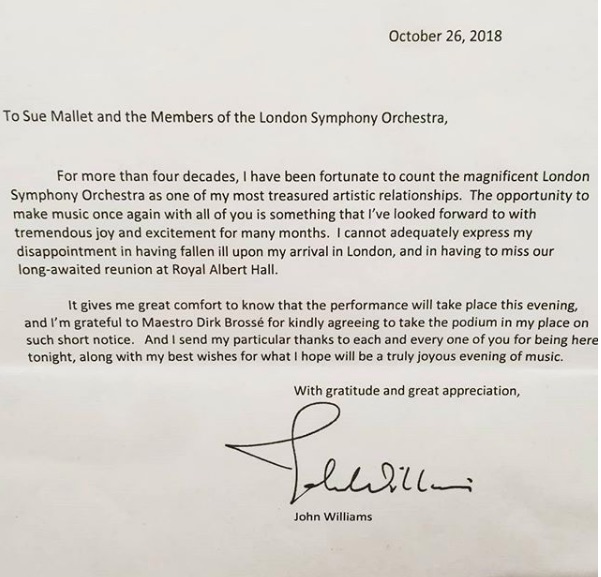 "A CELEBRATION OF JOHN WILLIAMS IN CONCERT"
October 26, 2018, Royal Albert Hall, London, UK
The London Symphony Orchestra conducted by Dirk Brossé
CONCERT PROGRAM
Main Title from Star Wars
Excerpts from Close Encounters of the Third Kind
Three Selections from Harry Potter

Hedwig's Theme
Fawkes the Phoenix
Harry's Wondrous World

End Titles from Dracula
Adventures on Earth from E.T. The Extra-Terrestrial
INTERMISSION
Superman March
A Child's Tale from The BFG
Theme from Jurassic Park
Theme from Schindler's List
(Carmine Lauri, violin)
Three Selections from Star Wars

The Imperial March
Han Solo and the Princess (New Arrangement; European Premiere)
Throne Room and Finale
ENCORES
Theme from Jaws
Yoda's Theme from The Empire Strikes Back
The Raiders March from Raiders of the Lost Ark
(More photos at the Royal Albert Hall website)
REVIEWS
EXTERNAL REVIEWS
The Legacy of John Williams – Members of the orchestra also took the word between pieces to recount anecdotes and stories about their relationship with the composer, showing how much the music of John Williams helped to shape more than one generation of musicians. A couple of lesser-known selections made the way into the program: the beautiful, gothic-laden "End Titles" from Dracula (1979, another collaboration between Williams and the LSO) and the new arrangement of "Han Solo and the Princess" (a.k.a. the love theme from The Empire Strikes Back). But probably the most emotional moment of the evening was the "Theme from Schindler's List", performed with heartfelt nuance by LSO's Principal Violin Carmine Lauri. The evening roared into the ending with three encores (the theme from Jaws, "Yoda's Theme" from The Empire Strikes Back and the immortal "Raiders' March"), sending off the audience with thunderous cheer and applause. – Full review
Soundtrack World — I had heard many stories about the LSO being one of the best (some even say the best) orchestras in the world, and now that I have experienced them perform live, I totally agree with that statement. I have heard many orchestras, from amateur to professional, and when they play film music, it always sounds different than on a soundtrack album. However, most of the music that was played on this night came close to the perfection of a recording. All musicians really played their hearts out for their idol who was listening from a hospital bed. The level of their skill is above any orchestra I have ever heard, and I hope to hear more from them in the future. – Full review
Celluloid Tunes – Sometimes, through disappointment, magical things can happen. The LSO was disappointed, the audience was disappointed and Williams – perhaps most of all – was disappointed he couldn't be there himself (as he related to us through a letter read on-stage). But maybe that became an extra incentive to truly honour a legend in the last leg of his career. – Full review
 Entertainment Focus – It was a wonderful evening full of anecdotes and love for a man whose work has touched the souls of everyone who has ever listened to his music. John Williams is the personification of movie music having delivered some of the most breathtaking and instantly-recognisable themes in cinema history. Tonight was the night where his legacy was honoured by a live crowd who were in raptures of applause between every piece performed. – Full review
The Hollywood Reporter – With beautiful movements from Harry Potter and E.T. seeing out the first half, the second half made the performance all that more affecting and profound. Throughout the course of the performance, individuals of the orchestra would introduce pieces with personal stories of John, adding a great deal of genuine feeling through the sharing of experiences with Williams. – Full review
The Telegraph – At 86, John Williams was to have returned to the UK for the first time in 20 years to conduct the LSO in a celebration of his film work. It came agonisingly close to happening: his plane touched down on Monday, but a sudden bout of ill health stopped him coming. In his place, the Belgian conductor Dirk Brossé, a long-time friend, stepped up to the Albert Hall's podium with a promise to raise the roof, and also banish the bug, since Williams would be listening in from his hospital bed. At this news, the night's biggest cheer went up. – Full review (requires registration)
Classical Source – During the course of the evening LSO instrumentalists spoke of Williams with great affection. Many said that his music had provided the soundtrack to their childhoods. The programme represented a collection of greatest hits designed to show Williams's ability to create stirring epic themes and big open-hearted melodies. Brossé showed both his mettle and his taste and the LSO played with finesse as well as passion. The biggest rarity was the end-titles music for John Badham's Dracula (1979),Williams's excursion into the Gothick. It is tragic as much as macabre and a lament for Dracula's passing. – Full review
Flickering Myth – Much orchestral soundtrack music today is composed by people who are musically proficient but, crucially, poor storytellers. When one watches Williams' music performed live, one cannot help but marvel at the dialogue established between the constituent parts of the orchestra: all of the instruments are audibly communicating with each other to convey the flow of a particular scene, an overarching emotion, or the development of a character's personality. It never devolves into noise for the sake of it. – Full review
Movie Wave – I was so disappointed to miss out on what was surely to be my final opportunity to see Williams conducting in my home country, but the Royal Albert Hall and the London Symphony Orchestra did everything they could to make the evening a magical one in the great man's absence – which they did, to their great credit, extremely well. – Full review
Broadway World – Speaking directly to John Williams, who was said to be listening in hospital, maestro Dirk Brossé encapsulated the thoughts of everyone in the hall when he said, "We love your music yesterday, today and tomorrow. Always." Brossé was a commanding and animated presence on the rostrum, providing terrific entertainment and conducting the orchestra superbly, in his own unique style. – Full review
JWFAN REVIEWS
Review by 'rough cut' (original post)
I wanted to share my thoughts on An Evening with John Williams, the concert given by Dirk Brossé and The London Symphony Orchestra that I had the privilege to attend at The Royal Albert Hall on Friday 26th, 2018. It's not too technical and where I try to get into musical terminology, I'm almost sure I get it wrong. My impressions of seeing The London Symphony Orchestra perform the music by John Williams were wonderful. Writing about each performance, I can't help but getting into my feelings about each piece – which might not be wholly dependent of how the music was performed, which was flawlessly, but I am human.
It was so sad that John Williams wasn't there to conduct himself, and I am sure anyone with a ticket felt a pang of grievance that we would miss a wonderful opportunity to see our hero. In the end however, accepting the loss, it turned out to be a spectacular night, nonetheless.
Star Wars Main Title
It wasn't announced in the program that this would be part of the program, but of course it had to be. I don't know how I didn't see it coming. Was there any other way to open (what would have been) a reunion between John Williams and The London Symphony Orchestra? No, of course not. And what a way to open the show! The LSO hits the audience full force when the musicians strike up that first Bb major chord and I could feel the audience sitting in awe and suspense… We were in for a treat. The piece is played flawlessly throughout. The rebel fanfare stirs something adventurous in us. The strings during Leia's theme soars. Just hearing this iconic cue played by the Orchestra, which were the first to ever record it, was truly an event in itself and I thankful I was there to hear it.
Excerpts from Close Encounters of the Third Kind
During this track – though still early in the concert – it strikes me just how well the LSO plays. I shouldn't be surprised, I've heard them on CD a million times, and this cue in particular close to a hundred. Yet I can't help but feeling amazed. CE3K was performed better than I have ever heard it before.
Harry Potter
The LSO performed Hedwig's Theme, Fawkes the Phoenix and Harry's Wondrous World. I am not a huge fan of the series, I guess I missed the zeitgeist, and I was never an enraptured Potter fan. I like some cues here and there. I think the score works brilliantly in the movie with some stand out cues. I am happy with the three selections Williams made, I can see that they make sense from what I suppose are some of the most popular cues. Hedwig's Theme is brilliant, though it's too reminiscent of the Main Title from Home Alone, which I think is more compelling and it made me want to hear that instead. Fawkes the Phoenix is beautiful, but too meandering for my taste. I'd rather have heard A Window to The Past from "Azkaban". Harry's Wondrous World is fine, bringing some much needed energy into the show at this point.
End Titles from Dracula
I have had the original CD for some time, and find it haunting. I'd come back to it from time to time, but hearing Dracula live opened up the score for me. The LSO performed it hauntingly, with passion and with apt intensity – letting the lurking melody build to a crescendo. I will definitely be returning to the soon-to-be-released "deluxe edition" of the score more frequently.
Adventures on Earth from E.T. The Extra-Terrestrial
Oh, man, what a treat! If someone would ask me to pick one track that somehow, possibly, could summarize the power, energy and beauty of what the magic of John Williams is, perhaps this would be the one to pick. An epic cue, full of bravado and adventure at one turn, full of sadness and loneliness the next. When the piece reached the crescendo at the end I had the biggest smile, tears in my eyes and a soaring heart as the crowd rewarded the LSO and conductor Dirk Brossé with thunderous applause.
Superman March
The ostinato that opens the march encapsulates courage, heroism and righteousness to me. It fills me with expectations of greater things to come. It is both enticing and bold at the same time. I wish it could go on forever, but the LSO has no time to waste. They throw themselves in to the bombastic fanfare and I love every second of it. A fantastic performance.
Suite from The BFG
I totally get some of the hardcore fans wish to see and hear new material performed, and though there are parts of this that I will concede is brilliant, this falls into the Harry Potter-category for me. The melodies doesn't really move me. If it were up to me, and the goal was to choose something from Williams' more recent compositions (that isn't Star Wars related), I'd have chosen something from War Horse or Book Thief, which I consider to have stronger thematic material. However, I am in awe of how the orchestra performs this. It is playful and engaging, and it shows just how versatile and complex Williams can be.
Theme from Jurassic Park
The classic theme plays almost like a guilty pleasure. It's so familiar, and so good, that you just can't help but smile. In spite of it chilling intro played in minor, the melody turns warm major chords and I realize this is one of Williams' most jubilant themes. It sounds like a call for world peace more than a score accompanying rampaging dinosaurs. It is beautiful.
Theme from Schindler's List
During Carmine Lauri soulful playing, there probably isn't a dry eye in the house, and if there were, surely, no hearts were left untouched.
The Imperial March
Could this be the world's most famous march? Surely of the western world, at least. The march is both catchy, yet dark and ominous at the same time. The strings, backing up the main melody, are stirring and beautiful. The LSO performs it powerfully and vigorously. I remember Williams conducting the march at "The Bowl" in Los Angeles in 2016. Then, the crowd all bought out plastic lightsabers, waving them like conductor's batons in the air in sync with the music. No such thing happens here but the audience – which have been sitting quietly enraptured for the full program begins subtly to stomp their feet, wordlessly count the rhythms and can't help but succumbing to humming along.
Han Solo & the Princess
A cue of controversy! Is the 2018 arrangement better than the original or isn't it? It's a matter of preference, clearly. The new arrangement obviously has qualities of "modern" Williams, entangled with the simple, yet hauntingly beautiful melody, that he composed back in 1980. I haven't heard the new arrangement enough to know it by heart, but it seems to me that Williams was unhappy about the arrangement he did for Charles Gerhardt. Maybe he always thought that it relied too much on Leia's theme, and wanted to give it a more clear-cut identity of his own. If he did, he was not alone. I've often wanted an arrangement without the intrusion of "Leia", as I think her theme here becomes too imposing, and is too beautiful on its own merits to be included as an interlude. That being said, at the time of writing, I still think that the original concert arrangement is the preferable one, but if that version is now discounted in the composer's repertoire, I would not substitute the inclusion of its successor for anything. It is a gorgeous.
Throne Room & Finale
A majestic piece of music. Engaging, complex, yet strong, simple melodies, played beautifully. The Throne Room, with the rebel theme fanfare and the cords playing a staccato rhythm in the background, is completely mesmerizing. It is like the Star Wars Main Title and the ostinato from Superman had a glorious child. When The Force Theme kicks in my heart melts. It is the perfect piece of music for the finale. It is triumphant, and the cheers after the last chord fades out just would not stop.
Yoda's Theme
I have always have had mixed feelings about this cue. Though I think it is beautiful, I find it a bit too slow in its movements, not really going anywhere. I would put Fawkes the Phoenix in this category too, but Yoda's theme is better, more playful. The melody is clear and persistent, guiding the listener along, leading them to a safe place, a haven of trust put into musical harmonies. But my categorization of the music is irrelevant – it is expertly played and the sweeping melody is charming and heart touching. One cannot fault Williams' composition, his sensibility and talent for composing music that lands straight into our hearts, as if they had always been there, nor how the LSO performed this classic piece of music.
Jaws
When the low bass tones of the shark theme starts to pump out – very slowly – and then a pause – the audience cheers with excitement! Sitting in the Royal Albert Hall, listening to this, it strikes me what a terrifying piece of music this is. It is like a predator stalking its prey in the opening, and as it progresses it just becomes more and more intense, the melody attacking relentlessly. The percussion echoes a train moving, unstoppable, down a track, leading to sure demise and doom. Speaking of percussion, the performance of Jaws was the only one where I noticed an arrangement that I found just a little "off". The percussion was a bit too loud for my taste. It didn't take away anything from the performance (rather, it opened up for new impressions), it was just unusual to hear it that way.
Raiders Theme
The concert ends with a crowd pleaser. Brilliantly performed and a fine way to conclude a wonderful night. Full of energy, and you could tell that the orchestra was pleased with how the performance had gone. They played loose and the crowd responded accordingly. It almost felt like this night, which had held 5 000 of us in silent awe, turned into something I could almost liken to a pop concert. The feeling was joyful and unanimous. The applause after it all was ear deafening. As the orchestra, after respectful bows to the audience, retreaded backstage, we – the crowd – reluctantly started shuffling towards the doors. Some with tears still hanging in the corner in their eyes, some whistling a melody from the concert that had just gone by, but all with a smile on their face.
In conclusion
Throughout the concert, the audience was respectful, attentive and responsive. We were all transfixed by John Williams' music.
It was a wonderful night. I am glad, and feel privileged, that I had the chance to be in London for such a special event, and all my thanks goes out to John Williams, Dirk Brossé and The London Symphony Orchestra for giving me a night I will surely remember for the rest of my life.
_______
Review by Jason LeBlanc (original post)
We had nice seats on the floor, which would have been great to watch Williams from, but instead was amusing to watch Dirk Brosse wiggle around. Being on the floor meant I couldn't see some if the musicians at all, which was a bummer.
The music was played impecably, I mean the LSO really played the hell out of everything with no mistakes and any tricky parts fully sorted. The brass section was ESPECIALLY on point, everything they played was better than any brass section I've ever heard play live.
I loved hearing Dracula and The BFG, those were the clear highlights. Dracula was so alluring and gothic, and The BFG covers so many ideas in such a well organized way, and is just so playful and fun.
The bummer – for me – was the rest of the of program. Every other piece I had heard so, so, so, so, so many times before. I had heard them all live multiple times, many multiple times by Williams himself, and of course they are all pieces we've heard a million times on CD too. Their original OSTs, re-recordings, complications, etc. It was frankly a bit boring to me to hear some of these pieces live again for the 5th or 6th time, as wonderful compositions as they might be.
I completely understand why this program was chosen, and I mean – bloody hell, if you don't get to go to film music concerts that often, it would truly be an amazing and unforgettable concert no matter who was conducting. I certainly remember the goosebumps I got the first time I heard each of these famous pieces from my childhood live. But that feeling fades with future concerts, especially when it's a conductor I am unfamiliar with.
The whole night truly would have been different if Williams was conducting. There may have been minor differences in how it sounded, it might have sounded the same – I don't know. But I would have been endlessly entertained just by watching Williams conduct them, and especially by watching him going through all the various emotions he goes through as he reacts to what the crowd is giving him in between cues. And boy, would this crowd have brought the thunderous applause and love down on him like never before. It would have been truly and utterly unforgettable.
Instead, as it is, for me personally, it was "just" a really good concert of film music played really well in a spectacular venue. But it wasn't magical.
The more magical part of the day was meeting so many film score gane I've known online for years or almost 2 decades for the first time. I'll never forget that.
_______
Review by Marian Schedenig (original post)
My few minor complaints first: The horns, and at times the woods, were a bit hard to hear over the rest of the orchestra, especially (it seemed to me) in the first half. I thought it may just have been due to my seat (the rest of the brass were elevated, but the horns were behind the strings and nearly invisible for me), but I think people in different seats had the same experience. There were some rather strange echo effects affecting the snare drum in Imperial March and Raiders March, and a bit of the brass also in the latter. And while I was generally a fan of Brosse's often slower tempi, I thought a part of Throne Room was just a tad too slow and dragged a bit.
But those are really insignificant quibbles when contrasted with the concert as a whole. The LSO is of course among the world's top orchestras, and I've heard many great performances from them, both on CD, and several times live. But they were at the top of their game that night, and rarely have I heard an orchestra play that well (technically) and with so much enthusiasm at the same time. Being there at the RAH, you could see in their faces how much they enjoyed playing this music. They were giving it their all, and I don't doubt that they were just as disappointed as all of us that Williams couldn't be there himself. For that alone I'd have loved to compare this to the cancelled Vienna Philharmonic concerts; I don't think that they as a whole have nearly as much affection (or perhaps even respect) for Williams as the LSO does. And the LSO's brass section is out of this world. I'm not a particular fan anymore of the Superman march, or even the Raider's March as a standalone piece, but hearing them played by the LSO's brass in top form is an amazing experience. Acoustics, aside from the above mentioned minor problems, were excellent as well, and I could pick up things that I hadn't heard in 24 years of listening to numerous recordings of these pieces (take that, Hollywood in Vienna, where everything is amplified and you still hear less than at this concert).
As for the programme, of course there's a tonne of other stuff that I would have loved to hear. And like others, I have played some of the CDs so many times that I can't listen to them regularly anymore, and probably wouldn't bother going to hear a random concert with them. But that doesn't mean I don't still enjoy them, and (perhaps also thanks to my interest in classical/orchestral music and its different interpretations in general) I don't think I'll ever stop being excited by a great performance of them. And this concert had them in spades. The Imperial March (my favourite also being the Skywalker Symphony recording) was outstanding. Dracula, with its brooding tempo, held the tension perfectly. Jurassic Park may have been the best version I've ever heard. I've been looking forward to the BFG suite, expecting it to really shine in a live setting, but it exceeded my expectations. We all (well, most of us) like to think little of the score, and theme-wise, it's just solid compared to Williams's earlier works in the genre (if he hadn't written those, I expect we'd be celebrating this as a major masterpiece in the current age of film music). But what Williams does here with an orchestra is incredible and can proudly stand alongside CE3K, and hearing it live shows that even more.
Just based on the performance, this would probably have been one of the best concerts I've attended regardless of the programme. Add the fact that it was a full Williams programme, and you get something truly special.
_______
Review by 'Biodome' (original post)
I don't have too much experience with film music concerts (been in two or three concerts showcasing Williams' music, as well as a few live-to-projection stuff) or even classical music concerts in general, so every time I go to a new show, there are always so many new experiences for me, and I'm at that stage where everything sounds special, even if played by a mediocre orchestra.
So this evening at the Royal Albert Hall was something that I couldn't have imagined in my wildest dreams. I have never been to a majestic venue like that. I have never heard a world class orchestra like the LSO. And I have never seen such a renowned conductor with my own eyes. True, John Williams' illness was saddening, and it could have been so much better, but it was still the best concert experience I have ever had in my entire life.
I don't even care that the programme was Star Wars-heavy, or that there weren't more obscure examples from Williams' work. I was just so immersed by how well everything was performed. Most of the pieces felt just like the CD recording versions, and I could never say the same of the previous concerts by other orchestras that I have attended. LSO seemed to have perfect control of the sound, each section powerful and distinct, yet unprecedentedly balanced, and that sound reverberated through the whole venue, and it felt like the venue was built for the orchestra. It was all so harmonious. I was on the verge of tears all the time – there was nothing else so beautiful that I could even think of comparing this event to.
I must stress that the reason I got the chance to attend this amazing concert is the JWFan community, and, specifically, @PHOENIX who was nice enough not only to get me a ticket for the event, but also got me an even better seat in the front row of one of the central boxes, just minutes before the start of the show! And to think that months before this I was so pessimistic about getting to attend the concert in the first place, seeing as I had heard of the announcement too late, and everything was sold out, except for some speculative, ridiculously priced tickets from reseller sites. I'm eternally grateful to all you guys for giving me a reason to be in London that evening!
Here's the view from the Rausing Circle, by the way. I was so amazed when I went through the doorway and saw this: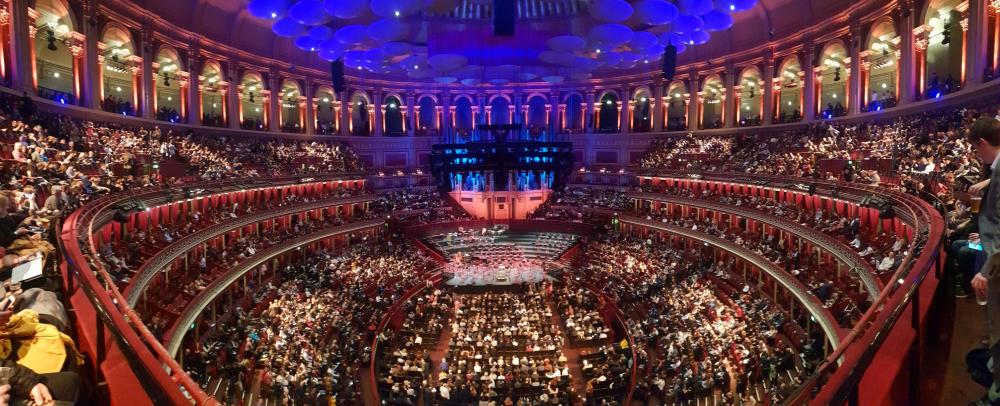 VIDEOS
https://www.instagram.com/p/BpbCe85HQwL/
Dirk Brossé reads John Williams' letter to the LSO
#JohnWilliams sends a letter to @londonsymphony after he had to drop out of Friday's concert at @RoyalAlbertHall due to last-minute-illness. pic.twitter.com/9vmsk2mGWM

— Sebastian Dreßel (@whysebi) October 27, 2018
Main Title from Star Wars (excerpts)
https://www.instagram.com/p/Bpa–w_HztG/
https://www.instagram.com/p/BpbDVVHnOYh
Hedwig's Theme from Harry Potter (excerpt)
https://www.instagram.com/p/Bpaf0iFggZM/
Adventures on Earth from E.T. The Extra-Terrestrial (excerpts)
https://www.instagram.com/p/BpbEzNoHckj/
https://www.instagram.com/p/BpbCMXAH_LO
Superman March
Theme from Jurassic Park
The Imperial March
Han Solo and the Princess
(New Arrangement)
Theme from Jaws
The Raiders March
PHOTOS
John Williams' letter to the LSO
Last night @londonsymphony concert live on @ClassicFM @RoyalAlbertHall celebrating #johnwilliams was simply unique and electrifying. So sad that the composer could not be with us in person and this is what he sent us to wish us a great evening ahead. Unforgettable for all of us pic.twitter.com/69fILEVfIe

— Carmine Lauri (@MalteseFiddler) October 27, 2018
https://www.instagram.com/p/BpZ15nRBQjI
https://www.instagram.com/p/Bpa_PwcnoI8/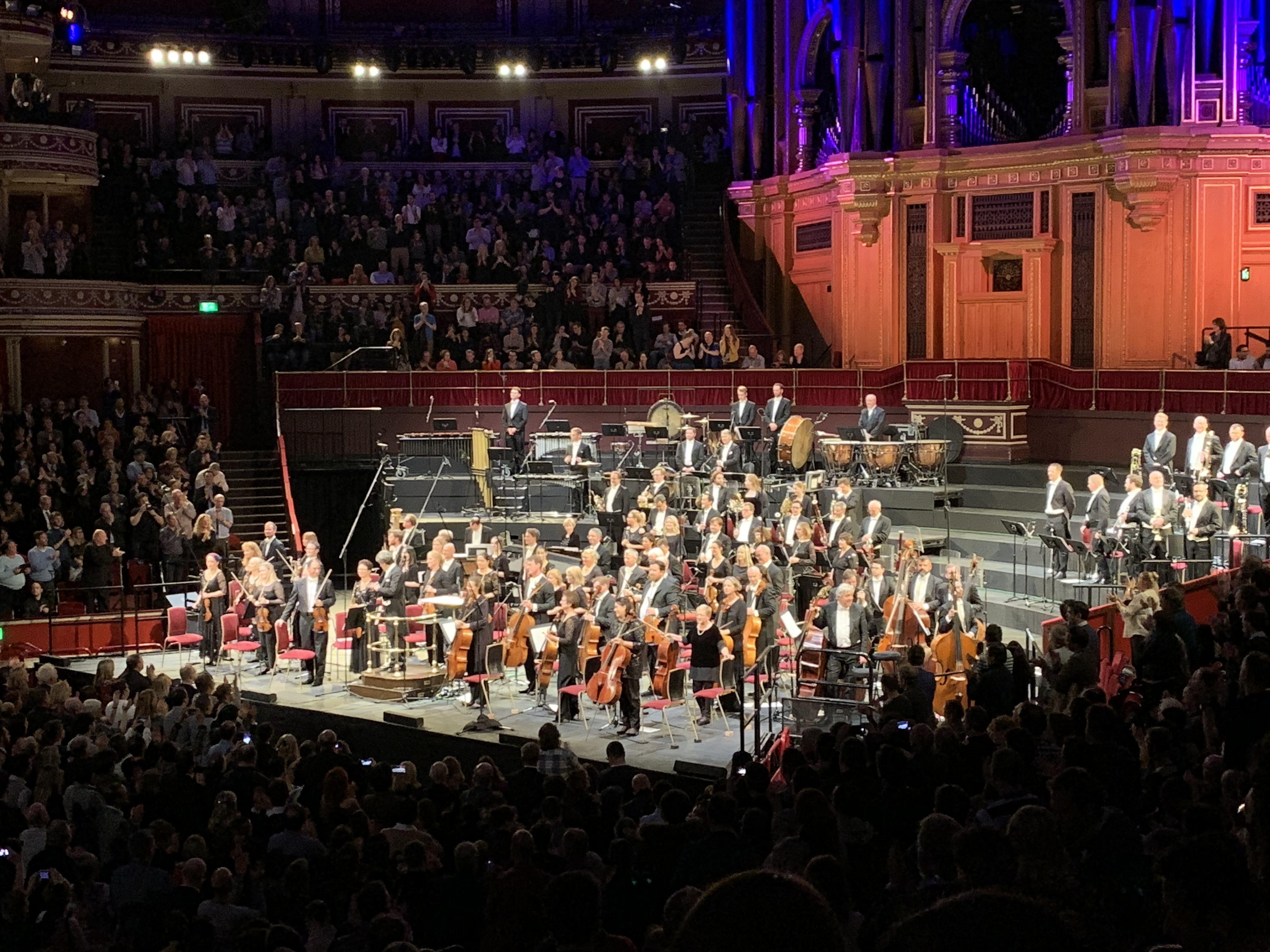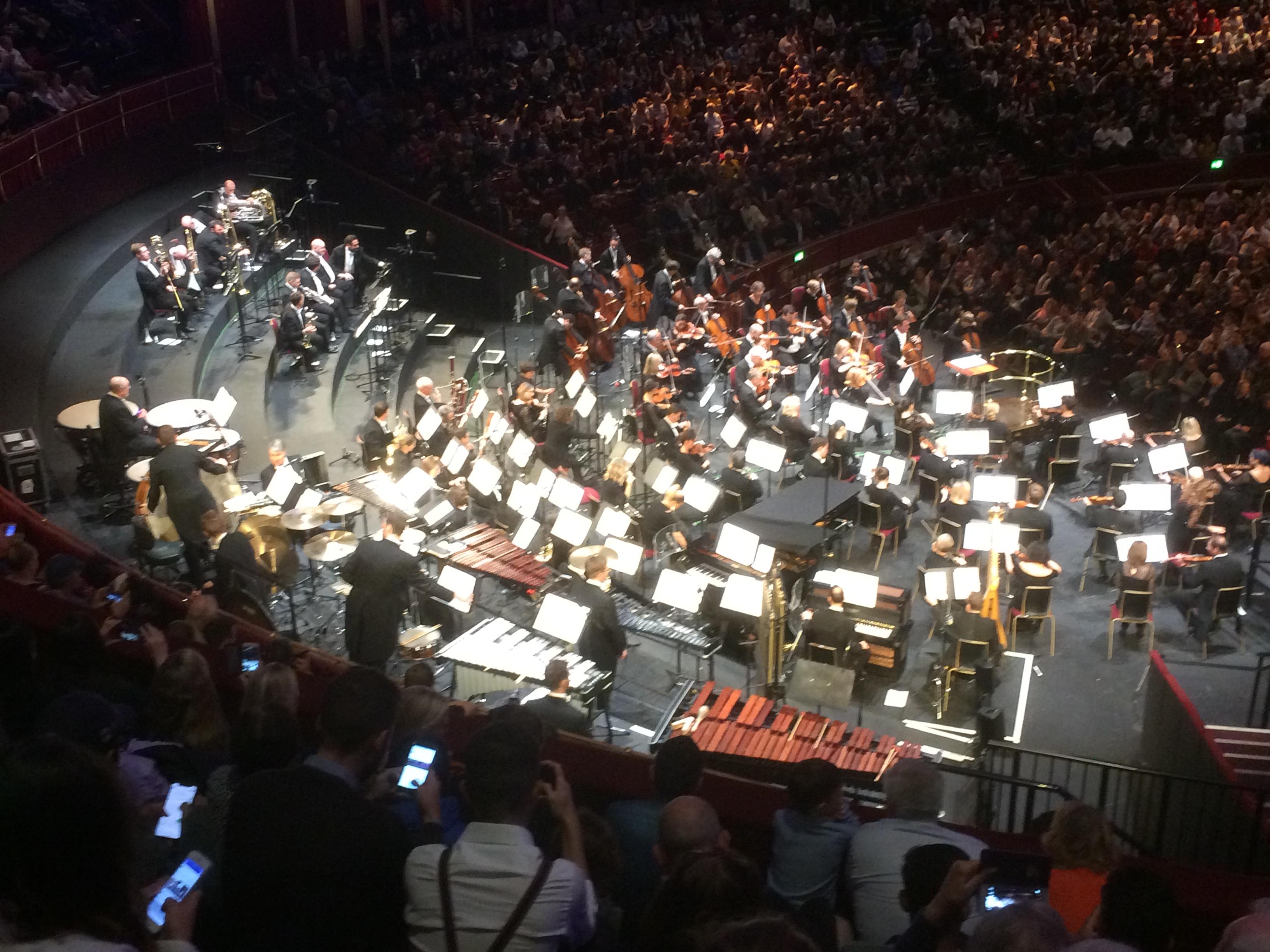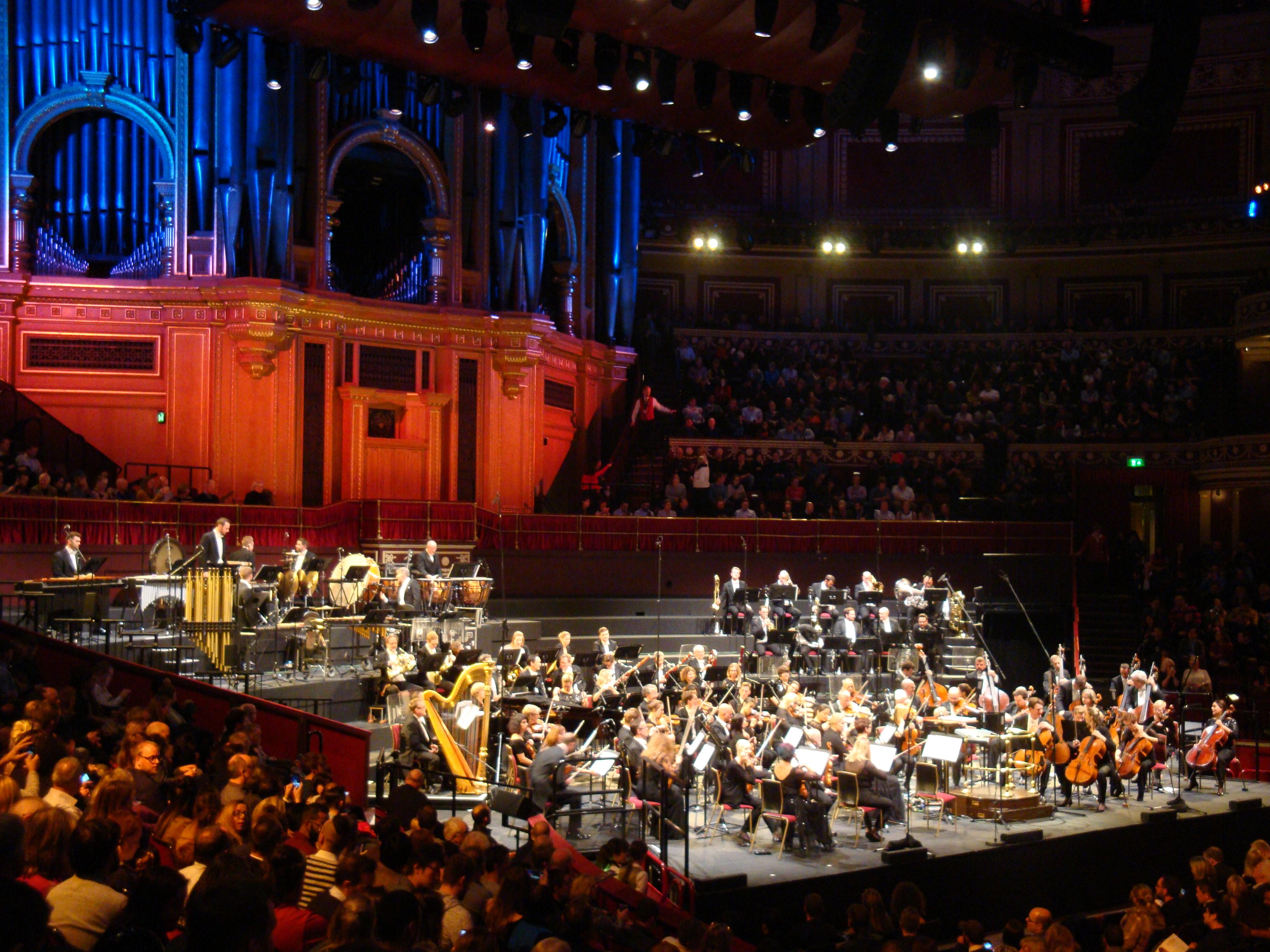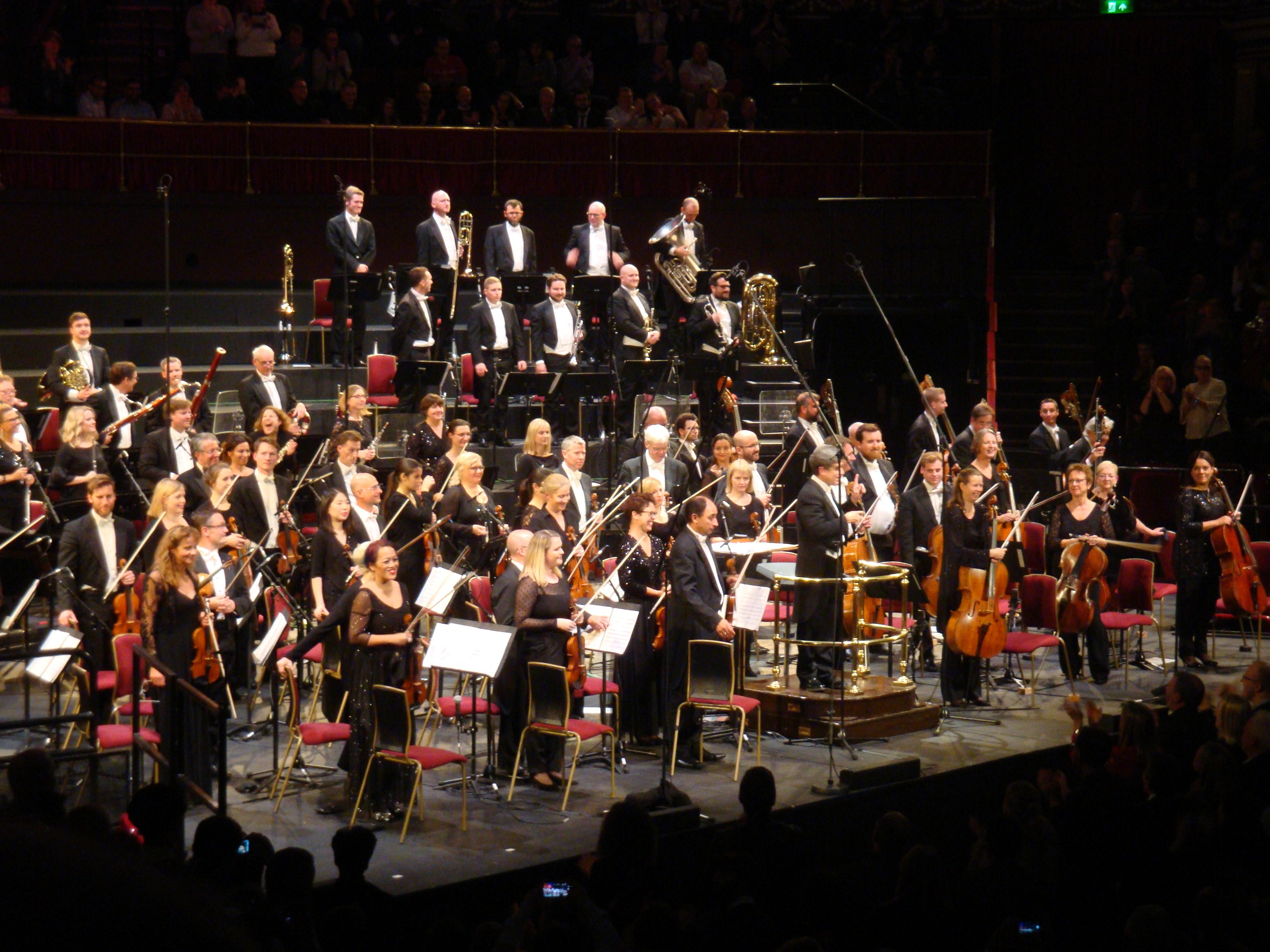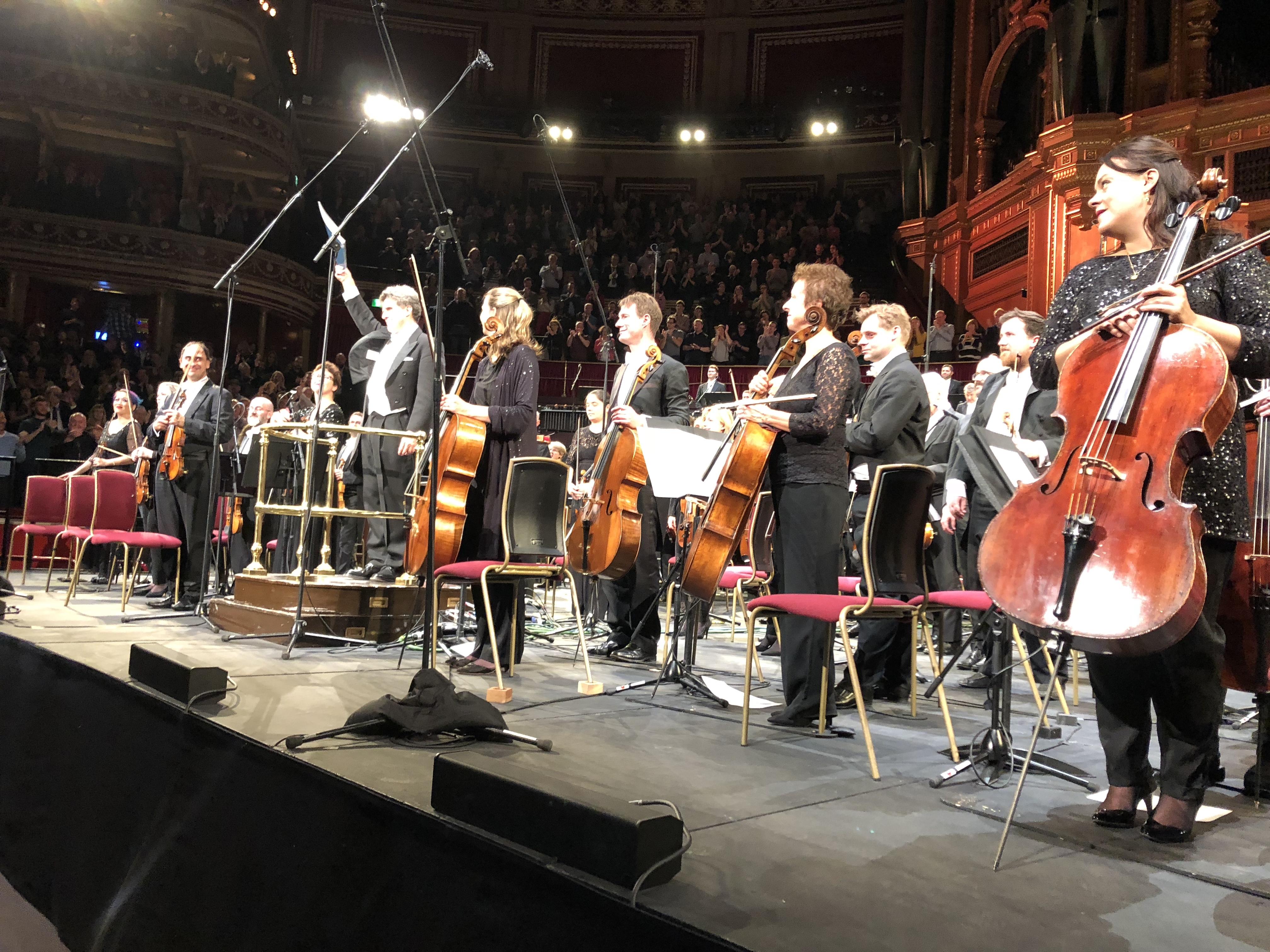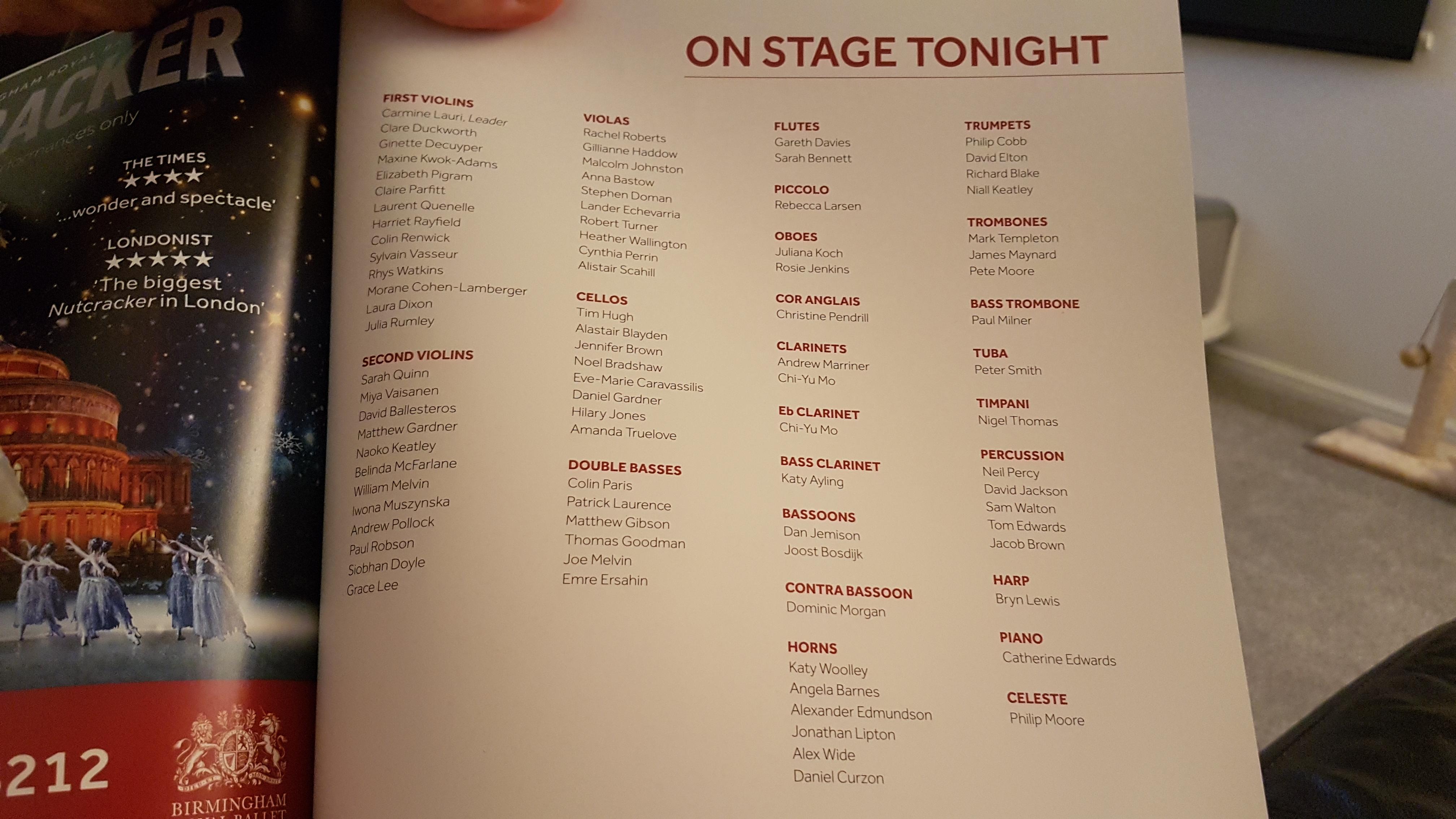 https://www.instagram.com/p/BpacV3oHiIQ/