'A CELEBRATION OF JOHN WILLIAMS'
March 2, 2019
New World Symphony orchestra conducted by JOHN WILLIAMS, MICHAEL TILSON THOMAS, SARAH HICKS and FRANCESCO LECCE-CHONG
Itzhak Perlman, Special Guest
CONCERT PROGRAM
Michael Tilson Thomas, conductor
– Olympic Fanfare and Theme
Francesco Lecce-Chong, conductor
– Excerpts from Close Encounters of the Third Kind
Michael Tilson Thomas, conductor
– Second movement from The Five Sacred Trees, Concerto for Bassoon and Orchestra
Sarah Hicks, conductor
– Harry's Wondrous World from Harry Potter and the Sorcerer's Stone
– Opening Sequence from Raiders of the Lost Ark

Michael Tilson Thomas, conductor
– Main Theme from Star Wars
– Happy Birthday
John Williams, conductor
– Adventures On Earth from E.T. The Extra-Terrestrial
– Theme from Schindler's List (Itzhak Perlman, violin)
– The Imperial March from The Empire Strikes Back
VIDEOS (FULL CONCERT)
REVIEWS
JWFAN REVIEWS
Report by 'JohnnyD'
"Music is there for everybody. It's a river we can all put our cups into and drink it and be sustained by it"
That quote is on top of a large standing poster inside the entrance of the New World Center. At the center is the Maestro conducting. The top left corner is an image of Luke, Leia, R2-D2 and C-3PO from The Empire Strikes Back. The top right corner is the iconic image from E.T. The bottom left corner is a picture of the baby raptor hatching scene from Jurassic Park. The bottom right corner is a picture of Indiana Jones and his father from Indiana Jones and the Last Crusade.
I am thrilled to be there.
While I could not afford a ticket to the gala event, I am right outside the New World Center, the location of the gala event, where they are doing a free live simulcast of the concert.
There is a legion of Imperial Stormtroopers right outside. They are taking pictures and mingling with guests. I honestly was not expecting that, but I was not surprised either.
I am truly glad that I am able to experience this concert.
Michael Tilson Thomas opened the concert by conducting the Maestro's Olympic Fanfare and Theme, with montage of the 2018 Olympics accompanying.
Then, Excerpts from Close Encounters of the Third Kind accompanied by scenes from the film.
Second movement from The Five Sacred Trees – Concerto for Bassoon and Orchestra.
Harry's Wondrous World, accompanied by a montage of all eight films.
Opening sequence from Raiders of the Lost Ark, matching the film.
Michael Tilson Thomas celebrated the Maestro's birthday with a performance of the song in the style of 17th century Venice. A nice treat.
The Maestro himself conducted Adventures On Earth from E.T.
The Maestro conducted Theme from Schindler's List, with special guest Itzhak Perlman, a surprise to myself and everyone. After that, he shared his anecdote about seeing the film for the first time with Steven Spielberg. It is still funny every time he shares that.
The evening concluded with the Maestro conducting The Imperial March.
The evening was a phenomenal tribute to Maestro John Williams. The New World Symphony performed beautifully.
PHOTOS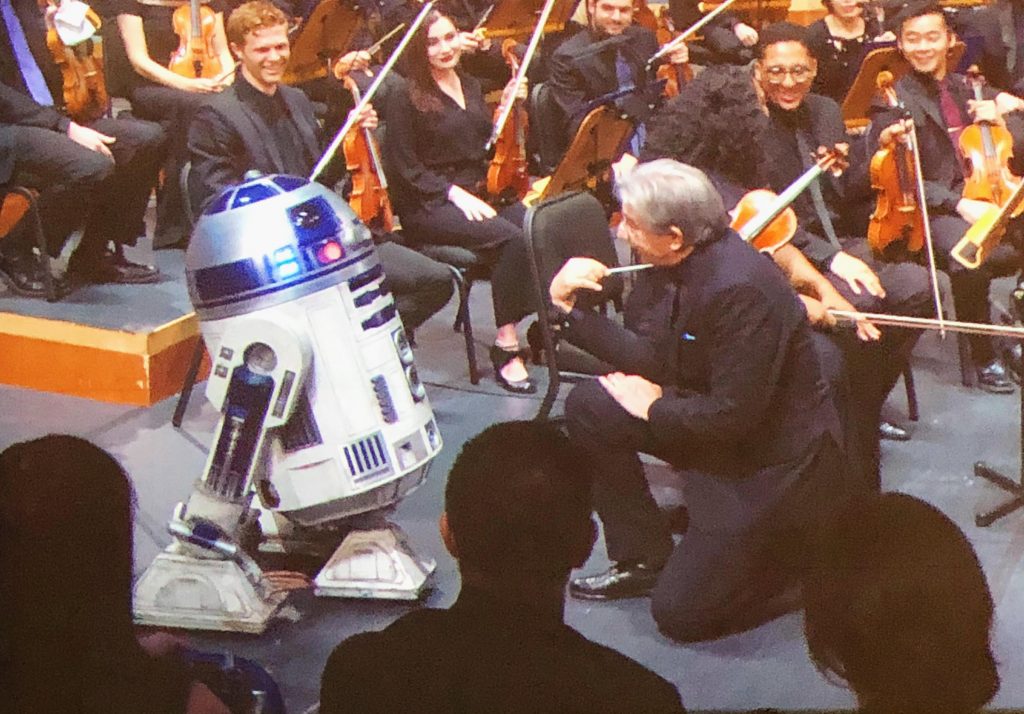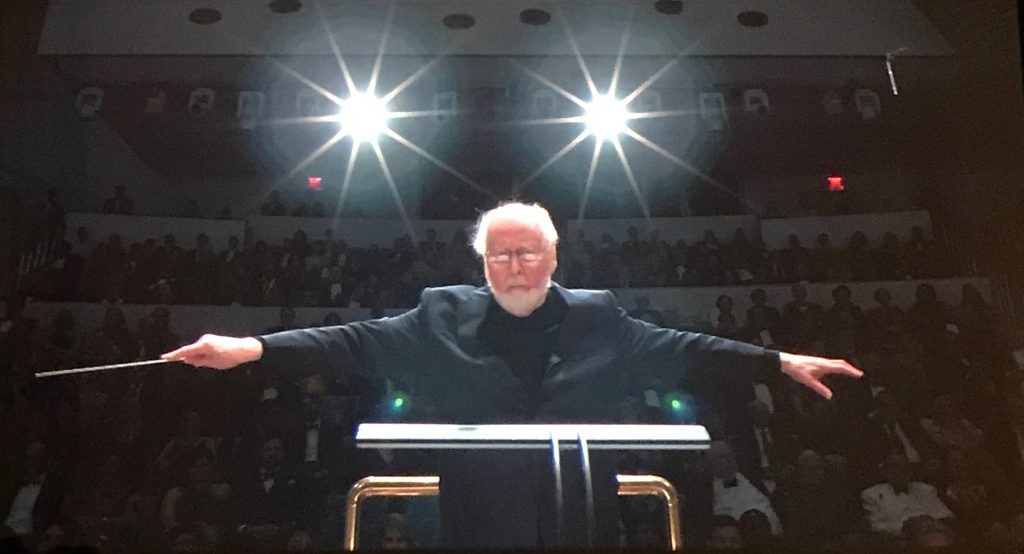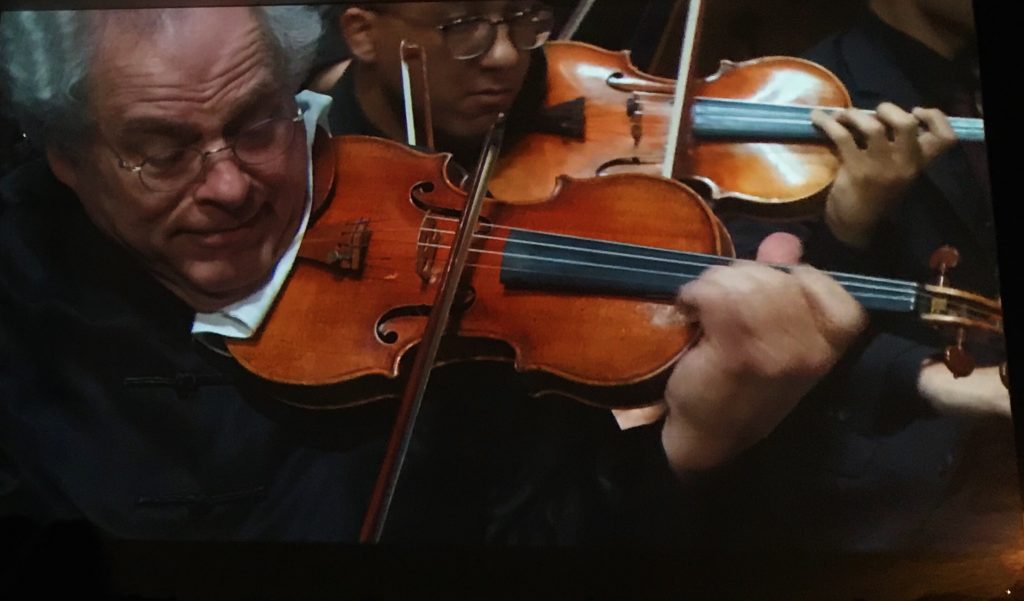 (Photos by Daniel Cape)
Snapshots with some special guests from the @NWSymphony gala rehearsals. #JohnWilliams #StarWars #R2D2 #NWSGala pic.twitter.com/vKkjT81FBi

— M. Tilson Thomas (@mtilsonthomas) March 9, 2019
https://www.instagram.com/p/Bu6wpaMgw7Z/
VIDEOS
Adventures on Earth from E.T. The Extra-Terrestrial
https://www.instagram.com/p/BuiLK5-HLZp/
The legendary #JohnWilliams conducts "Adventures on Earth" from E.T. during tonight's 31st Anniversary Gala. #NWSGala pic.twitter.com/ODgp06nhvE

— New World Symphony (@nwsymphony) March 3, 2019
Theme from Schindler's List
https://www.instagram.com/p/BuiKdNAHc3n/
When #R2D2 brings you your baton before conducting the #StarWars theme… @mtilsonthomas #whatanentrance #NWSGala pic.twitter.com/LDoFuwl7Ju

— New World Symphony (@nwsymphony) March 3, 2019