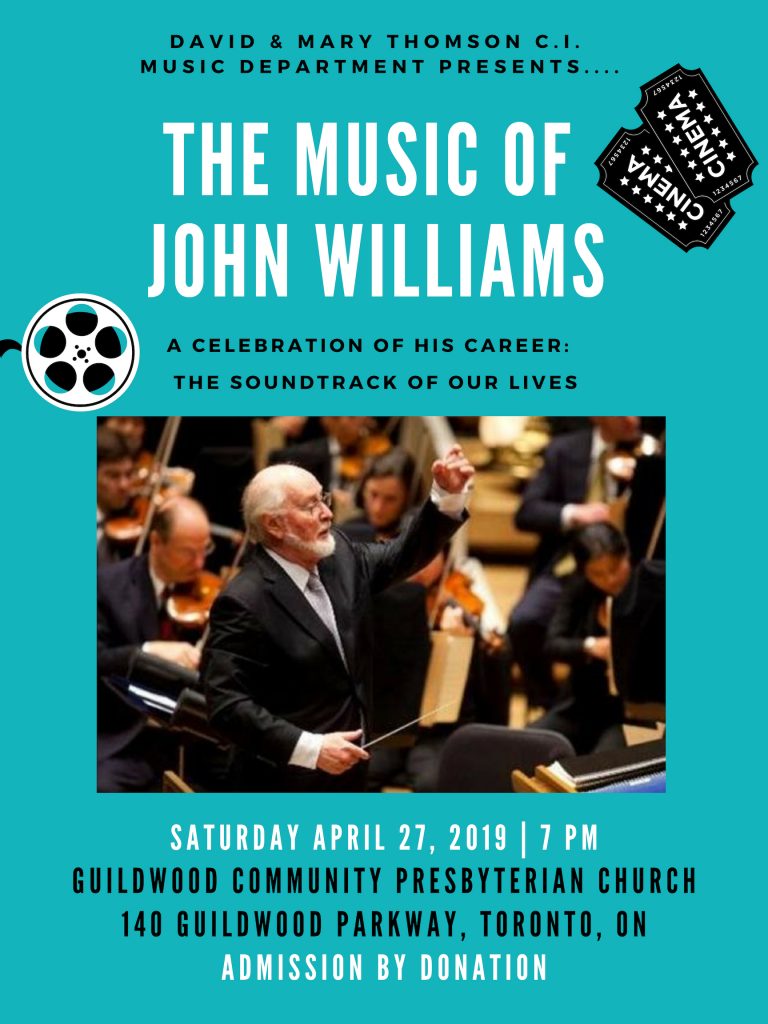 "THE MUSIC OF JOHN WILLIAMS"
A Celebration of his career: The soundtrack of our lives
April 27, 2019
Guildwood Community Presbyterian Church, Toronto, ON
Featuring the students in the music department of David and Mary Thomson Collegiate Institute.
"John Williams has a big connection to Canada with his time in Newfoundland during the 1950s. Our music department is putting on a John Williams tribute concert on Saturday, April 27, 2019 @ 7pm.
The music we will be playing will be a dignified attempt at showcasing his entire career with not only music but researched stories about John Williams to augment the performances, including his time spent here in Toronto using our very own Toronto Mendelssohn Choir for the Immolation track on Schindler's List where he recorded at the famous Glenn Gould Studio in downtown Toronto.
We will have our Wind Ensemble with our most promising musicians as well as Hal Leonard Signature Edition performances for solo instrument with piano."
CONCERT PROGRAM
Olympic Fanfare & Theme (program opener and adapted for pipe organ)
Theme from The Reivers
Theme from Jaws
Star Wars Suite
I. Main Title from Star Wars
II. Duel of the Fates from The Phantom Menace
III. Imperial March from The Empire Strikes Back
IV. Yoda's Theme / Imperial March Reprise from The Empire Strikes Back
Superman
I. The Planet Krypton
II. Can You Read My Mind?
If I Were in Love, from Yes, Giorgio
Adventures on Earth from E.T. The Extra-Terrestrial
The Raiders March from Raiders of the Lost Ark
Theme from Born on the Fourth of July
Theme from Far & Away (adapted for flute & piano)
INTERMISSION
Theme from Jurassic Park
Theme from Schindler's List (adapted for flute & piano)
Sabrina
Main Theme
In the Moonlight
The Days Between from Stepmom (adapted for flute and piano)
For Always from A.I. Artificial Intelligence
Harry Potter Suite
I. Hedwig's Theme
II. Nimbus 2000
III. Family Portrait
The Terminal (clarinet & piano)
Lincoln
The American Process
With Malice Towards None
Suite from Star Wars: The Force Awakens
I. Main Title
II. Rey's Theme
III. March of the Resistance
IV. The Jedi Steps & Finale