'ACROSS THE STARS: MUSIC OF JOHN WILLIAMS' 
July 7, 2019, Koussevitzky Music Shed, Lenox, MA
The Boston Pops Orchestra conducted by JOHN WILLIAMS and DAVID NEWMAN
* ANNE-SOPHIE MUTTER, Violin
CONCERT PROGRAM
David Newman conducting
Star Wars: Galaxy's Edge
Theme from Jurassic Park
Rey's Theme from The Force Awakens *
Across the Stars from Attack of the Clones *
Donnybrook Fair from Far & Away *
Harry's Wondrous World from Harry Potter
Night Journeys from Dracula *
Princess Leia's Theme from Star Wars *
The Devil's Dance from The Witches of Eastwick *
INTERMISSION
John Williams conducting
Superman March
Theme from Sabrina *

Sayuri's Theme from Memoirs of a Geisha *
The Duel from The Adventures of Tintin *
The Flying Theme from E.T. The Extra-Terrestrial
The Chairman's Waltz from Memoirs of a Geisha *
Love Theme from Cinderella Liberty *
Hedwig's Theme from Harry Potter *
ENCORES
Yoda's Theme from The Empire Strikes Back
Remembrances from Schindler's List
The Raiders March from Indiana Jones
Main Title from Star Wars
PHOTOS & VIDEOS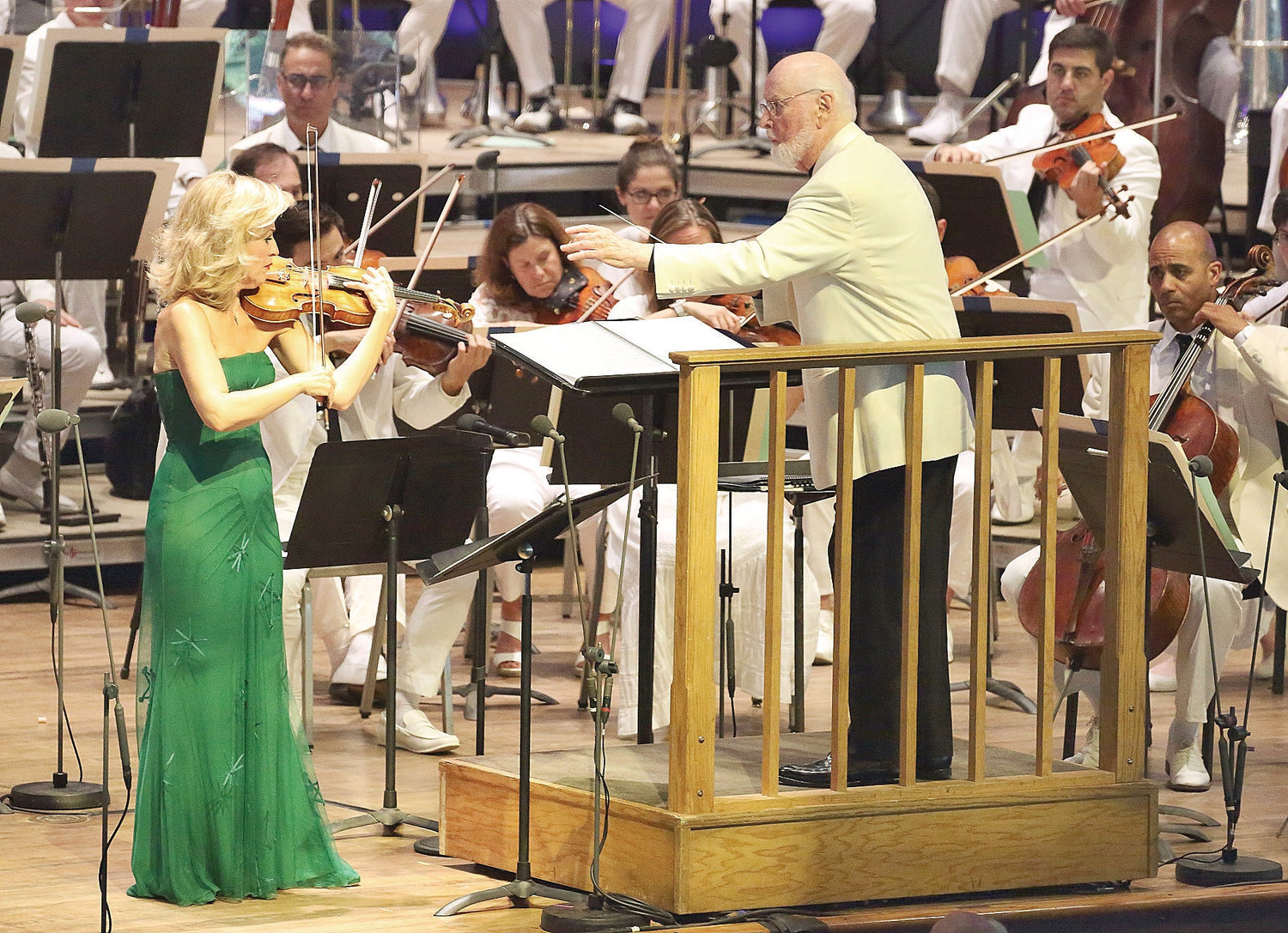 https://www.instagram.com/p/BzodKOChEfJ/
#johnwilliams and @mutterviolinne taking a bow today after an extraordinary concert @TanglewoodMA ⤵️

Check out the album on Aug. 30, 2019 @DGclassics#acrossthestars pic.twitter.com/XBBHMZOHsw

— Semantix Creative Group (@semantixcreativ) July 7, 2019
https://www.instagram.com/p/BzujCeUBIiJ/
https://www.instagram.com/p/Bzo4-YRBEi0/
REVIEWS
EXTERNAL REVIEWS
The Berkshire Eagle – As one might expect, no one conducts Williams' music like the composer. Despite his initial skepticism about adapting his scores for an iconic violinist like Mutter, he explained how they first met during a Tanglewood weekend several years ago.Since he had crafted showpieces for Itzhak Perlman, Gil Shaham and Yo-Yo Ma, among others, "she asked me to write at least nine measures of music for her," Williams recalled. Although too busy, after receiving a box of Bavarian Christmas cookies from Mutter, "I felt great guilt," he confessed. –  Full article
JWFAN REVIEWS
Review by 'Falstaf' (original forum post)
Don't have time to go into that much detail, but I can summarize a few things.
First, with the exception of the Sabrina arrangement, the two from Memoirs of a Geisha, and the Schindler's List encore, every violin arrangement was new. Even the pieces he's arranged for violin before are considerably expanded and transformed, especially the Far & Away and Witches of Eastwick scherzi. The versions of Rey's Theme and Yoda's Theme were the same as the YouTube previews that were released last week. The Hedwig's Theme arrangement is lengthier than the YouTube version, with most of the newer material coming towards the end, including a mini cadenza and some broad material for orchestra when the opening theme returns, IIRC. The treatment of Leia's theme was, as many have noted, a real revelation, even though structurally, only the opening really differs hugely from the original arrangement. Eagle-eared listeners may have noticed a very brief allusion to the Han & Leia love theme in solo horn in measure 4. Notably, the ending is quite shortened following the arrival at the big climactic B-major chord, essentially bypassing some of the accustomed woodwind material transitioning immediately to where the solo violin comes in in the original arrangement.
Of special interest to me, since I gave a pre-concert talk on it, was that the Across the Stars arrangement. The version premiered at Tanglewood was a slightly different, updated version compared to the YouTube version w/ A-SM that we've been listening to for a month or so now. The opening introductory passage is ever so slightly modified such that the penultimate chord is a straight G-Minor rather than the E-halfdim from before. (Why, I cannot imagine.) More substantially, the second rotation of the Main Love theme is stated more fully before the climactic middle section, where it had sounded clipped and developmental before. There may have been a few more spots with alterations, but those are the two big ones I noticed. It's a *big* improvement for an already stellar reimagining of this theme.
Galaxy's edge was basically the same as the commercially released suite, including the presence of the opening fanfare. The one big difference is the trimming of everything from 3:18-3:38, for brevity's sake I guess.
Amazing concert!
Review by 'lairdo' (original forum post)
The concert was long – 2.5 hours or just over depending on if you count that they started the normal 5 mins late (at 2:35 instead of 2:30 pm). Williams was out there for 100 minutes, Newman just for 55. (25 min interval.) Anne-Sophie was probably on stage over an hour in total. Must have been more with applause etc. I loved after The Duel from Tintin that she and Williams sort of shadow sword fought – baton vs. bow. I also loved that JW got a standing ovation just for showing up to start the 2nd half. (I think I might have been the first on my feet in our section!) JW seemed energetic and with it. He had some issues with the step to the podium, but once atop, his energy and attention to everything the Pops were doing was intense. You get the sense of his skill as a conductor watching from up close and also seeing how rapt the players are in following his lead, Ms. Mutter included.
It's hard to say what was my favorite part. First, JW told some nice stories which is always great. Second, Leia's theme was lovely as written about by others on this thread, and as Falstaff mentioned (sorry to miss your talk – did not know about it!), Hedwig's Theme was longer than the release so far, and I liked it more as this longer version. Ending on Raiders is always special for me as an Indy fan. But really, it was this sense that something amazing was on stage. These new pieces have a chance to enter the general concert repertoire in a way that only Schindler's List and Geisha have in terms of "serious" pieces of hard to play music that can show up in concert programming. And more over that aspiring musicians may try to master and learn from. I love most of Williams' concerti, but they are just played that often. I think these may become more likely to be heard, and I expect Anne-Sophie will use them as encores and parts of her program for years to come. Most are not just orchestrations – they are truly arrangements of themes we love. Let's never forget that JW spent many an hour arranging for the likes Shelly Mann and Henry Mancini. These may not be jazz like his pieces for them, but there is still fundamental quality to how to treat and develop material. Plus, he had to work in cadenza challenges for Ms. Mutter in a way that might parallel a jazz solo.
Concert attendance was a bit sparser than I would have thought – although certainly well attended. Lots of empty seats around, but with the lovely weather, the picnic grounds were packed. (My wife and I attended the Saturday night BSO concert which included the Previn concerto written for and played by Anne-Sophie, and it was raining, so only people under the Shed were in attendance.) At dinner Sunday night, we overhead two couples discussing Sunday's concert, and one of the four said he was happy to sleep through it! I wanted to have a word with him, if you know what I mean. Happily his wife, who clearly is the smart one in that family, came to the rescue and told him she enjoyed hearing these themes on violin and the artistry of the playing.
What else to say? As a first weekend ever at Tanglewood, my wife and I were blown away by the beauty and fun. She's wearing her Tanglewood t-shirt today as we fly home. We have spent many nights at the Hollywood Bowl, and this beats it. We actually stayed after the concert just to walk the grounds for an hour and soak in the views and ambience. And who knows when we will get to see JW conduct again? So, if this is the final time, it was one for the ages – amazing music, great atmosphere, world premiers, a glorious soloist and a magical summer afternoon.
Report by 'rpvee' (original forum post)
Just heard the new Leia's Theme arrangement at Tanglewood! It's gorgeous. Becomes truer to the original once it gets going, but the first minute or so is really mysterious (even E.T. like in a way with those mysterious, spacey kind of bells). There was one statement of the main theme in the middle where do think Mutter's solo bits over it were a bit too busy and different from what the orchestra was doing, but it balanced out when the orchestra got its big solo statement of the theme at the end before Mutter joined in for the big finale.
Definitely will be a bonus track or something at some point. Really beautiful, and summed up everything Leia has been through since the original arrangement in 1977 and Carrie's passing.
Report by 'lairdo' (original forum post)
I completely agree – that was amazing, and in fact, I really enjoyed all the pieces, as did my wife.
All this material will be released somehow or in some fashion. No way they would have recorded it and left it in the can.
I also have to say that Ms. Mutter seemed much happier and comfortable with JW than with David Newman, but I suspect that will change once she and David have time to practice for the September concert in Munich.
Report by 'Cerebral Cortex' (original forum post)
Perhaps I'm still just reeling from the experience of seeing Williams live but I feel like that arrangement of Leia's theme is my favorite take on the piece. Like rpvee said, and I hadn't really thought about, it seems to nicely sum up Leia's character as a whole. I can't help but think that some of the more intense violin parts were written with Carrie's passing in mind.
The concert was fantastic, as was to be expected. Williams seemed in good spirits and health. Was super impressive seeing how deftly and energetically he manned the podium. When it came time for him to conduct "The Duel" from Tintin, his baton was nearly a blur. He gave four encore performances. First one was the new arrangement of Yoda's Theme, followed by his Star Wars main titles/end credits arrangement from ANH that he usually plays at concerts, third was the new arrangement of "Remembrances," and then he closed up shop with some good ol' Indiana Jones. Williams came out a fifth time and mimed with his hands under his head like a pillow that he needed to go to bed.
One neat little bit of trivia is that Alan Silvestri was in attendance with his wife in the third row or so to watch Williams.