HAPPY ST. PATRICK'S DAY!
LA-LA LAND RECORDS PRESENTS
"FAR AND AWAY: LIMITED EDITION (2-CD SET)"
Music by John Williams
Limited Edition of 3500 Units
RETAIL PRICE: $29.98
STARTS SHIPPING MARCH 13
NOW AVAILABLE at www.lalalandrecords.com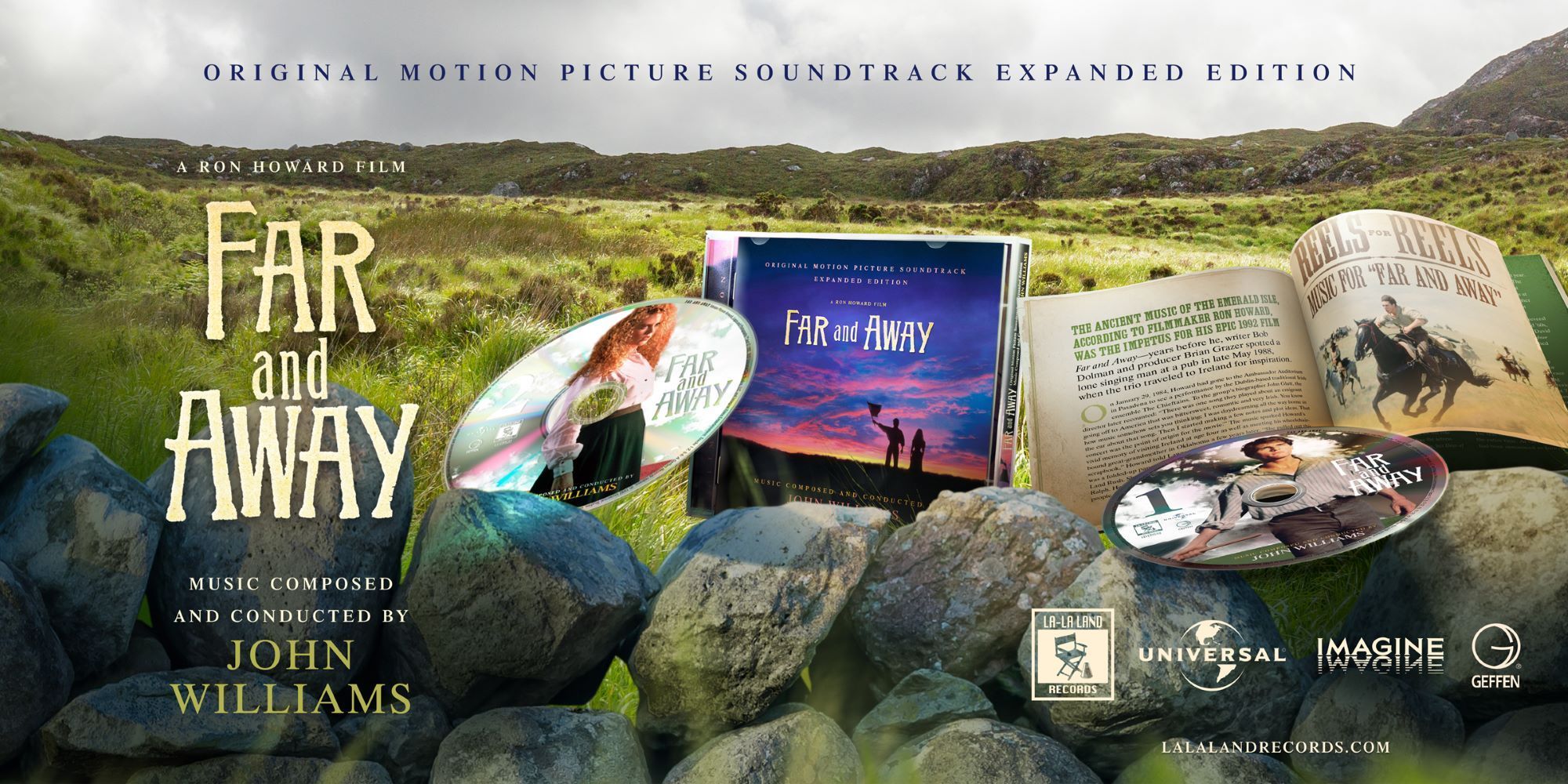 La-La Land Records, in association with Universal Pictures, Imagine Entertainment and Geffen Records, proudly present the remastered and expanded 2-CD reissue of renowned composer John Williams' (CLOSE ENCOUNTERS OF THE THIRD KIND, SUPERMAN: THE MOVIE, E.T. THE EXTRA TERRESTRIAL), original motion picture score to the 1992 period drama FAR AND AWAY, starring Tom Cruise and Nicole Kidman, directed by Ron Howard, and produced by Brian Grazer, Ron Howard and Bob Dolman. Maestro John Williams unleashes a powerhouse orchestral score for this lavish and historic romantic epic, set against the giant canvas of the Oklahoma Land Rush of the early 1890s. With powerful contributions from legendary Irish musicmakers The Chieftains, Williams creates a musicscape that swells with traditional Irish sounds and themes — expertly blended within the dramatic and romantic orchestral swirl. This restored 2-CD release showcases this glorious music in deluxe fashion – with the composer's original score as recorded for the film expanded beyond its original 1992 soundtrack and featuring a selection of alternate cues. Produced, edited and mastered by Mike Matessino and supervised by the composer, this expanded 2-CD program also takes you behind the film and its score with Matessino's exclusive liner notes. Jim Titus provides the classic art direction. This is a limited edition release of 3500 units.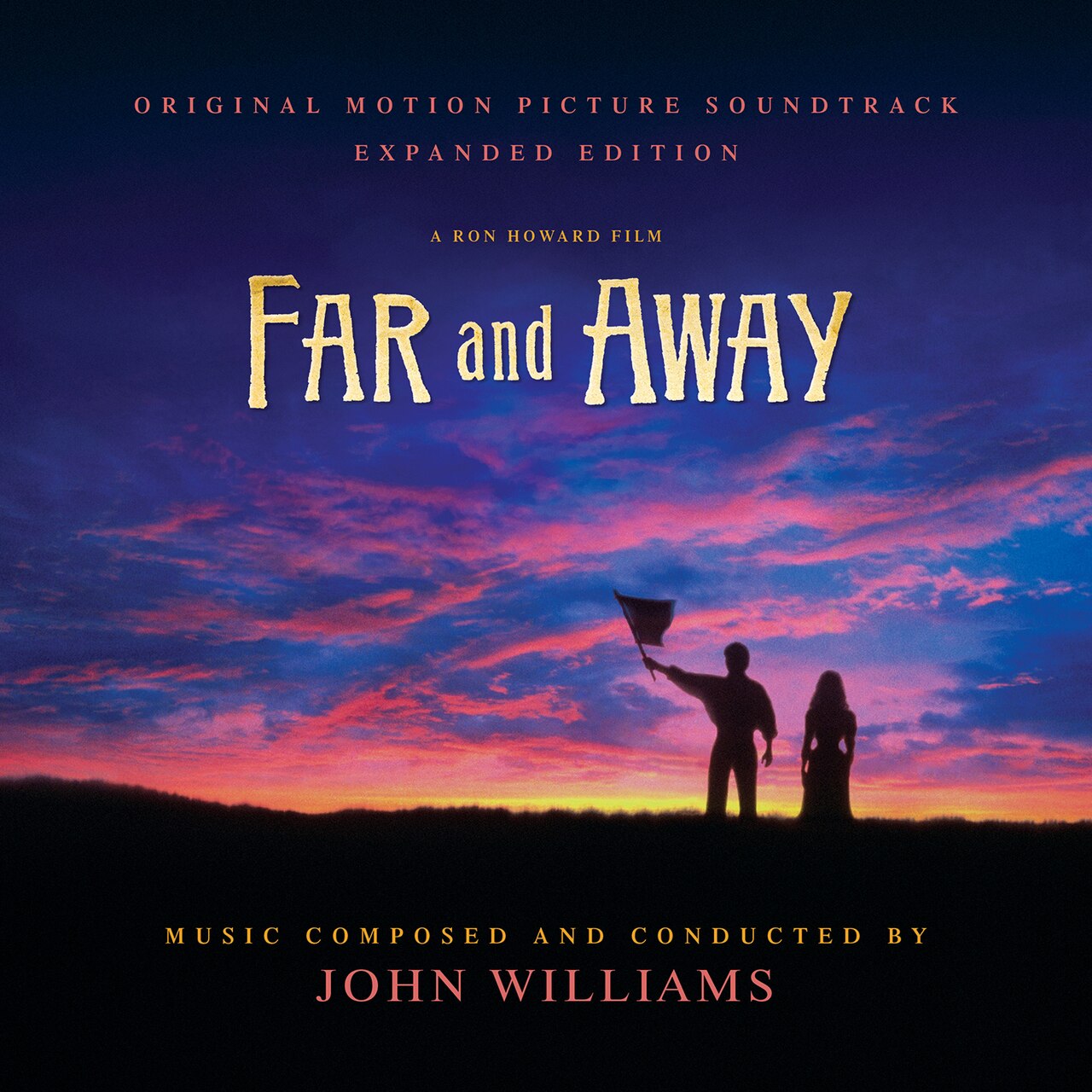 TRACK LISTING:
DISC 1
SCORE PRESENTATION
01. County Galway, June 1892 2:01
02. The Fighting Donnellys+ 2:22
03. Joe Sr.'s Passing** 2:22
04. The Village Burns* 1:56
05. Leaving Home 2:02
06. The Barn/Running Away* 4:32
07. The Duel Scene+ 3:02
08. This Is My Destiny* 1:12
09. Burning The Manor House 2:50
10. Am I Beautiful? 3:43
11. Blowing Off Steam 1:36
12. Fighting For Dough +2:07
13. My Own Man* 1:15
14. Into The Bath* 1:37
15. The Big Match 6:02
16. Banished* 3:40
17. Inside The Mansion 4:30
18. Shannon Is Shot 4:13
19. Day Dreaming 1:13
20. Joseph's Dream 3:13
21. The Horseshoe* :35
22. The Reunion (Film Version) 2:57
Disc 1 Total: 59:24
DISC 2
SCORE PRESENTATION (cont'd)
01. Oklahoma Territory 2:17
02. The Land Race 5:03
03. Race To The River 1:51
04. Settling With Stephen** 3:09
05. Joseph And Shannon 3:22
06. End Credits+ 6:43
Total Score Presentation: 1:21:53
ADDITIONAL MUSIC 28:28
07. Joe Sr.'s Passing (Alternate)** 1:37
08. The Barn (Alternate)* 2:41
09. My Own Man (Alternate)* 1:14
10. The Big Match (Alternate)** 5:24
11. Oklahoma Territory (Film Version)** 2:17
12. The Land Race (Alternate)** 5:01
13. Joseph And Shannon (Alternate)** 3:21
14. End Credits (Alternate)**+ 6:47
Disc 2 Total: 51:06
Two-Disc Total Time: 1:50:30
* previously unreleased
** contains previously unreleased material
+ Featuring The Chieftains