'JOHN WILLIAMS' FILM NIGHT'
August 13, 2021, Koussevitzky Music Shed, Lenox, MA
The Boston Pops Orchestra conducted by JOHN WILLIAMS and Keith Lockhart
WCRB will be broadcasting this concert on August 29th at 7pm (EST)
CONCERT PROGRAM
Keith Lockhart conducting
Hooray for Hollywood (Whiting/arr. Williams)
Suite from Lawrence of Arabia
Excerpts from An American In Paris
Theme from Sabrina
Alexander Velinzon, violin

Suite from The Godfather (Rota/arr. Mauceri)

Opening and Finale from Casablanca (Steiner)
John Williams conducting
Overture to the Oscars (WORLD PREMIERE)
Olympic Fanfare and Theme
A Child's Tale: Suite from The BFG
Two Selections from Indiana Jones
Scherzo from Motorcycle and Orchestra from The Last Crusade
Marion's Theme from Raiders of the Lost Ark
Throne Room and Finale from Star Wars
ENCORES
John Williams conducting
The Imperial March from The Empire Strikes Back
John Williams and Keith Lockhart conducting
Flying from E.T. The Extra-Terrestrial

JWFAN REVIEWS
Report by Jason LeBlanc (original post)
That was, potentially, the greatest night of film music I ever attended.
"Magical" is the best word I can think of to describe it.
John Williams seemed to be in the best shape yet, even better than just a month ago. He was funny, he didn't reach for words as often as the recent norm, and he conducted everything with a great tempo, no slow versions at all.
He ever commented how nice it was to see an audience again after 18 months.
What a legend. The man is almost 90 and looks and acts like he has 20 more years of a career in him.
Report by 'Smeltington' (original post)
Yes! He seemed energized. I think his gratitude to be performing again came across. I found that the Throne Room was especially triumphant and cathartic to hear in light of this.
I got caught up in the Leia portion of the piece and noticed some instrumentation that never jumped out at me before. Sabrina was gorgeous! I still like hearing BFG in concert, and it was nice to get a newer piece.
I would have liked to hear more new stuff, especially something from Rise of Skywalker, but it was not to be, cherie. This show was more of a victory lap. But the energy and affection between Williams, the orchestra, and the audience was special. There's always a lot of enthusiasm for Williams at Tanglewood, and it was great to see people wearing Jaws shirts, and hear positive comments on the way out.
I went by Highwood beforehand and said hi to the ghost. I kept an eye out for fellow JWFans, but didn't see anyone. There was quite a crowd! The weather in New England has been awfully hot and humid, but luckily that changed suddenly after the first few Lockhart-conducted selections, and it was easier to simply enjoy the music.
I'm so happy we got to see JOHN WILLIAMS at Tanglewood in 2021!! It seems like a miracle! Feeling thankful. Peace and love to all JWFans tonight.
Report by 'rpvee' (original post)
What a wonderful evening! Williams indeed seemed to be in great spirits, with his wonderful yet gentle energy as warm as ever. He and I made eye contact several times as he was speaking, since I was in front directly to his left, so that was neat!
He also made a couple funny digs at Spielberg – one being that not many people went to see The BFG, and the other that the sound mix of The Last Crusade motorcycle chase buried his music, so he made a suite of it so it could be heard properly.
As a whole, a heartwarming and exciting evening seeing this living legend live once again.
Until next time, Maestro!
Concert Review by Jason LeBlanc (first half) (original post)
Friday, August 13th was an incredibly hot, humid day in Massachusetts.  As pleasant as it was – as always – driving westward through seemingly endless patches of green trees with more and more mountain ranges peeking out behind them, checking out the Berkshire Botanical Gardens (highly recommended to anyone traveling to the area!) as an afternoon adventure was dampened somewhat by the pervasive heat and humidity.  Luckily our hotel room provided the adequate cool down time before departing again for dinner at Cafe Adam (also highly recommended!) before heading to Tanglewood!
We arrived at Tanglewood about an hour before the scheduled start time, and would have loved to have enjoyed a walk around the whole property, but the humidity was still quite unpleasantly high even this late in the day.   We decided to sit down and grab drinks at one of the designated outdoor areas, but even that didn't provide the respite we were hoping for.  Before long we headed to our seats, only to find it even more unpleasant there, due to there being even less of the minimal breeze than there was in the more open areas and the new proximity to so many other people.  I think due to the new covid protocols, they made sure to leave empty chairs between each group of tickets sold, but that was sort of made irrelevant by having people seated directly in front or behind of you.  So, at this point I was mentally preparing myself for an hour and a half of increasing discomfort, and wondering how the musicians on stage would fare…
Shortly after the second second set of bells rang out a little after the 8:00 scheduled start time, Keith Lockhart took to the stage to a round of exuberant applause, and quickly began the first selection of the night:
Hooray For Hollywood (Richard Whiting, arr. John Williams)
This is a terrific concert opener, which I have experienced live a few times before.  The melody is timeless and instantly recognizable, and Williams' arrangement makes it come alive in so many different ways for its succinct runtime.  The three giant screens positioned around the Koussevitzky Music Shed showed closeups of various musicians throughout, which is always welcome in my book.  Though in this case, you could visibly tell some of them were struggling with the weather conditions, as was Keith Lockhart, made more noticeable as he grabbed the microphone to speak to the audience for the first time.
"Hello friends!  Thank you, welcome to Film Night at Tanglewood!  We started out appropriately with "Hooray for Hollywood" because that is what we are saying here tonight.  Tonight we explore the wonderful world of film music, the most recent genre of music that we play on up here on this stage, when you think about it.  The talkies started in 1929, so not even a century yet, and what a rich legacy we already have.  A lot of that rich legacy is due to a man who will be following me later tonight, you may have heard of him – John Williams <massive audience applause>
I just like saying his name because I like getting applause <audience laughter>
But, I'd love to start out with some great, classic movie scores from a little bit earlier on.  First up is the epic 1962 Lawrence of Arabia.  One of Maurice Jarre's first film scores, his first collaboration with director David Lean.  That movie clocks in at 3 hours and 48 minute, and intermission.  And you can't say "Look at the bright side, it's 10 minutes shorter than Gone with the Wind".  <audience laughter>
He first tried to hook up with William Walton, British film composer, before settling on the relatively unknown Jarre and the result of course was a 30 year relationship between he and Maurice Jarre that resulted in such great music as Dr. Zhivago and Witness and Ghost .  Here is some great music and great scenes from Lawrence of Arabia."
I could tell Lockhart was struggling with the weather conditions, At this point the screen behind the musicians lowered to show synced film footage, which was also shown on all three screens instead of the musician closeups
Suite from Lawrence of Arabia (Maurice Jarre)
Though this is a film I have still not seen and score album I have yet to check out, the music is beginning to make a lasting impression on me due to its frequent concert appearances, not to mention all the homages in other media.  The main theme is so evocative, and when seeing all the epic footage from the movie really made me want to check out this film finally more than ever.  After applause, the next piece begin, with all the screens again showing a medley of footage from the associated feature:
Excerpts from An American In Paris (George Gershwin)
This music was not my cup of tea, and the film looked like it wouldn't be up my alley either.  However, it was during this part of the night that something magical happened.  First I noticed one of the screens blowing upward strongly, then another, and then I finally felt an amazing cool breeze coming through the shed.  This great breeze continued consistently, and ny the time this selection was over, the weather conditions had completely flip-flopped, all humidity was completely gone, and the temperature was extremely pleasant!  This seemed to have created an unspoken boon to the entire audience and everyone on stage, including Keith Lockhart as he took to the microphone again to say
"Don't you just love that musical?  1951, An American in Paris directed by Vincente Minnelligene, choreographed by Gene Kelly, and starring Gene Kelly of course.  There's nothing to say about that, it's just the most perfect dancing and the most perfect music.
You know, the way we're attracted to film, it's not just about great scores, it's not even just about great pictures, it's also about the stars, the luminaries who light up our lives. We have a little tribute now, that was put together by Susie Dangle and Dick Bartlett, to one of the most radiant stars of any generation, the great Audrey Hepburn <audience applause>
I should point out to you that towards the end you'll see her dancing with Fred Astaire, that's from 1957's Funny Face, and when John saw this montage, he looked at me and said "Hey, I played piano on that!" <audience laughter> So there you go, a little bit of Hollywood history.  Featuring our concert master Alexander Velinzon and set to the music of John's score to the revival of Sabrina from 1995, this is a tribute to Audrey Hepburn."
Theme from Sabrina (John Williams)
I was really looking forward to this piece in particular, as I finally saw the film earlier this year and that led to a new admiration for Williams' score.  This arrangement did not disappoint, it was performed exceptionally well, and paired nicely with the accompanying montage of Audrey Hepburn (which was more or less an endless series of close-ups and medium shots from across all her work – though I noticed 1989's Always was not included at all).  A short applause break separated it from the next piece:
Suite from The Godfather (Nino Rota, arr. John Mauceri)
Less than 5 notes into this, something that seems to be common in film music concerts I've attended, which is that the audience seemed to recognize that this was Godfather music around this point and started laughing subtly, which quickly turned to more raucous laughter when the first shot of Marlon Brando was shown, then quickly turned into a round of applause as The Godfather title card was shown.  It was around here that I thought about how when I attended the premiere of Williams' Violin Concerto #2 at Tanglewood less than a month prior as part of a night of classical music, that audience never applauded over any of the music, and in fact waited for the piece to completely conclude and the conductor to lower his baton before applauding.  But throughout this night, the audience would begin applauding as the final notes were finishing, or even sooner, just about every time.  Anyway, this suite was a nice summary of the original music for the first film, set to a montage of footage from all three films.  After it ended, Keith Lockhart grabbed the microphone again:
"Nino Rota's mesmerizing score to 1972's The Godfather.  But you knew that. <audience laughter> I'd like to end my portion of the program with a truly extraordinary score by the Viennese war-time refugee Max Steiner, for the 1939 film Casablanca.  <audience applause>
Who would have thought that a movie made from an obscure never-produced play called "Everybody Comes to Rick's" that was made as a war-time propaganda film and happened to be, also, the first romantic lead by a relatively unknown actor named Humphrey Bogard would turn out to be one of the immortal romances of all time.  I'd like to leave this portion of the program with some great music from Casablanca."
Opening and Finale from Casablanca (Max Steiner)
More music that is not my cup of tea (though La Marseillaise and As Time Goes By are always fun), and while Casablanca is a movie I've seen, it's not a favorite.  This montage also did something I'm not a fan of, which was playing the actual audio from the movie at three different points ("Play it once Sam, for old time's sake" "here's looking at you, kid" and the later "here's looking at you, kid").  The audience began applauding long before the music was finished, which turned into an extended applause as Lockhart waited to take the microphone one final time.
"Thank you ladies and gentleman and may I say, this is such a privilege to make music with this wonderful orchestra in front of this wonderful crowd, really, with the memory lingering of so many great films.  Now comes the next problem of you introduce the person that I'm supposed to introduce?  I could go over a list of awards but that doesn't seem to do justice to someone who has so transformed and fulfilled the medium of film music.  It's been my honor and pleasure for now going on 26 years to be a colleague of this man, and I've learned so much in that period of time.  But I say the greatest thing about John Williams, ladies and gentlemen, at least in this case, is that I don't have to follow him. <audience laughter>  Ladies and gentlemen, John Williams!"
I should have mentioned before that due to the new covid protocols, Tanglewood is doing shorter shows without any intermission at all the whole season.  So while the standard procedure through most recent Film Night concerts would have been to have the intermission here in between conductors, in this case Williams was waiting right at the side door and as soon as Lockhart exited, Williams entered to the largest applause of the night so far!
*NEW* (second half) (original post)
The applause as Williams entered the stage and walked across it to take his place at the podium was wonderful, another step up in enjoying the whole night that the change in weather already had been.  I always keep my eye out to see how Williams is doing, and I am happy to report he seemed to have even more pep in his step then he had just a few weeks ago for the Violin Concerto #2 premiere – perhaps he too was invigorated by the change in weather!  As is typically the case, as the applause died down he began the first selection right away, without saying anything to the audience.
Overture to the Oscars
It's always nice hearing a new Williams composition, and especially nice you go to a concert with no knowledge that you'd even be hearing one!  I assume this was commissioned for the opening of the Academy Museum next month, and it is certainly fitting for such an event.  Full of resplendence and elegance, I have a feeling this will become a staple of Academy Awards broadcasts going forward as well.  Here's hoping a studio recording gets released at some point!  After the piece finished, Williams took to the microphone for the first time of the night:
"I wonder if you are as happy to see me as I am happy to see all of you".
<massive audience applause>
Eighteen months of no concerts, no rehearsal, no television… It is wonderful to be back with you and back with the orchestra <audience applause> and like you I have watched the Olympics on NBC, and they have done so beautifully, predictably… and my association with NBC goes back a long time, I wrote the music for Meet The Press, the Nightly News, the radio, let's see, the Olympics in Los Angeles and we did, Atlanta, and Keith Lockhart and I did the Olympics in Salt Lake City, the Winter Olympics there in '02.  And you will see tonight, some of the fabulous footage that we were fortunate enough to have provided by NBC and the Olympic Committee.  Fabulous images I know you'll agree, put together by Susan Dangle of WGBH Boston, and it's quite a… they chose so many treasured faces, there's a shot in there of Kobe Bryant and it all looks so beautiful. When you watch this I think you'll enjoy it.  Olympics."
Olympic Fanfare and Theme
This is, simply, one of my favorite pieces of music of all time, and one that wows with me its power every time I get to hear it live.  This performance was no exception, and was the absolute highlight of the evening for me.  The Pops played the piece perfectly, with a lot of enthusiasm, capturing all the power the piece contains.  Tremendous.  The video montage of athletes from across many years of Olympics competitions was nicely done (though admittedly, I spent more time watcihng the orchestra playing the music and did not focus on it too much).  The audience erupted into quick and enthusiastic applause when Simone Biles showed up in the montage.  Then, Williams grabbed the mic again:
"Here's something that I wanted to show you now that you're here, it's from a film called Big Friendly Giant, which Steven Spielberg made 2-3 years ago, which not too many people saw <audience laughter> But it was written by Roald Dahl, and it's called Big Friendly Giant.  And Steven wanted to make this film for technical reasons, because he wanted to present an intelligent man, the giant, having scenes with a young girl, 8-9 years old, small enough to be held in his hand.  And he'd take the little girl to the land of dreams, and find dreams, search for them – good dreams not bad ones – and capture them and enclose them into bottles.  And then the giant could distribute them to children around the world.  What you'll see here is a montage put together of all the searching of the dreams, and the orchestra – particularly the flutes – will accompany all this choreography.  And the lighting I think you'll agree is very beautiful.  I hope you'll enjoy this.  Big Friendly Giant."
A Child's Tale: Suite from The BFG
This is a favorite of Williams scores for me, and one of the best works of his recent output.  I love that Williams seems to be particularly fond of it, developing this lengthy (this performance ran slightly over 7 minutes) suite from most of its themes and ideas, and taking the time to introduce it and highlight what he'd like the audience to pay attention to.  The montage was a nicely done assembly of the parts of the film that showcase Sophie and the BFG's friendship, and their adventures with the dreams.  The whole adventure with the Queen is not shown, and the bad Giants were not featured much either.  It was nicely done, and overall, this really shows how much can outlive the films they were written for.  I don't know how many people in the audience who had not seen this film might have been compelled to go see it after this night, but they might be more inclined to listen to the music again.
"Thank you.  This is from Indiana Jones, Scherzo for Motorcycle and Orchestra.  And the reason for Motorcycle is that we had Sean Connery and Harrison Ford on a motorcycle being chased by Nazis, they had to get away very quickly.  And I had to write this piece to accompany that scene.  Unfortunately when I went to go see it, all I could hear was the motorcycle.  So I resolved to make it a piece for Orchestra.  Motorcycle and Orchestra, without the Motorcycle."
Scherzo for Motorcycle and Orchestra from The Last Crusade
This is the wonderful, updated concert arrangement version that premiered some time after the initial concert arrangement version (the one heard on The Spielberg / Williams Collaboration album).  I was so thrilled to get this selection instead of something like The Raiders March or Adventures of Mutt; This was another major highlight of the evening.  The performance was wonderful, and since I am not very familiar with the newer changes this arrangement has, I got to enjoy some musical surprises for the first time since Overture To The Oscars.
Marion's Theme from Raiders of the Lost Ark
This was the wonderful arrangement from 2008 that I have heard a few times, yet enjoy hearing very much every time.  Unlike the later Han Solo and the Princess arrangement, this arrangement could have easily been done at the time of the original film and felt at home there.  I have always loved this theme, and this arrangement of it is a great selection for any film music concert.
Throne Room and Finale from Star Wars: A New Hope
Perhaps because of time length limitations for the concert, Williams didn't say anything after the Indiana Jones selections, and instead launched into this after a not very long applause break following Marion's theme.  Much like the Scherzo, I am always thrilled to hear this piece performed live instead of the Main Title arrangement yet again, and the Pops did not disappoint at all with a great performance of it.
The applause afterward was the loudest and longest yet of the night, as Williams seemed to really appreciate the audience immensely before leaving the stage, only to come back relatively quickly for the first encore
The Imperial March from The Empire Strikes Back
There is nothing left to say about this, I think I have heard it at seemingly every Boston Pops Film Night concert I have ever attended, and it always sounds great.  The audience began applauding long before its final chord, which didn't surprise me at all.  As the applause continued, Williams left the stage only to return… with Keith Lockhart!  I thought this meant that there would be no second encore and he was going through the final motions of the night, but that was not the case!  Instead, both Williams and Lockhart went up on the podium, and then Lockhart stepped down and to the side and let Williams begin conducting:
Flying from E.T. The Extra-Terrestrial
Another classic I've heard a million times, but the music is so good how can you complain?  I was mostly fascinated by trying to figure out what was going on on-stage.  Williams was conducting and Lockhart was standing off the to the side watching… until suddenly, Williams stepped down (and of course, all the musicians know this piece so well, they don't need a conductor to keep going perfectly), and Lockhart stepped up and after a bit, started conducting himself!  I had my eyes locked on Williams, who had slowly stepped downs towards the violin section, and had to move one of their stands a bit to make room for himself.  He then slowly turned and observed each section of the orchestra as they played his music to Lockhart's conducting, and he seemed to just really be enjoying being literally in the middle of all this happening.  Towards the end of the piece, they swapped spots again, and Williams conducted to the end while Lockhart watched.
Then, both men bowed and made sure to highlight all the musicians on stage as the applause kept going and going, until Williams eventually made his classic "sleepy time" pose, generating the usual laughter from the audience, and they made they way out the side door and the standing ovation continued for a while until it was clear the night was over and the stage lights came on.
A truly magical evening of music, and one of the best film music concerts I have ever attending.  I was so thrilled to see Williams in excellent health, to hear one of his newest compositions, to hear many favorite pieces played splendidly, and to enjoy it all with an enthusiastic crowd in the gorgeous weather outdoors.
As we walked back to the parking lot, the sky constantly lit up with amazing lightning bolts, and in fact the coming rain only arrive literally as we were entering our car.  One last little bit of happenstance to end a wonderful night.
EXTERNAL REVIEWS
The Boston Musical Intelligencer – "Next came two selections from the Indiana Jones films: first a dynamic chase scene from the final film in the series, The Last Crusade, for a hair-raising chase sequence in which Harrison Ford and Sean Connery on motorcycles are pursued by a group of Nazis. The composer-conductor explained beforehand that he had written it, he had thought it suited the dynamic character of the scene, only to discover in the final print that all could only hear motorcycles! At least under these screened clips, the sound projected effortlessly." – Full review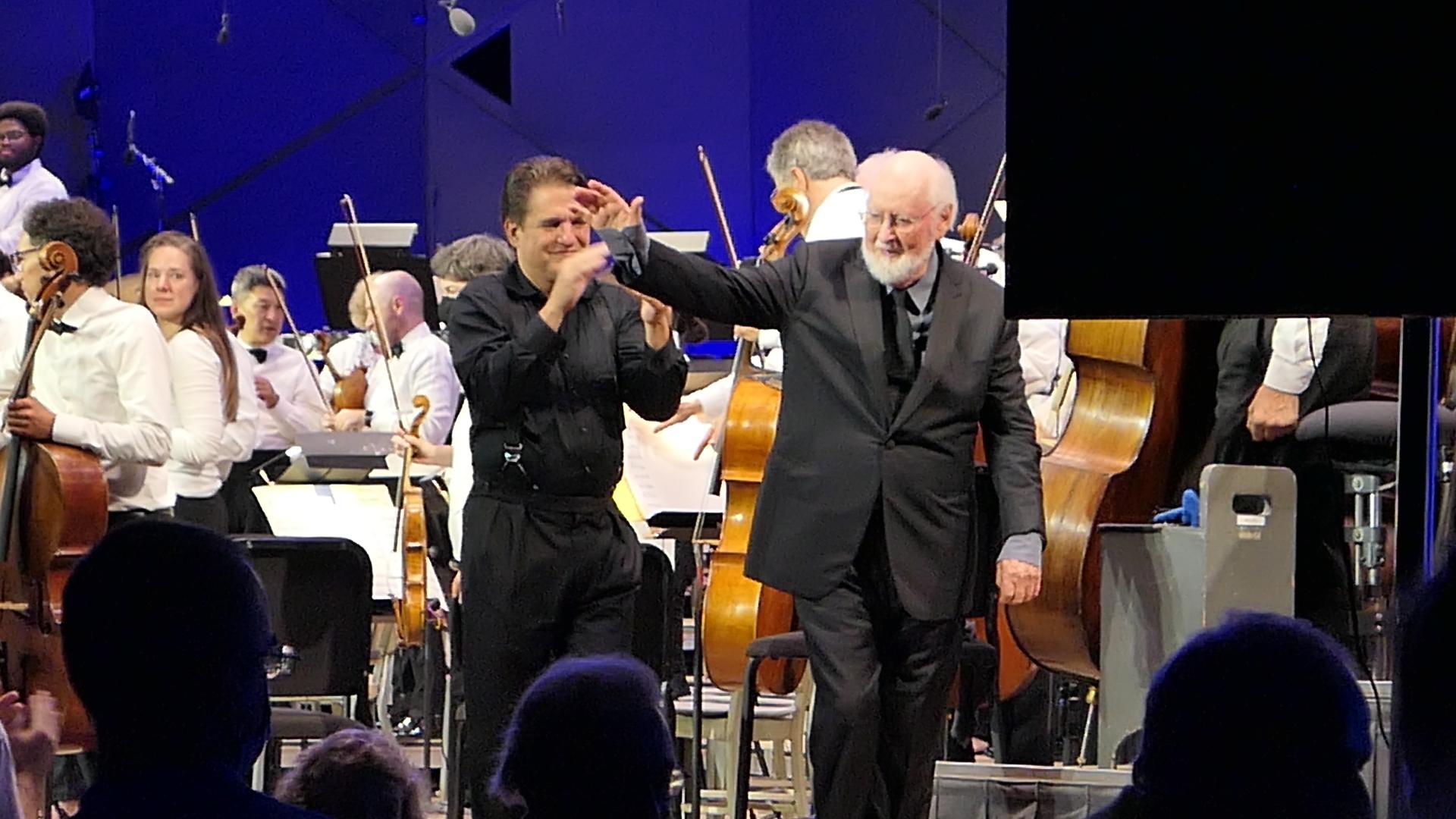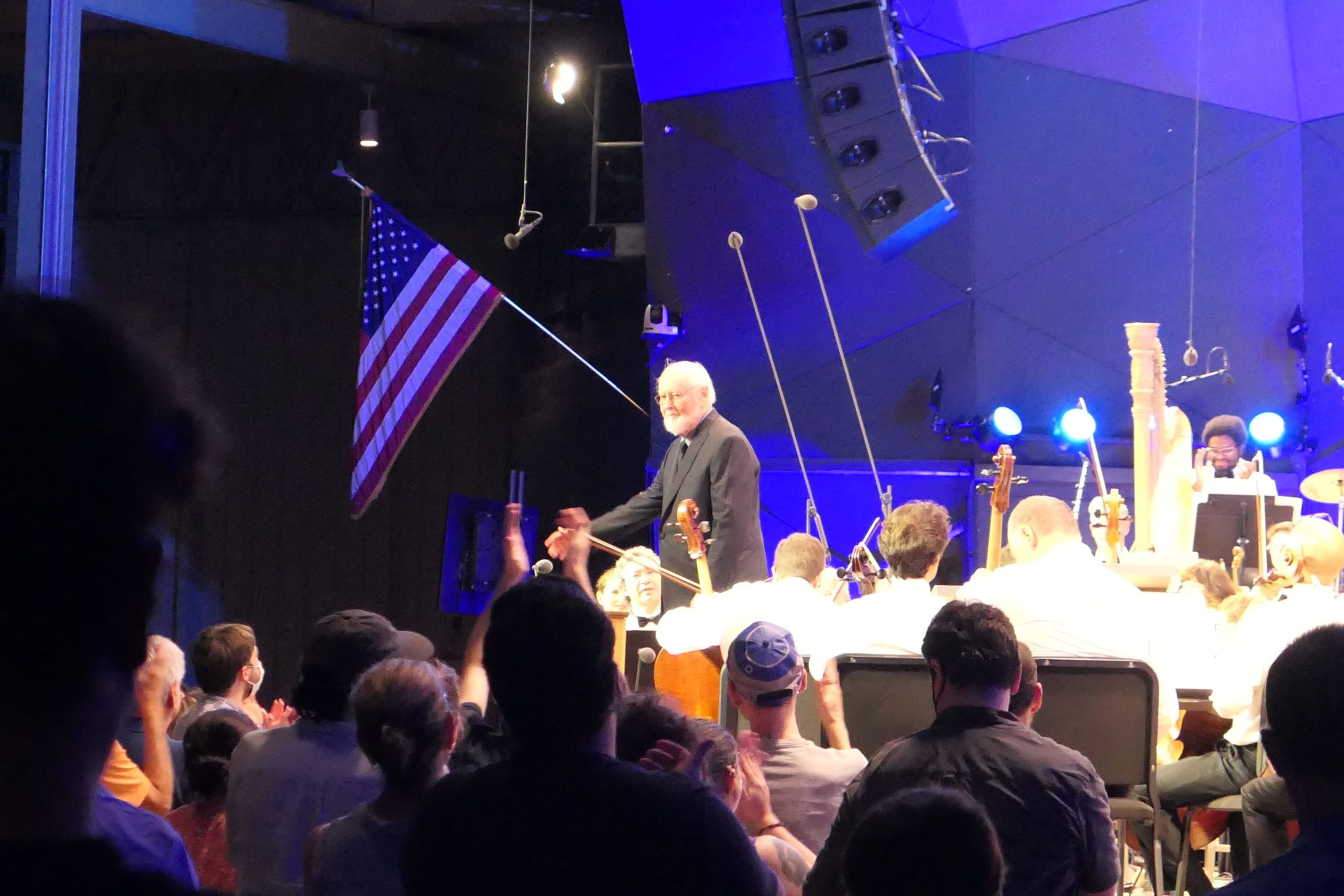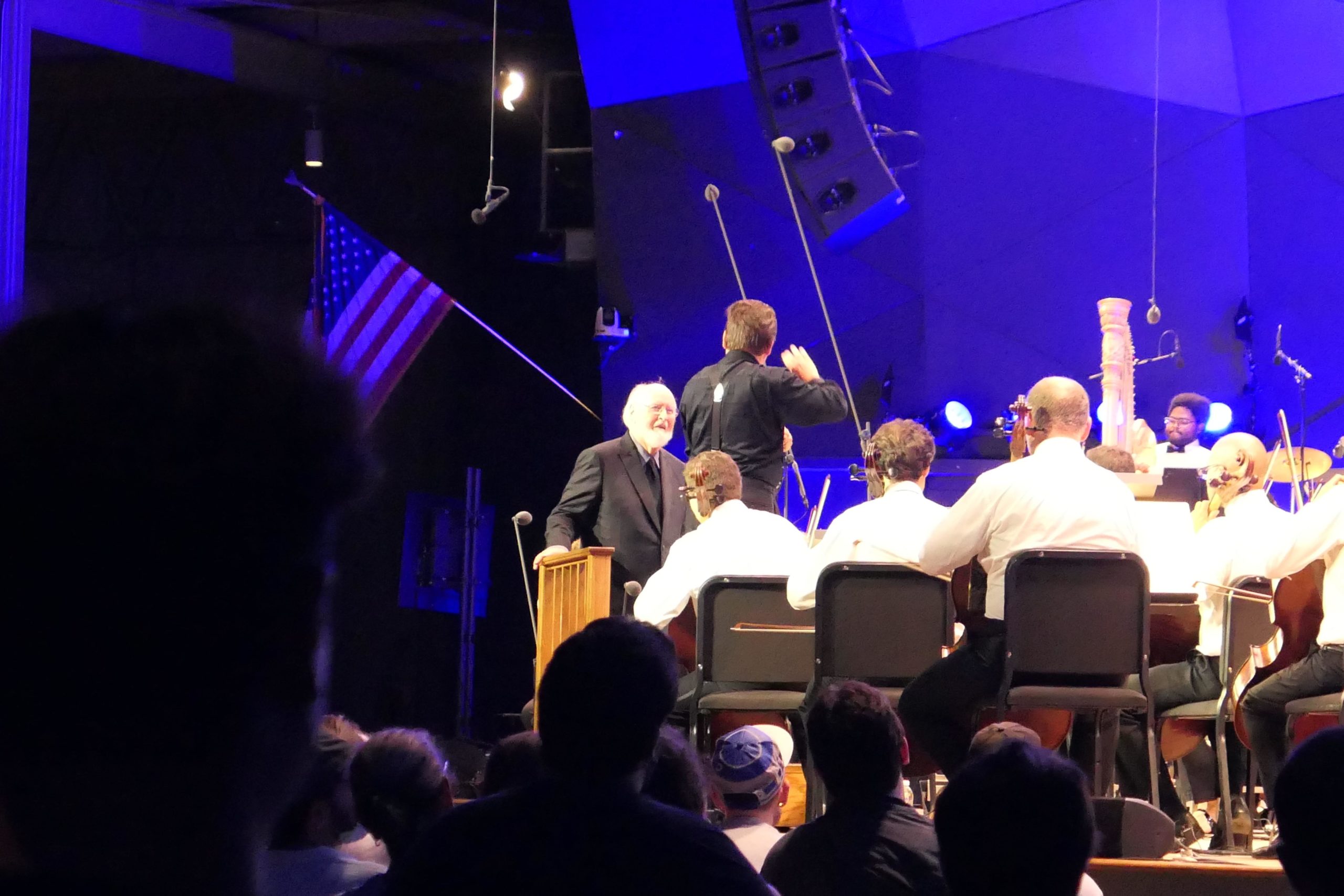 (Photos by 'Multisonic')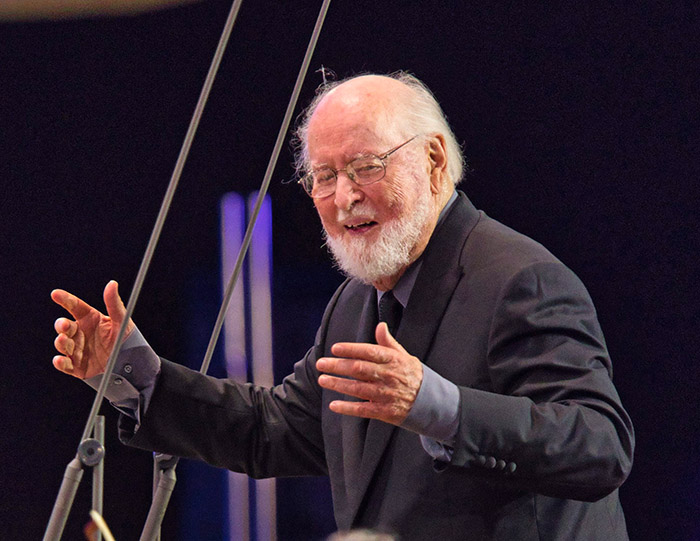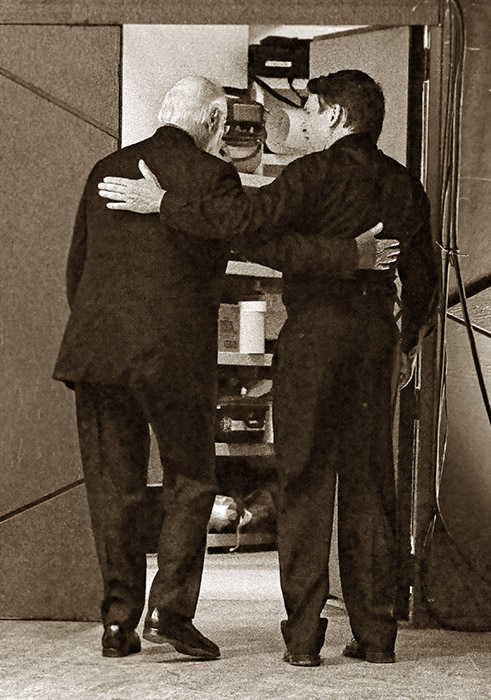 (Photos by Hillary Scott, BSO)
CONCERT VIDEOS
John Williams and Keith Lockhart take turns during the performance of Flying from E.T. The Extra-Terrestrial