'THE MUSIC OF JOHN WILLIAMS'
March 12 & 13, 2022, Musikverein, Vienna, Austria
Vienna Philharmonic Orchestra conducted by JOHN WILLIAMS
Anne-Sophie Mutter, violin
CONCERT PROGRAM
Sound the Bells!
Concerto for Violin and Orchestra No. 2 (Anne-Sophie Mutter, violin)
I. Prologue
II. Rounds
III. Dactyls
IV. Epilogue

ENCORE
Theme from The Long Goodbye (ASM, violin)
INTERMISSION
Superman March
Three Pieces from Harry Potter
Hedwig's Theme from Harry Potter and the Sorcerer's Stone
Fawkes the Phoenix from Harry Potter and the Chamber of Secrets
Harry's Wondrous World from Harry Potter and the Sorcerer's Stone
Two Pieces from Indiana Jones
Scherzo for Motorcycle and Orchestra from Indiana Jones and the Last Crusade
Marion's Theme from Raiders of the Lost Ark
Three Pieces from Star Wars
March of the Resistance from The Force Awakens
Princess Leia's Theme from Star Wars
Throne Room and End Title from Star Wars
ENCORES
Across the Stars from Attack of the Clones (ASM, violin)
The Duel from The Adventures of Tintin (ASM, violin)
Flying from E.T. The Extra-Terrestrial
The Imperial March from The Empire Strikes Back
REVIEWS

EXTERNAL REVIEWS
The Legacy of John Williams – "Mutter sounded really in her prime with the piece, which truly felt like an extension of her soul. Sometimes, it sounded like it was the violin playing her, offering an intimate potrait of the artist and her unique sound to the audience." (Maurizio Caschetto)
"What I think we get from these excursions into Williams' concert hall repertoire are glimpses of his most deep self. For these he doesn't rely on cinematic inspiration, he has to go deep down inside himself and talk, through his music, about his most personal passions and suffering, be it his beloved trees, a close musical friend or the passing of a loved one." (Miguel Andrade) – Full reviews
SoundtrackFest – "Film music has already found a space in the most prestigious concert halls in the world, and it is here to stay. In large part, this is thanks to Maestro John Williams, who has made this possible both with his prolific film work and his continued insistence on conducting it in concert year after year, and especially with his tireless tenacity to make this music accessible to everyone through the many official editions of his scores, which allow countless concerts around the world to happen." – Full review
JWFAN REVIEWS & REPORTS
(All original posts and photo credits can be found in our forums)
Concert report by 'davwien' (March 12)
The Saturday concert was a wonderful experience. The players were enjoying themselves, John was enthusiastic and often pointing to the wide range of audience to Ms Mutter during the applauses. I felt the conectedness, even while sitting on the back end of the wonderful hall. John truly doesn't show his age when on stage and his energy is palpable. His anecdotes and intros were funny and met with chuckles (the scherzo with/out motorcycle!). Any reservations by audience here must have been made in comparison to his other concerts, because this was unforgettable!
The second violin concerto was different from his film music, and I enjoyed that about it. It sounded somewhat like Second Viennese school's Berg-Schönberg violin concerto/orchestral music at the beginning, the genre that has a narrower audience, and more dynamic by the end. Great playing by the timpani, harp, and Ms Mutter!
The sound of the Musikverein great hall really emphasised the power of his scherzos & the Imperial March (which was tempo-ed faster). You really cannot prepare for the acoustics and explosiveness until you experience it.
That small blunder by the horn solo during Princess Leia's theme was certainly noticeable, but nothing egregious, and the horn section was promptly back in full swing. Loud and confident. I would say (and I am a mere enthusiast) that the playing was mostly exceptional.
Concert report by 'May the Force be with you' (March 12)
I feel so blessed to have been able to attend saturday. What a magical moment it was that I can hardly realised that it did happen!
It has been said before but Williams was such in great shape, looking so happy. It was heart warming to see him like that.
The orchestra was great (minus one or two flubs but that's the magic of Live performance). Really hope that the concert will be released at least as a CD for anyone to experience the beautiful performance of the VPO espacially The Long Goodbye, The Duel, Across the Stars and The Imperial March which were to me the best performance of the evenings. My favourite performance was The Duel but probably for all the mischiefs you could feel between Mutter and Williams.
I'll end this post with a big thanks to everyone involved for making such an incredible event possible. I hope those who attend enjoyed it and that those who didn't will be given the opportunity to because that's was hell of a moment.
Concert report by Marian Schedening (March 13)
I'm constantly reminding myself not to forget how privileged I am to live 10 minutes from the Musikverein and able to afford going to both concerts. Yesterday's was fine, but in the action pieces I thought the brass was holding back, and there were spots where they seemed to be extra careful. Today they went all in and played brilliantly, with extra strong brass. Now Scherzo for Motorcycle and Orchestra ("sans motorcycle") and March of the Resistance were true highlights, Leia's horn solo was almost perfect, and Throne Room was super tight. It's always hard to compare these things, but the Scherzo might be a notch above the Berlin performance.
Yesterday Williams apparently couldn't remember Connery's full name (in Berlin he couldn't remember his name at all), though I didn't fully understand what he said instead. Today he remembered, eventually: "Seth… Sean Connery". He didn't mention the "bad guys" today, but revived the Luke/Leia/love theme/brother/sister anecdote. He also claimed that Harry once rode on the phoenix.
When introducing the Indy pieces, he mentioned that after the concert, he will be going back to LA and work on the fifth score. "You don't know my age, but if Harrison Ford at 78 can do this, I can at least try."
One more observation: Today's audience was more enthusiastic, right from the get-go. Yesterday, there were some standing ovations (more towards the end), but today was about 2020 level, with standing ovations as soon as Williams appeared and after almost every piece, and lots of cheering at the end.
Concert Review by 'BuzzLightyear' (March 13)
I was lucky enough to attend todays concert. Just the setting of the golden hall and the beautiful weather in Vienna were almost perfect. I had a nice seat on the balcony next to the stage and could watch him coming out of the door. Just the moment when he entered the stage was absolutely exciting.
The Violin Concerto was a great experience. There were several little moments that delighted me. My favorite part were these building, 'Close Encounter-like' harmonies, where the brass evolved into a very broad sound. Anne-Sophie Mutter was also fantastic and I was surprised at how loud her violin sounded. Not as loud as the brass section, though, because they were incredibly loud where I was sitting. During the big fanfares today, it literally blew you away.
One of my highlights was the 'Flying Theme' from E.T. – I've heard it a thousand times, but today it somehow grabbed me from the very start. A dreamlike performance by the VPO!
But the rest of the program was delightful as well. I really loved the 'Scherzo for Motorcycle' performance. It was so powerful! And of course the 'Throne Room and Finale' which is always a real highlight.
'Duel' from Tintin created a real pirate flair, with those old wooden floorboards of the stage and the 'dirty' sound of Anne-Sophie Mutter's fiddleplaying. Her runs sounded almost like sword blades.
John Williams looked very happy and excited today. He made a fresh impression and seemed full of energy, similar to the Berlin concerts. His speeches were also very enthusiastic, as if he was chatting with a good old friend.
Also cool to see was Mutter leaning against a pillar at the edge of the stage during the 'Imperial March', enjoying the performance.
Another interesting detail was, that Williams announced the 'Flying Theme' with just a simple "E.T." without using the microphone. He just said it out loud to the audience. And the 'Imperial March' he announced simply with "Darth Vader"
I still can't believe how lucky we are to have a 90-year-old John Williams giving such terrific concerts. I always find it difficult to put into words what such an experience triggers in me, but it was truly like a dream. Just the presence of the maestro himself puts you in profound humility. It is simply thrilling to be able to watch the master at work for a few hours.
I am happy for all of you who were able to attend these concerts and I wish everyone who have not yet been able to enjoy such an experience, that this dream will soon come true for you…
What a magical weekend in Austria!
Concert review by MfL85 (March 13)
It was so good to return to Vienna after two years to see Williams again with Ann-Sophie Mutter. And I would say, after three concerts in Europe, this was the one for me! I attended the performance on Sunday, had a great seats (one of the Logen Plätze on the left side, close to the stage) and it was a joy to listen from beginning to end.
The 1st half was especially impressive. After a fun opener (Ring the bells), the often mentioned 2nd Violin Concerto followed, a highly demanding and complex piece that has LOTS of echoes from the 2nd Viennese School in it. Complex harmonies, splendid colors of sound, brilliantly performed by Ann Sophie Mutter. It is a complex work that Williams conducted wonderfully. Here you could really see what a fantastic conductor he is. He gave Mutter time to breathe and to play, accompanied her when she played her parts and took the reigns in the tutti parts. The crescendi, the intimate stuff, it was wonderfully build up and executed.
I was so happy to see that the audience appreciated this complex work and rewarded the performance with a standing ovation! A far cry from easy listening. I was happy to see that even the older audience members who probably primarly showed up for Mutter were extremely impressed by the piece.
"The Long Goodbye" was a wonderful encore for part 1.
Part 2 was dedicated to his film music. And – again – all pieces were brilliantly and intensly performed. I noticed that even pieces I never had a huge connection with like the "Superman" Theme were absolutely phenomenal this time. One or two highlights were "Fawkes Theme" which Williams conducted slower than William Ross on the album which meant that wonderful and delightful details could be heard. "March of the Resistance" was also better than on the album. The whole counterpoint structure including the fugue came across really well and gave the march a beautiful and complex appearance.
"Princess Leia's Theme" was another highlight for me. Again, the tempo was a little slower than on other occasion which gave the solos an almost otherworldly beauty and intensity.
Well I could rave on forever but it was just absolutely emotionally overwhelming, a morning full of joy in a dark time! Now I am back in Berlin and took a lot of light with me. I am so grateful having made the trip to Vienna a second time!
PHOTOS 
REHEARSALS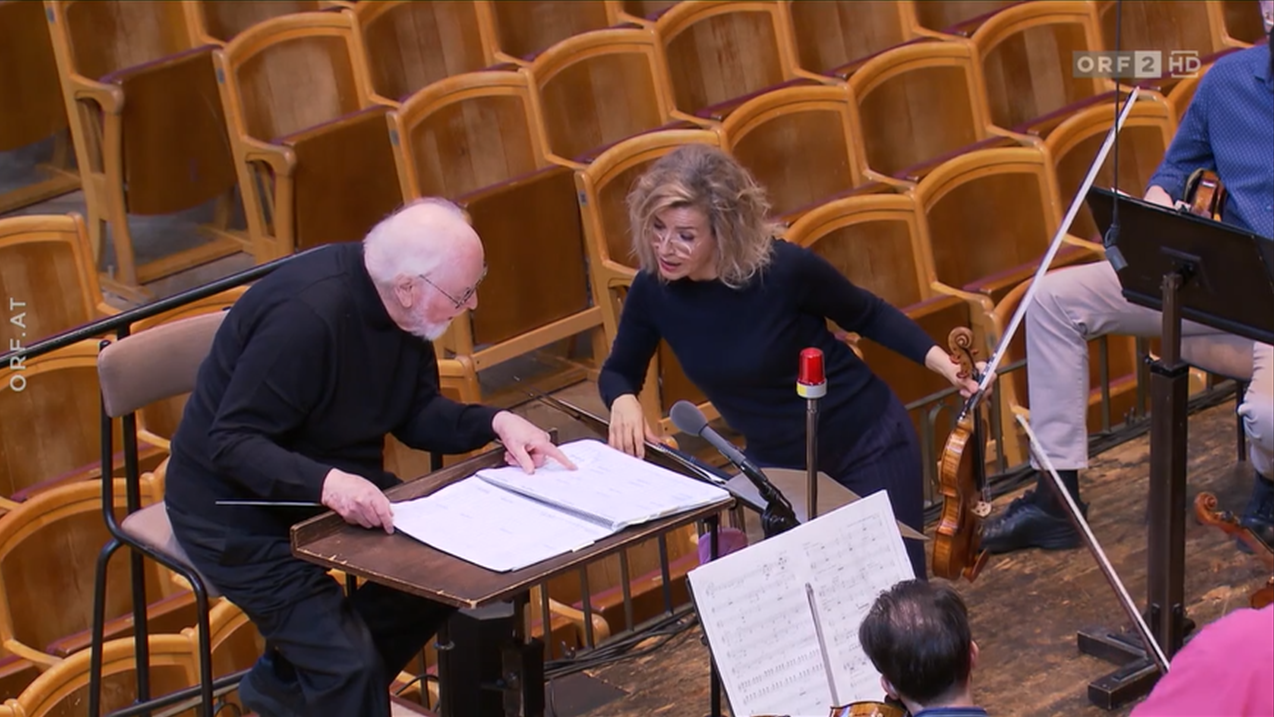 CONCERTS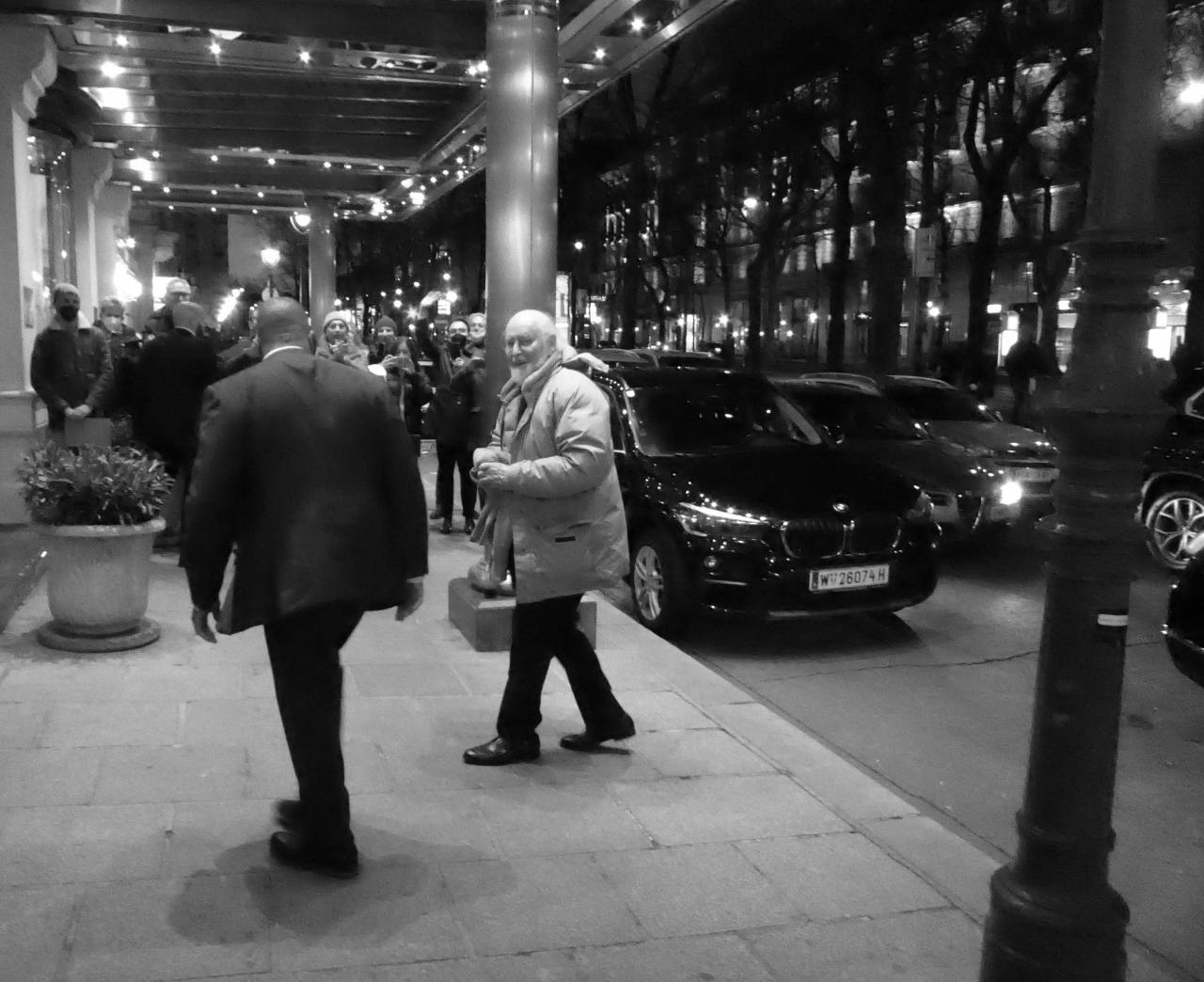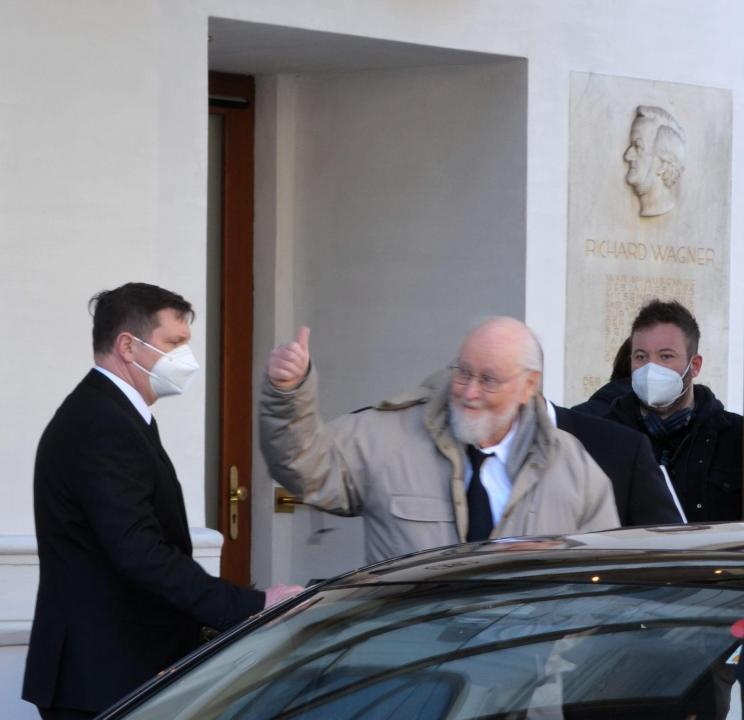 VIDEOS (Rehearsal)