'AN EVENING WITH HONECK & MUTTER & WILLIAMS'
April 25, 2022, Pittsburgh, PA
Pittsburgh Orchestra conducted by JOHN WILLIAMS and Manfred Honeck
Anne-Sophie Mutter, violin
CONCERT PROGRAM
Sound the Bells!
Violin Concerto No. 2
ENCORE
Across the Stars from Attack of the Clones for Violin and Orchestra
INTERMISSION
Flight to Neverland from Hook
Excerpts from Close Encounters of the Third Kind
The Duel from The Adventures of Tintin for Violin and Orchestra
Nice to be Around from Cinderella Liberty for Violin and Orchestra
Hedwig's Theme from Harry Potter for Violin and Orchestra
Throne Room and Finale from Star Wars
ENCORES

Theme from Schindler's List
Flying Theme from E.T. The Extra-Terrestrial
The Imperial March from The Empire Strikes Back
REVIEWS
EXTERNAL REVIEWS
Pittsburgh Post-Gazette – When John Williams conducted the Pittsburgh Symphony, even a minute gesture ignited a Death Star-sized blast. On Monday, a swish and flick of his baton conjured illusions of entire worlds right there in Heinz Hall. A twinkle in the eye and a crooked finger inspired a sound truly out of this world, sweeping listeners along with melodies familiar and fresh.
Jokes aside, here was a real-live, flesh-and-blood musical legend leading our hometown orchestra, tuned to Ferrari-level (or Ducati-level for motorcycle enthusiasts like myself) precision and power. The orchestra outdid itself, sending a sold-out hall into frenzied applause with each new offering, including themes from "Star Wars," "Harry Potter" and "The Adventures of Tintin." – Full review
JWFAN REVIEWS
Report by 'rpvee' (original post)
Another great concert! Williams was missed during the first half, though learning he was above in a box seat before Across the Stars was cool, and turning to see him listening to his own theme as a fellow audience member was surreal. Anne-Sophie also made note that she recalled the theme being from Episode II: Attack of the Clones – my influence? lol
Second half with the maestro himself was spectacular as always. He again ended with The Imperial March, which makes me wonder why he didn't do it in Philly.
Amazing evening!
Report by Ian Stouffer (original post)
The best concert experience I have ever been to. Splurging on the seats was worth the close-up view of John Williams. The more expensive seats were also much more comfortable than the balcony seats I had on earlier concerts. The performances were incredible, and the Violin Concerto no. 2 is an improvement over the first violin concerto. Can't wait to own the Pittsburgh Symphony SACD of this concert.
Review by 'Andy' (original post)
How lovely to hear her say she [Anne-Sophie Mutter] was introduced to JW through Star Wars in 78 without looking down on it. For some reason I find it comforting and validating that a virtuoso musician can simultaneously find value in a concerto written for her and a popular score written for commercial entertainment. Johnny has earned acceptance and reverence for all his modes and voices, from serious musicians and casual listeners. Not that we didn't already know that, but the short reel of musicians in the orchestra expressing similar exposure to JW was another nice reminder that he has bridged some mighty gaps and eroded vast amounts of snobbery.
It's been a good 20+ years since I've seen JW Live. I can't quite articulate in words how transported I was for the entire program. I'd forgotten how different it is live, even compared to the modern Blu-ray concerts DG has blessed us with. John himself looked and sounded terrific, and is an inspiration to all of us to keep doing what we love to stay healthy. It's astonishing that he is able to physically do what he does.
The program was excellent and well crafted. The performances were solid and the acoustics were splendid.
Personally, I was of course overwhelmed with emotion. JW was 40 the year I was born, and I can't recall much of my life without his music. The crescendo from CE3K gave me a good tear in my eye and I was pretty much soaring for all of the encores.
I love that JW is doing what he enjoys and pursuing more concertos and non-film work. It's a new phase I'm happy to explore. He's given us everything and owes us nothing, yet he continues to give more.
Bravo, Maestro!
Oh, and I wish people could learn to sit still during quiet moments and truly listen.
REHEARSAL PHOTOS
Photos by PSO trombonist Jim Nova: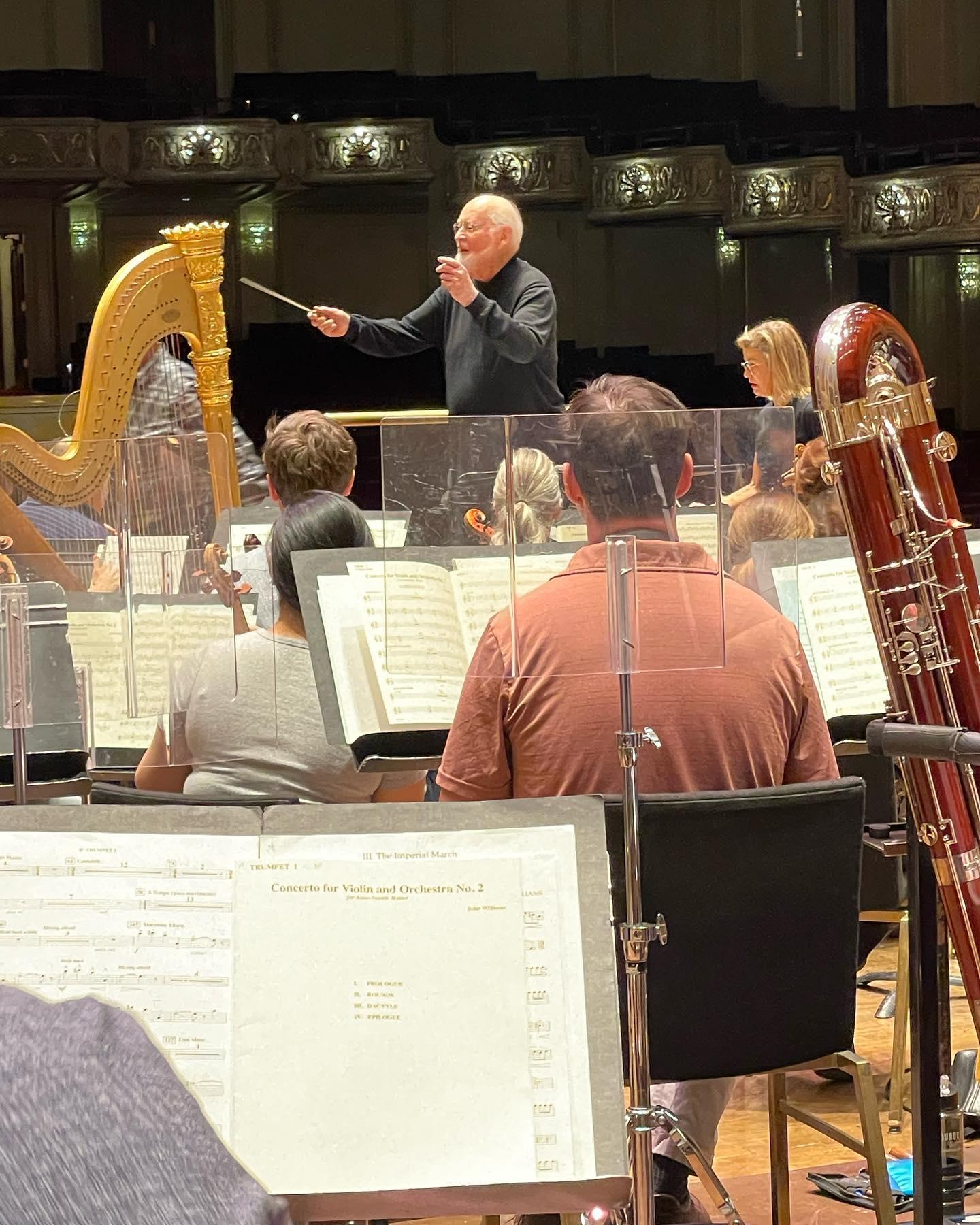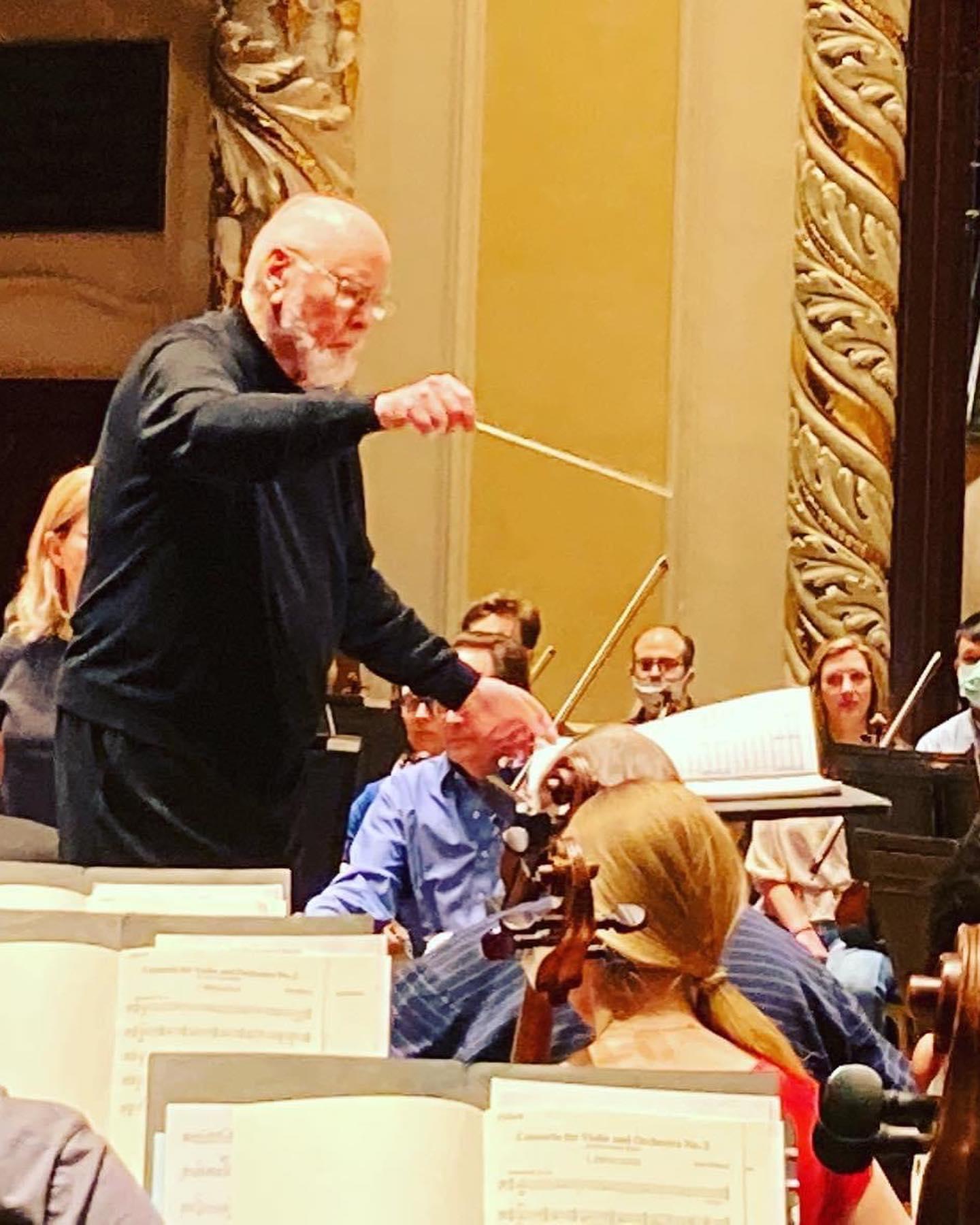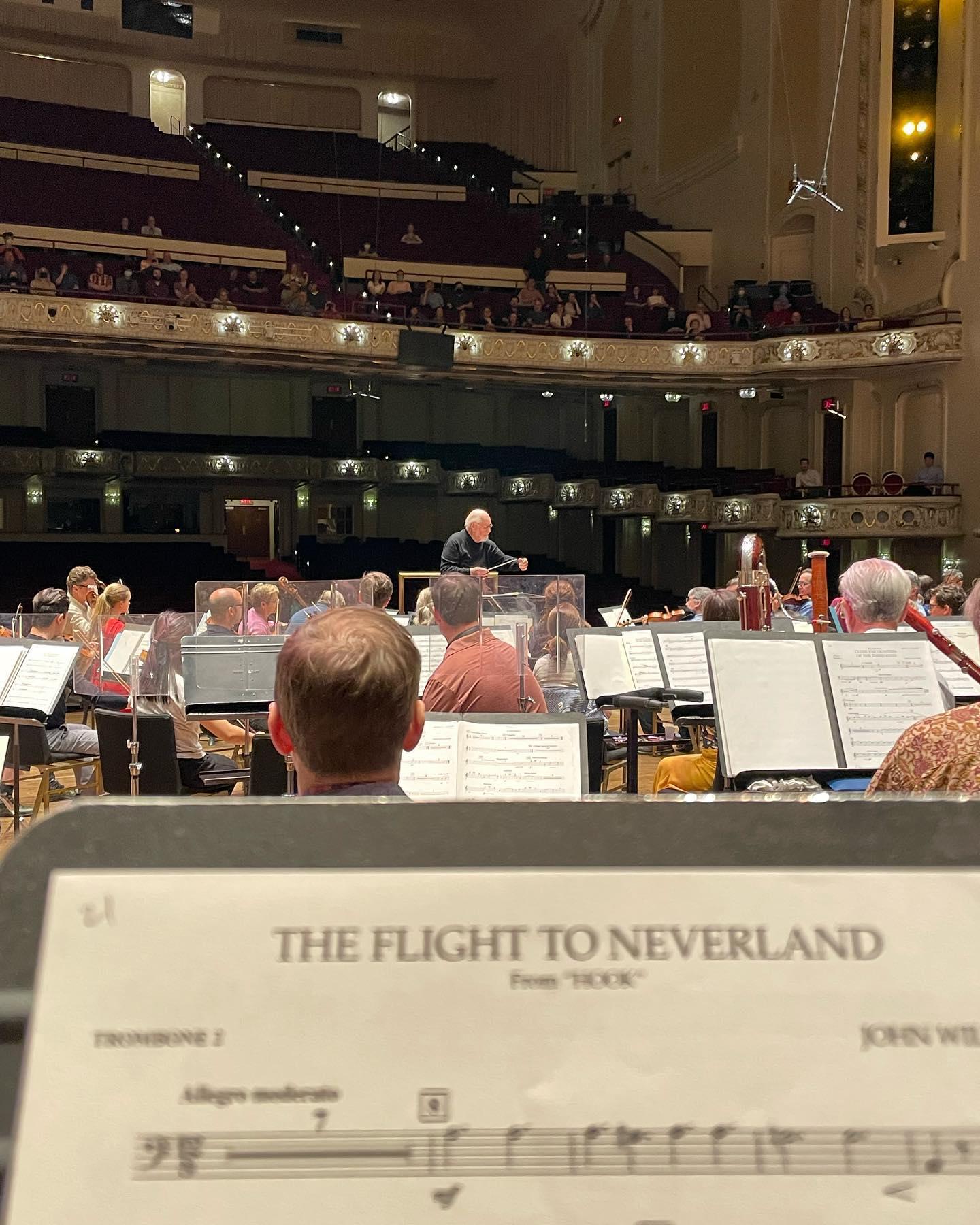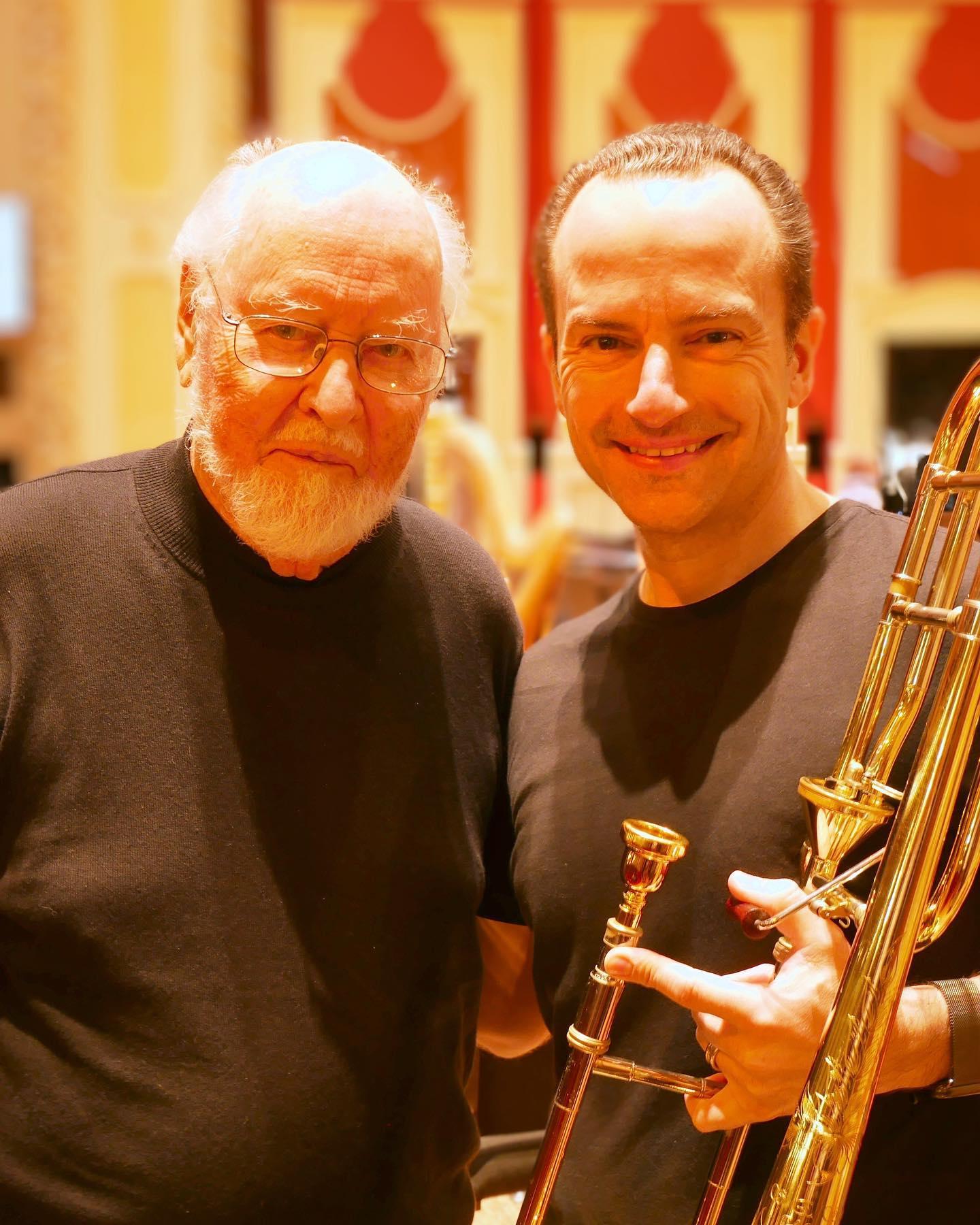 Williams and PSO trombonist Jim Nova
CONCERT PHOTOS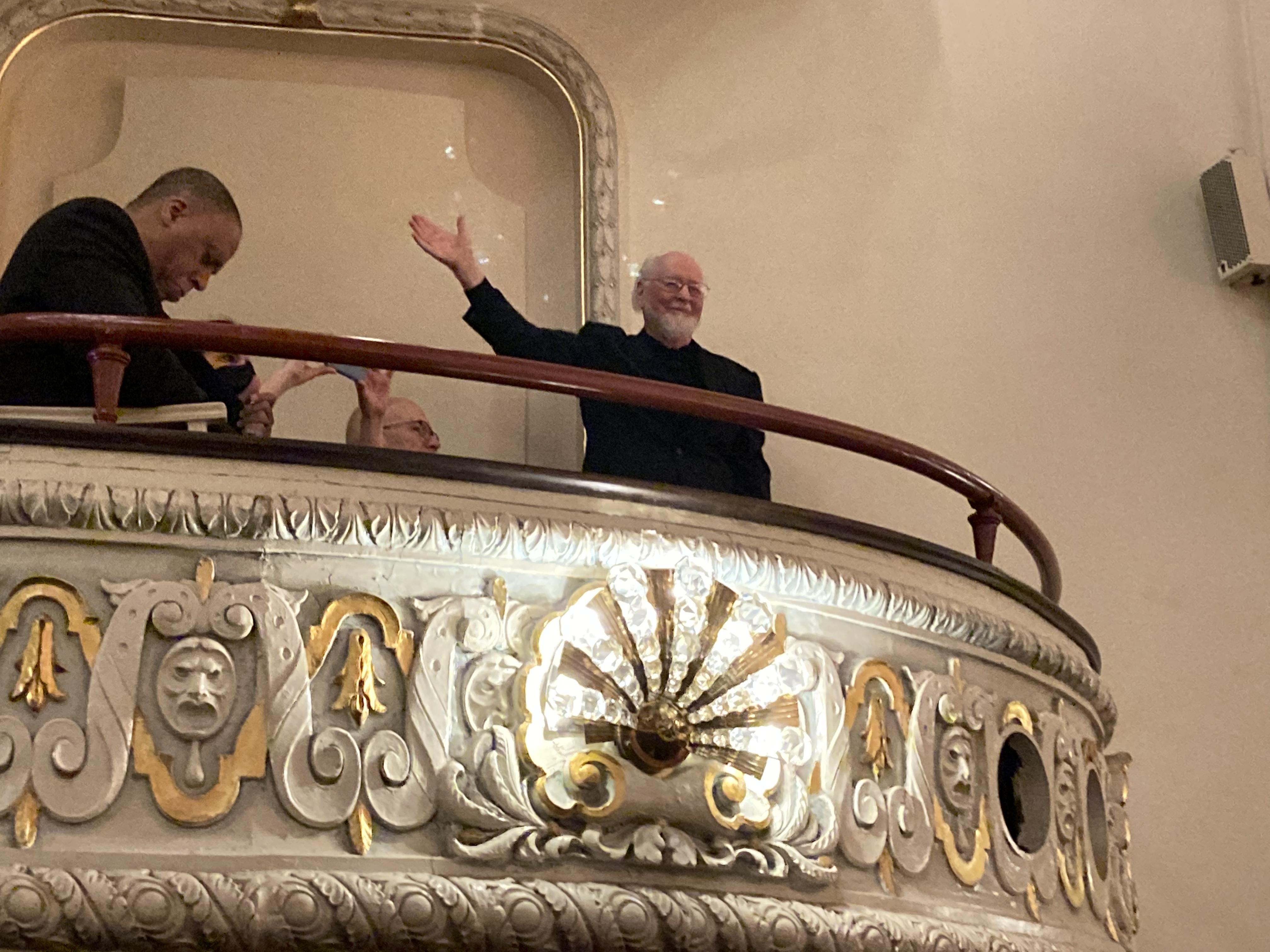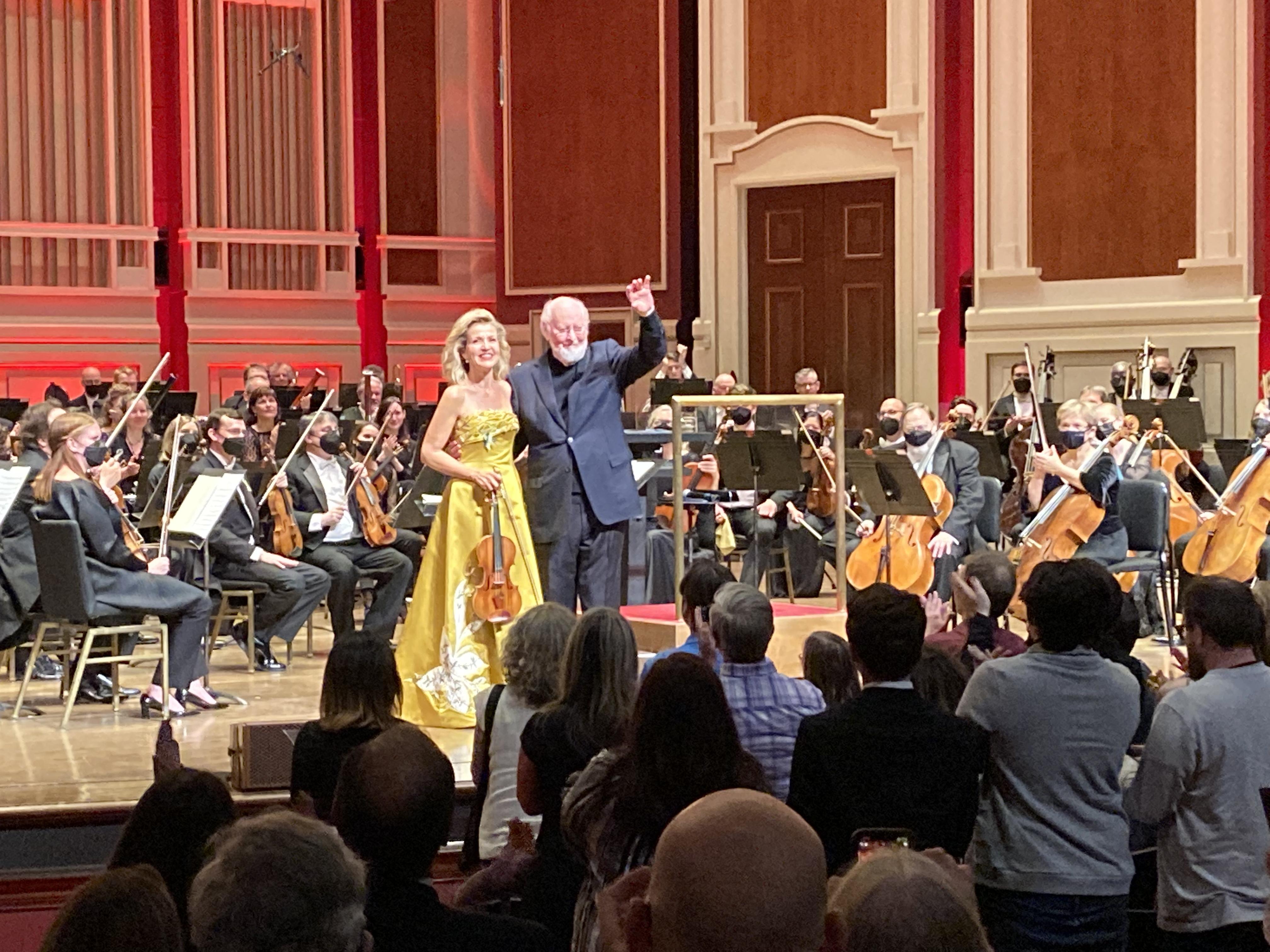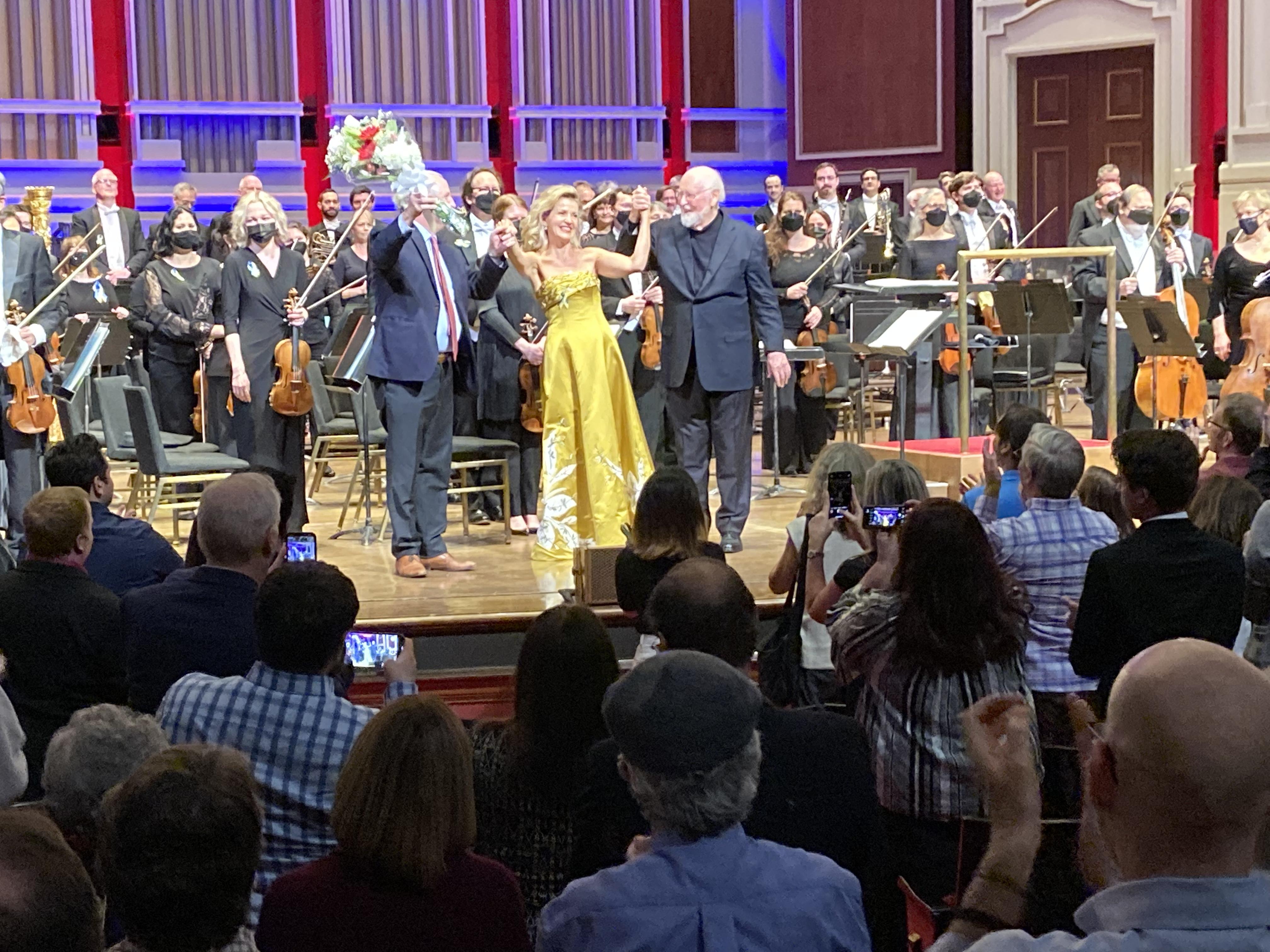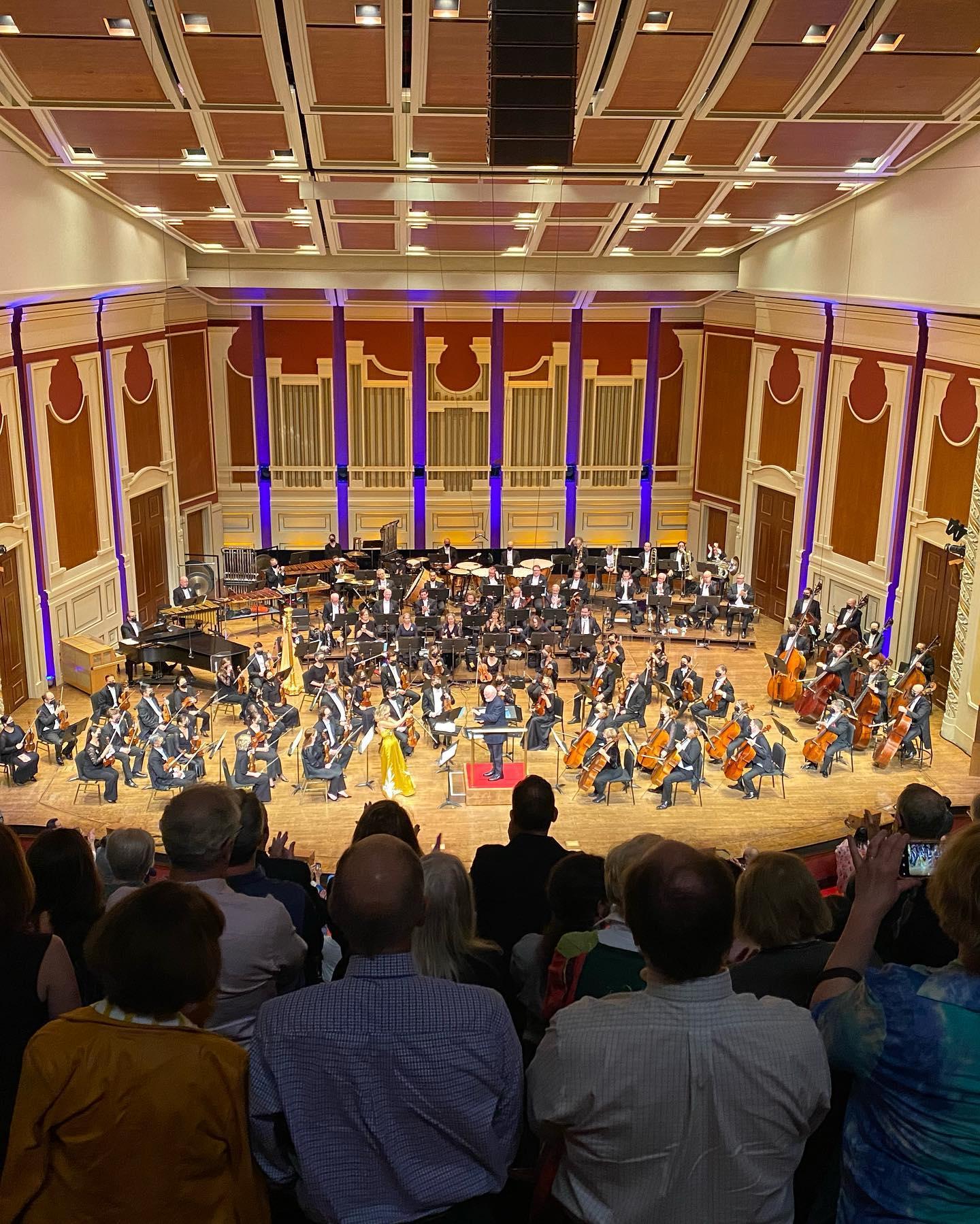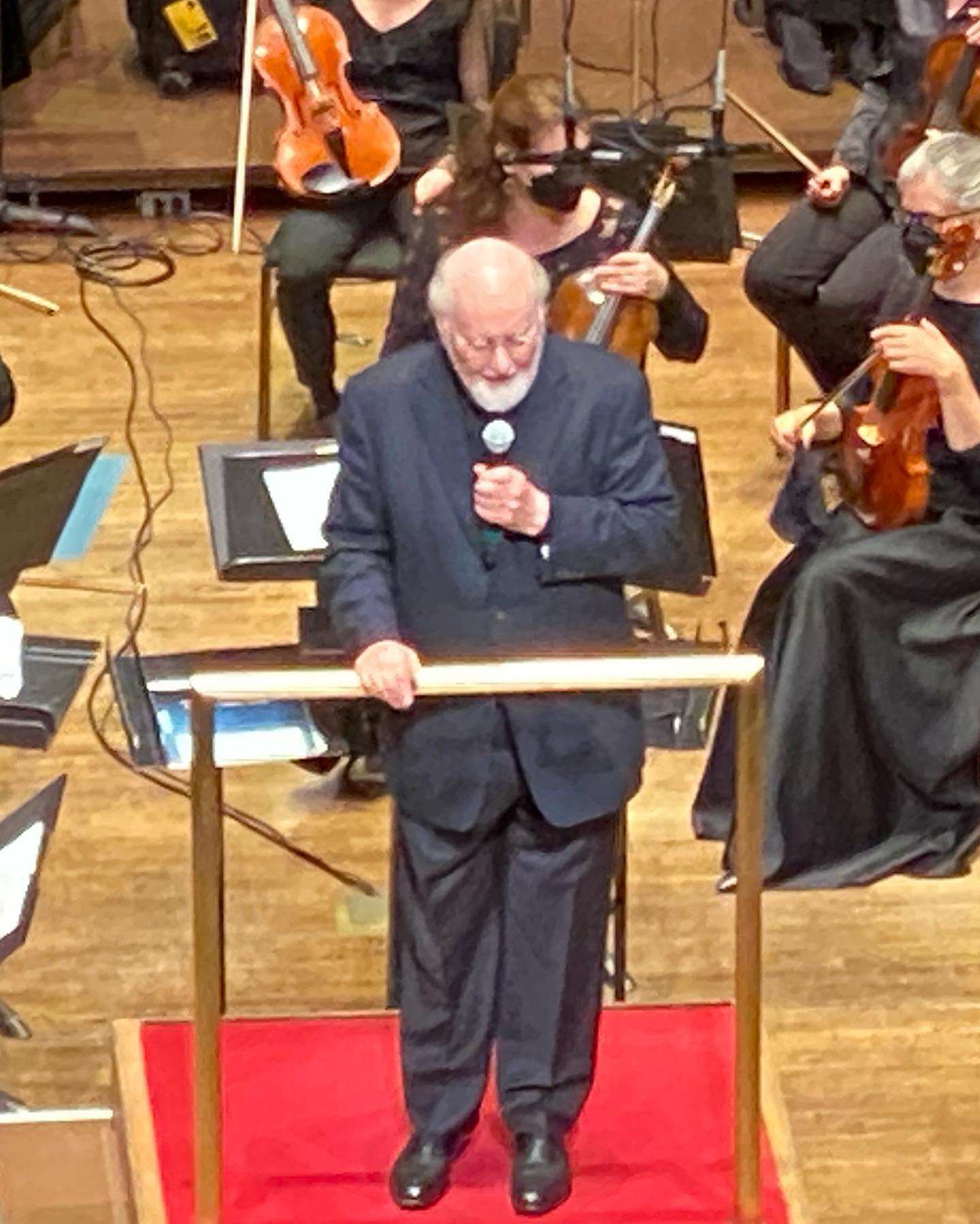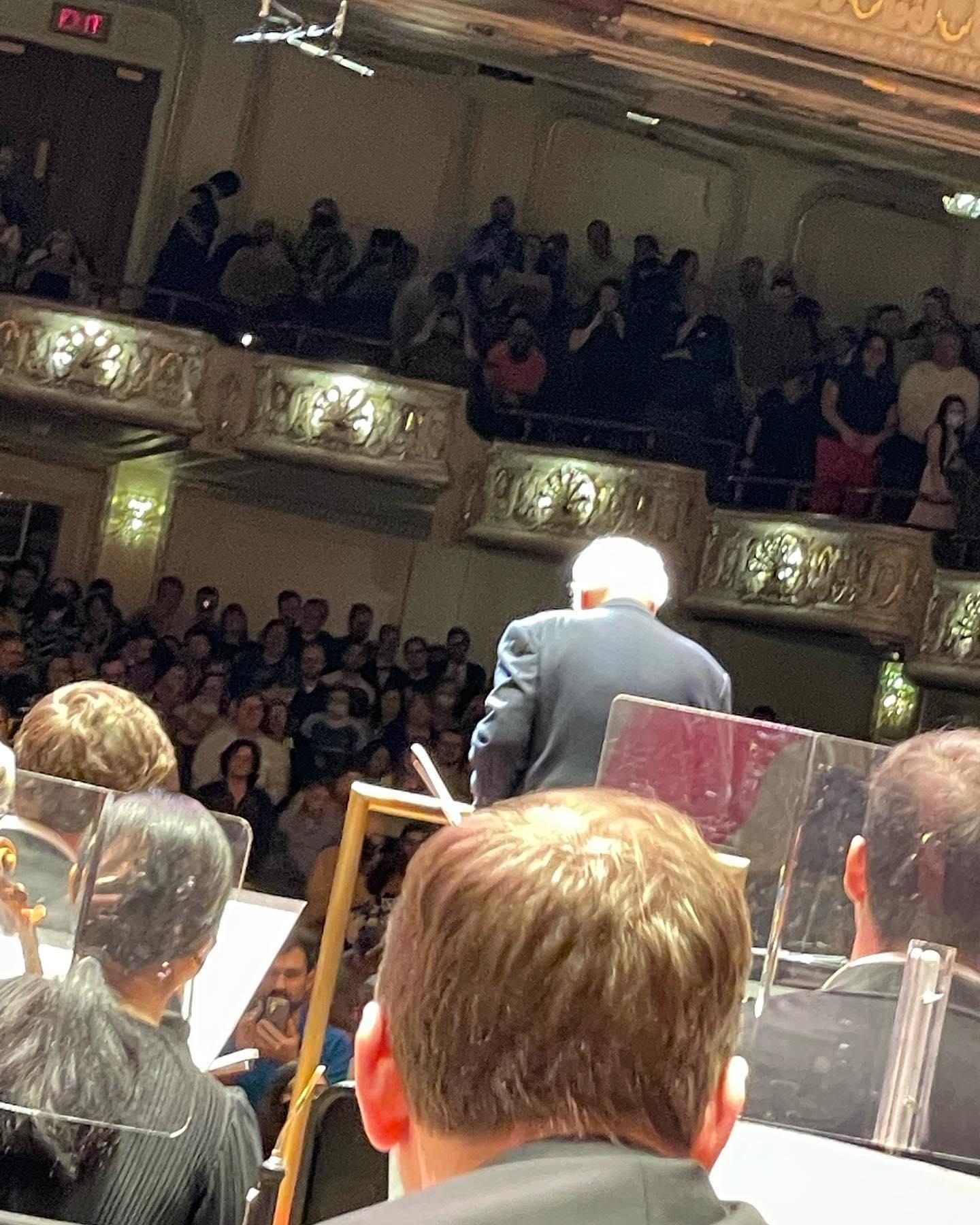 (Photos by Jim Nova)