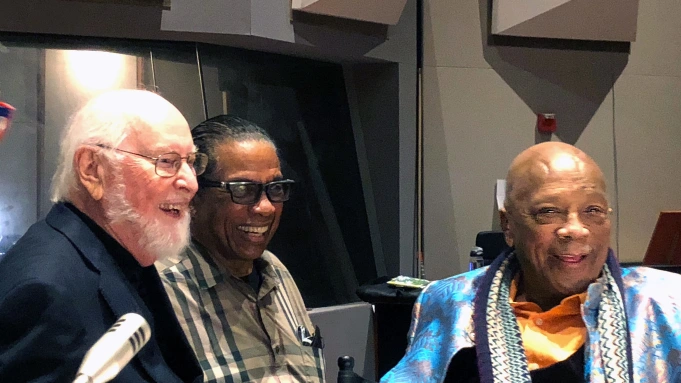 The centennial of Henry Mancini, composer of "The Pink Panther," "Moon River" and other movie songs, isn't until 2024. But the celebration began on Thursday when an all-star parade of Oscar, Emmy and Grammy-winning musicians got together to re-record one of his most famous works: "Peter Gunn."
With legendary composers John Williams and Herbie Hancock on keyboards, jazz great Arturo Sandoval on trumpet and music mogul Quincy Jones conducting an 18-piece band of L.A. session players, Mancini's 1958 TV theme rocked the Warner Bros. scoring stage all afternoon.
It was old home week for many, who seemingly spent half the three-hour session embracing, laughing and snapping photos. Williams and Jones called each other "Q" and "John T.," the nicknames they had when the two were toiling side-by-side at Universal Television in the 1960s, before each started collecting Oscars and Grammys for their work in films and records.
Williams, 90, was the only member of the band who was actually at the original "Peter Gunn" recording sessions 64 years ago. He not only performed on the "Peter Gunn" soundtrack album – which won the very first Album of the Year Grammy – he also played piano on the weekly scores for "Gunn," a private-eye series that ran on NBC from 1958-1961.
"He had a wonderful, populist touch," Williams told Variety after the session. "Things like this, 'Peter Gunn,' and those wonderful songs. People picked up right away on the broad humanity in his music. He was very gifted. He was a child of the big-band era so he knew that school of writing very well. He connected with people and they with him. That's why we know and love him."