Boston Symphony Hall, May 22-26, 2007
The Boston Pops Orchestra Conducted by JOHN WILLIAMS  – "Film Night"
CONCERT PROGRAM 
Fanfare for a Festive Occasion
Bernard Herrmann Suite:
Citizen Kane Newspaper Montage
Scene d'Amour from Vertigo
Currier & Ives Suite
Psycho Suite
North By Northwest Main Title
Intermission
Hooray for Hollywood
Carousel Suite
Fiddler on the Roof Suite
All that Jazz from Chicago
Intermission
Superman Theme
Harry Potter Suite
Fawkes the Phoenix
Nimbus 2000
Harry's Wondrous World
Lucas/Spielberg Tribute
Jaws Theme
Star Wars Main Title
The Raiders March
Flying from E.T.
Encores:
Luke & Leia from Return of the Jedi
NBC Mission Theme
Stars & Stripes
CONCERT REVIEWS
Review by 'odnurega1'
I got back from Boston a few days ago, and let me tell you, I had a great time. I'd never been before. I went to see John Williams on Wednesday night. Great program. I loved the selection of music, although I wish that Williams played the full pieces during the Spielberg/Lucas tribute. After the performance Wednesday night, I went to the outdoor stage door. There were about 15 other people. About 40 minutes later, a security guard came to the door and told us JW had left through the indoor stage door, and didn't feel like meeting with anyone, because he was tired. I was disappointed, but I had one more night in Boston. That next night, I went back around 9:30 PM, just to see if JW would come out. We were told by both the Security Guard and John Williams driver (Papino) that JW would be really late that night, because he had meetings, as well as the fact that someone wanted him to watch a film. So, we waited, still (quite stubborn), even though the chances were slim, and the security guards kept telling us to leave. Eventually, at about 11:30, John Williams came out. He walked straight up to me and said "Have you been waiting this long for me"? , with a grin on his face. I kind of stammered (I was standing next to my favorite film composer and the person who I've wanted to meet for years. He then signed my "Indiana Jones and the Last Crusade" CD cover, and then offered to sign the program, which I had brought as something hard for him to sign the CD cover on. I said:"yes", and then asked him to take a picture with me. He happily obliged, and was really nice. The first thing I noticed was just how nice he was. For a man his age, he had to be tired after such a long day. The guard told us he came in at 6 AM that morning.
Review by 'pi'
My impressions of Williams were very positive, he looks to be in good health of mind and body. He was well recieved by the orchestra (you could easily spot their reverence for him) and of course the audience went simply mad for him during the composer's own works and his encore. His movement and conducting seemed to have strength behind it and in general he seemed to posess the body of a much younger man. Fortunately I had excellent seats for the concert and had a point blank vantage point of Williams at the stand. Several things were of interest to me. Firstly, on some of the Hermann works Williams actually made vocal noise, either humming a string passage here and there or blowing wind through his lips (quite loudly!) during an acceleration. Secondly when not conducting to picture the boston pops adapted the typical behind the beat classical response to the conductor's baton. This was very noticeable! Anyone who has seen a master conductor from the old school you can see how obvious this is. Especialy the love scene from vertigo was behind the beat, and very beautiful! While conducting to click the orchestra played right on top of JW's beat. JW adapted a considerablly slower tempo for Superman. And in general the orchestra played very squarely. All though you can make the argument the Boston Pops has more proficient players I enjoy the playing of the LA players better. I expect the NY players will be great when i see Williams later this year. Anyway it was a very nice concert, even though it was rather "lite" in its program. Not really exploring anything in depth, but touching on very many pieces
CONCERT PICTURES
(Thanks to 'pi')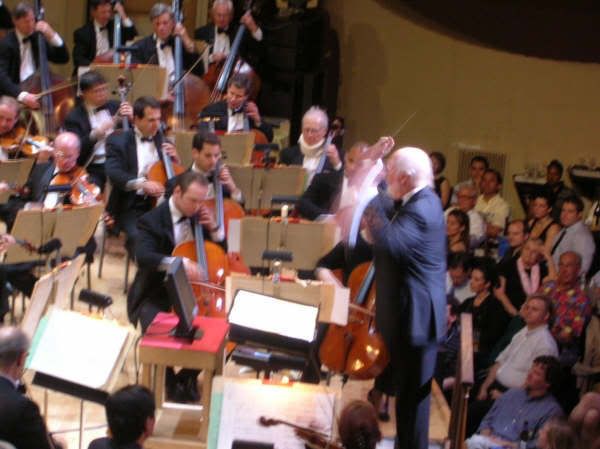 VIDEOS FROM MAY 26
JOHN WILLIAMS MEETING REPORT
Steven Higgs from Boston attended the May 22nd concert and got the extremely rare chance to meet John Williams backstage, upstairs, in his "green room" ..
What an occasion, opportunity and "full-circle" surreal moment, to stand face to face and shake the hand of an icon in modern music… a part of history IN film music standing before me for oh about 5 minutes (felt like a stretch of longer time)  he spoke about the concert of the evening (filled with queues from his themes/scores, i.e. Superman, Harry Potter, E.T.,Raiders of the Lost Ark, Fiddler on the Roof, Jaws, and of course Star Wars)  and told him how honored I was and thankful for his music, what a wonderful opportunity it was.

Max Hobart (–the father of a student I teach jazz piano to, and thus passed along to her dad I was a fan, and got tickets, etc.—) who was once first-chair-violinist/ concertmaster FOR the Pops under most of Williams' run as Pops conductor (and even several years under Arthur Fiedler) had provided me with the chance TO go backstage like that (up to Williams' little dressing room– with piano– no, I didn't get to play for him— he looked REAL tired) after the concert, because of his long-standing friendship/connection.  They traded a small story of when Max had to 'cover' for Williams one time in Tanglewood because he was sick, and with only a few hours, Max had to conduct E.T., a suite from The Reivers (with Burgess Meredith narrating) and several other pieces…..and in that conversation backstage, Williams lit up smiling and saying Max saved the day, yes. Nice to see that happen and him recount the story and music from the concert— while making eye contact with him, and shaking his hand in greeting him and departing.

My sister, Kathi, came and she took pictures—which have been posted in the pictures area on this page.   ….   yes, I was there!  

(Click to enlarge)


(Click to enlarge)