Hollywood Bowl, CA
August 28 & 29, 2010
Los Angeles Philharmonic Orchestra Conducted by JOHN WILLIAMS
'John Williams and the Music of the Movies'
I knew Miklos Rozsa as a friend for nearly thirty years. Since his passing I've grown very close to his daughter Juliet and the Rozsa family. On Saturday night, August 28th, following the concert at The Hollywood Bowl, I was invited by Juliet to join her back stage at the Bowl to meet my last living hero. I got to meet Maestro Williams and chat with him for a couple of minutes. He was very kind and gracious. It was truly one of the greatest moments of my entire life." (Steve Vertlieb)
'CALIFORNIA DREAMIN', Fan Report by Steve Vertlieb
I just returned from my first vacation in nearly ten years, and my first "out of mind and body" sojourn since major open heart surgery an unimaginable six months ago.  I went to visit my little brother Erwin in Los Angeles.  The trip was absolutely amazing.  I simply couldn't have written a more fulfilling scenario for the trip, and I couldn't possibly be happier.
On my second day there I was interviewed at length on camera by documentary film maker Paul Davids ("The Sci-Fi Boys") for a new film about Forry Ackerman.  I shared a delightful evening with director Jim Wynorski, producer Steve Mitchell (the new "Thriller" dvd), and Ron Borst at the latter's astonishing museum and home.  I went to the stunning Ray Harryhausen artifact exhibit at The Academy Of Motion Picture Arts And Sciences.  I enjoyed a wonderful two and a half hour reunion over numerous cups of coffee with Emmy nominated actor Paul Clemens ("The Beast Within" and "Quincy").  Had several enormously entertaining evenings at the home of attorney Les Zador.  (Les is the wondrously giving and generous son of famed classical composer Eugene Zador, and one of the founders of California's Film Music Society.)  Had a barbecue in Beverly Hills at the home of Juliet Rozsa.  Went both to Disneyland and Universal, and rode the colossal new "King Kong 3-D experience."  Had a delightful ninety minute lunch date with Emmy winning composer Lee Holdridge ("Beauty And The Beast" series for CBS).  Shared a four hour evening over dinner with famed stop motion special effects genius and painter Jim Danforth, along with his lovely wife, Karen.
Spent a memorable hour, one on one, with one of the most important literary voices of the twentieth century, Ray Bradbury, in the quiet confines of his den at home…and…during one of the most exciting nights of my entire life…I attended the brilliant John Williams film music concert at The Hollywood Bowl on Saturday evening, August 28th.
After the completely sold out concert performance ended, I was privileged to fullfill a dream of fifty years duration.  Juliet Rozsa (Miklos Rozsa's daughter) invited me to join her and her party back stage at The Bowl in order to meet my last living hero, John Williams.  I damn near cried when I saw him standing there by the dressing rooms.  I spoke with him for a couple of minutes.  He was very cultured, gracious, and kind.  He put his arm around me and, happily, posed for a battery of pictures.
We had gone the morning before to The Bowl to watch the open rehearsals with Williams and The Los Angeles Philharmonic, but this personal audience with filmdom's most legendary and universally popular composer will stand always in my heart as one of the most wondrous, rewarding, and exciting moments of my life.  Miklos Rozsa's granddaughter, Nicchi, said that she had never seen me looking happier.  I couldn't have wished for a more wonderful vacation.  Time passed in a scenic whirlwind, but will forever occupy a special, honored place in my heart.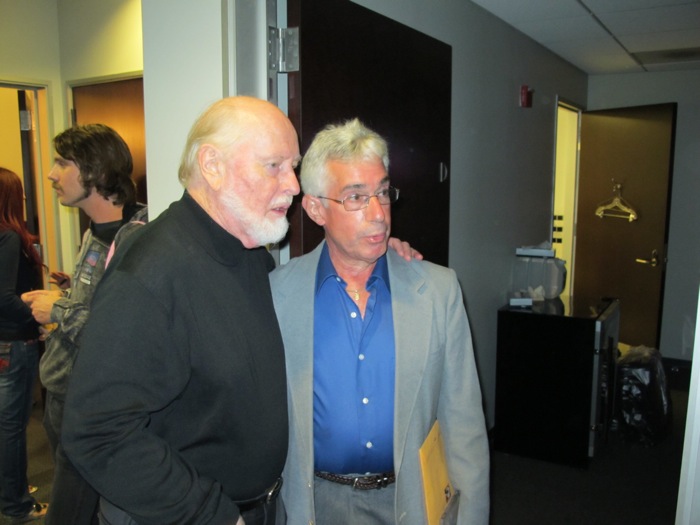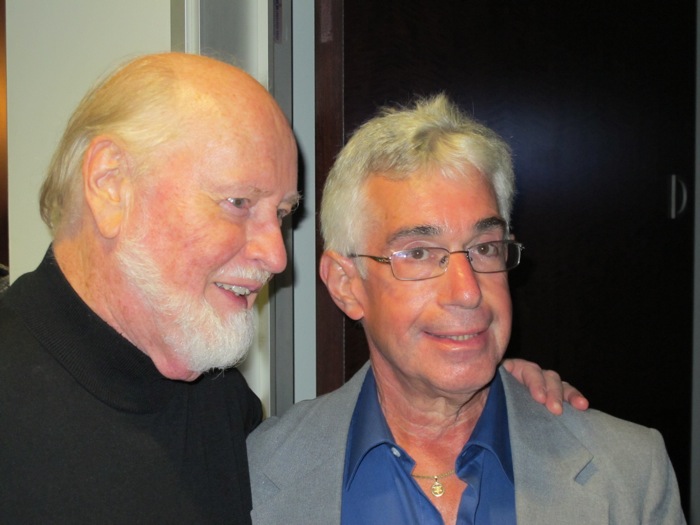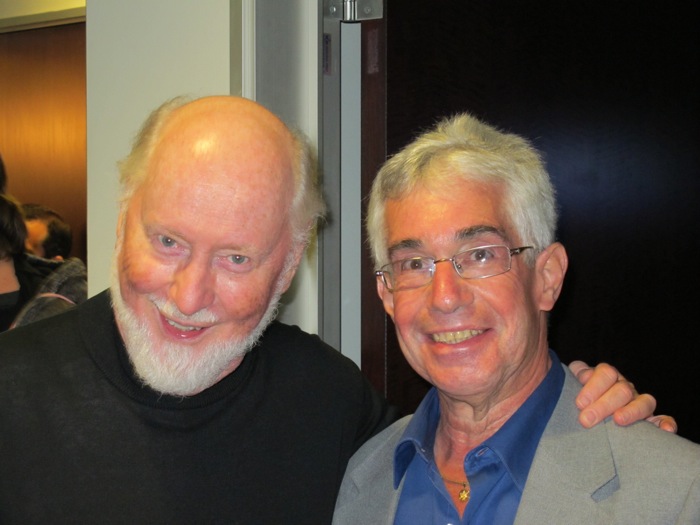 I was virtually in tears when I developed this photo.  It is beyond my most treasured dreams. I hope you'll agree that it is an absolutely amazing photograph.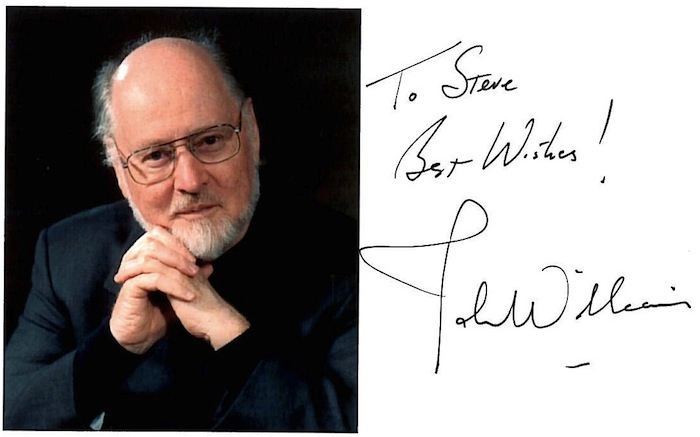 EXTERNAL REVIEWS
JWFAN REVIEWS
The first half contained some really great music. Really excellent performance of some classic tunes from the Golden Age of Hollywood. There were a lot that I had never heard, so I'll probably be seeking some of them in the near future.Psycho was great fun, although this was one instance where I felt a fuller sound from the orchestra could have done good. North by Northwest was fantastic (the visuals homaged a variety of Hitchock films, not just NBNW), despite some awkward rewrites for the concert version. The only Williams piece was Sabrina, and it is worth mentioning that not only did a violin solo instead of a piano, but there were some other differences that would make it worthy of a recording, IMO. On "Spartacus," it seemed like Williams was desperately trying to get the timpanist to stop his roll transitioning between the love theme and the march. I could have not seen it correctly, but I thought in the screens Williams was shaking his head and mouthing "no no no!" Not being familiar with the music, I couldn't tell if there was a mistake or not. It certainly sounded great!
The second half was really enjoyable also. I must say that throughout the entire concert the orchestra was fantastic – probably the best they've ever sounded in the 4 years I've attended concerts. The French Horns in particular were great – they were full, they were in perfect unison (sometimes I couldn't tell if something was a horn solo or soli), and they really knew when to shine and when to be the background. The first piece was "Theme from Jaws" followed by "Barrel Chase." My only disapointment was that "Barrel Chase" contained some very loud SFX – to be honest if it wasn't for the atmosphere and knowledge of my situation, I could've just been watching the film (with respect to how the SFX covered a lot of the music). I would've much preferred no SFX (or, to satisfy the audience, have SFX cut out after Brody delivers his famous "we're gonna need a bigger boat"). This was the piece I looked forward to almost more than any other, and while it was still an exhilerating experience to hear it live, it could've been more effective. Next came, much to my surprise, 1941. I had heard Williams rehearsing this on Friday, so I assume it was going to be an encore. But instead, it was added last minute onto the program (it wasn't even in the programs being distributed). I agree with Data that it could've been a bit more expressive, but it was still a really good performance. Next came "Irina's Theme," not only the expanded version, but with a really nice sax solo written in, performed by Dan Higgins. Great stuff, I would love a recording of this. Then there was "Raiders March." I must admit, it has been a while since I've sat down and listened to this one straight through, and it was exhilerating. The visuals were a great tribute to the old fashion action of the Indy films. Then came "Luke and Leia," which, like "North by Northwest," sufferred some very strange and disruptive changes. The flute soli in the beginning was shortened, to exclude about 70% of it, as was the wonderful string soli heard later in the piece. The soloist was good (I was worried since he muffed a note during the rehearsal), although I think he may have messed up later on a long note. "The Forest Battle" was great! The tempo was much faster than the one at the rehearsal, and the performance was stunning, again, especially for the horns. The trombones could have been much louder I thought (throughout the entire concert). As a trombone player I felt particularly put off by their timid approach to places where they have the melody. And of course I don't think I could do any better, as I'm sure it takes talent beyond belief to be in such an orchestra, but it's easy to be a critic when you're not doing anything. 

 Then was "Throne Room," the from the RotS End Credits. This was another fan favorite, the lightsaber crowd really enjoyed this one. Encores were "Yoda's Theme," "Imperial March," and "March from Superman." Overall it was a great way to end the concert. I thought the crowd was a bit more timid than previous years – I recall Williams getting a standing ovation between every encore, whereas this year only a few people stood. But overall it was a fantastic time, and I'm really glad I was able to make it again this year. Bravo!