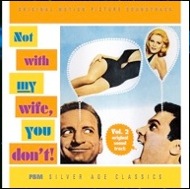 Not With My Wife, You Don't! Vol. 2—Original Soundtrack (1966)
FSM reissued the LP re-recording of Not With My Wife, You Don't! in March 2006. The album program offered a unique and delightful listening experience in its own right, but this CD offers the premiere release of the nearly-complete original film tracks, derived from the original ½" three-track scoring masters.
Numerous film stills decorate the 16-page booklet, surrounding an essay on film and score by FSM's "resident Williams authority," Jeff Eldridge. Not With My Wife, You Don't! overflows with wit and the contemporary sensibility of film-scoring's most celebrated maestro. Even fans with Vol. 1 already in their collection will need to buy this sequel because, like Virna Lisi's character in the film, they will want "two of everything." One can never have too much John Williams.
Full details, including audio samples, at Film Score Monthly