Music Composed and Conducted by JOHN WILLIAMS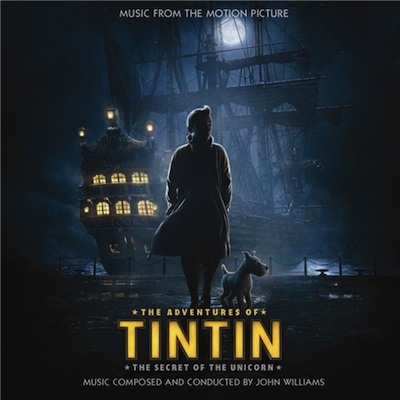 JWFAN SOUNDTRACK REVIEW, BY JASON LEBLANC
JWFAN SOUNDTRACK REVIEW#2, BY 'INCANUS'
JWFAN SOUND CLIPS
THE ADVENTURES OF TINTIN

SNOWY'S THEME

THE SECRET OF THE SCROLLS

INTRODUCING THE THOMPSONS AND SNOWY'S CHASE

MARLINKSPIKE HALL

ESCAPE FROM THE KARABOUDJAN

SIR FRANCIS AND THE UNICORN

CAPTAIN HADDOCK TAKES THE OARS

RED RACKHAM'S CURSE AND THE TREASURE

CAPTURING MR. SILK

THE FLIGHT TO BAGGHAR

THE MILANESE NIGHTINGALE

PRESENTING BIANCA CASTAFIORE

THE PURSUIT OF THE FALCON

THE CAPTAIN'S COUNSEL

THE CLASH OF THE CRANES

THE RETURN TO MARLINSPIKE HALL AND FINALE

THE ADVENTURE CONTINUES

MORE SOUND CLIPS
Cinezik.fr – Cinema Musica – Amazon UK – Qobuz
Cinema Musica + Cinezik samples combined:
TRACK LIST
The Adventures of Tintin (3:04)
Snowy's Theme (2:10)
The Secret of the Scrolls (3:13)
Introducing the Thompsons and Snowy's Chase (4:08)
Marlinspike Hall (3:59)
Escape from the Karaboudjan (3:21)
Sir Francis and the Unicorn (5:05)
Captain Haddock Takes the Oars (2:17)
Red Rackham's Curse and the Treasure (6:10)
Capturing Mr. Silk (2:58)
The Flight to Bagghar (3:33)
The Milanese Nightingale (1:30)
Presenting Bianca Castafiore (3:28)
The Pursuit of the Falcon (5:43)
The Captain's Counsel (2:10)
The Clash of the Cranes (3:48)
The Return to Marlinspike Hall and Finale (5:51)
The Adventure Continues (2:58)
Total time: 65:26
FILM RELEASE
ALBUM RELEASE
LABEL
US TRAILER #2
(Includes John Williams music between 0:08 and 1:28 approx.)
INTERNATIONAL TRAILER
(Includes John Williams music between 0:20 and 0:37 approx.)
TEASER TRAILER
SCORE DETAILS (OFFICIAL SOURCES)
The first details of the score for The Adventures of Tintin: The Secret of the Unicorn were revealed by orchestrator Conrad Pope in August 2009:
I'm currently orchestrating a large piece with a number of ideas.The main theme is highly energetic, filled with great tonal twists and turns, reflecting, I suspect, Tintin's heroic energy. It will become a classic, I think. To give more information would be to reveal things that I don't think JW would want to say.
We are at the beginning of the process. The main scoring sessions are off in February 2010.
Also, let me say with regard to Tintin, I believe, as with "Potter"and Catch Me if you Can, people will be both surprised and not surprised by how the music is both "expected" and "UN-expected"— before you hear it.
Williams will return to the scoring stage in July 2011 to complete the recording of the score.
Also, American soprano Renee Fleming was recorded singing with a 69-piece orchestra at the Manhattan Center Studios in NYC forTintin, while Steven Spielberg and John Williams attended the special session from LA:
Renee Fleming was recorded singing live with a 69-piece orchestra in the Grand  Ballroom and adjacent Studio 7, equipped with the massive 108-input Neve VR, for Steven Spielberg's animated film Tintin. Two video crews were present at the sessions, one for a polycom set up allowing Spielberg and composer John Williams to attend the session from LA. The  second crew performed motion capture, which will allow the film's animators to capture Fleming's facial expressions exactly for her animated character.  Todd Whitlock was the engineer on the session.
In an August 2011 interview for SignOnSanDiego.com, Williams mentioned the following:
"I'm working on a couple films now (War Horse and The Adventures of Tintin: Secret of the Unicorn, both directed by Spielberg) and the scores are very cluttered with notes."
SCORE DETAILS (UNOFFICIAL SOURCE)
Quotes from FilmComposer518
"Tintin is your typical 'quirky' Williams comedy adventure score. With some accordion, sitar, saxophone thrown in. There are a few memorable action cues, but IMO it doesn't come close to War Horse in terms of creative and intelligent content – not to mention sheer beauty.
To put it in comparable terms…

War Horse = Angela's Ashes/Raiders/Far and Away/Saving Private Ryan
Tintin = Funny SW Prequel moments/Terminal/SOME Catch Me If You Can/a PINCH of Jurassic Park (my favorite cue from the film)
(not to mention the biggest Hook pirate theme ripoff this side of James Horner)"

"You have to understand that I must be careful in my answers to not give away actual descriptions of music as that could get me into trouble.

But I will say that the pinch of Jurassic Park is a bit of half-action music…more just intense (I don't mean scary) and millitaristic brass figures…except in Tintin it's an actual action cue that is sped up. But it's only the beginning of the cue. Trust me, if the whole of Tintin was on Jurassic Park's level, I wouldn't be complaining about a thing! It's a good solid John Williams score. But it's just that. Whereas War Horse is one that made me go 'Wow…this is why I wanted to be a composer'"

"There is a lot about Tintin that could be considered Carl Starling…but the Thompsons' theme is probably the quirkiest and most tongue in cheek. There is nothing blatantly…like…Merry Melodies theme…it's not THAT cartoony. But the Thompsons' theme is dorky and quirky."

"Tintin is a bit more like his general action music BUT there are several cues that achieve more than that. (There are a lot of moments of excitement in Tintin)"

"The score does not feel jumpy at all. All of the ethnic instruments are used either to emphasize a brief filmic moment, or to evoke a certain tone in the music. It doesn't jump from classic Williams orchestra to jazz saxophone from one cue to the next. Think the way Terminal had accordion in the main theme and throughout…it worked because it blended."

"Quite the contrary in regard to the themes…each theme is used extensively in Tintin. Almost every cue has at least a touch of the several themes. I wouldnt' say they are developed that much over time…pretty much what you first hear is what you get from them. Sort of like Indy's theme…sometimes it is fast and adventurous…sometimes it is slow and thoughtful…but it doesn't really morph that much over the film."
JWFAN DISCUSSION
LINKS