This month, host Peter Cummings interviews John Williams, one of America's most accomplished composers for both films and the concert stage. Hear their conversation on LINKEDMusic, starting Saturday, May 18, at 9AM EST on SiriusXM Pops (Channel 75).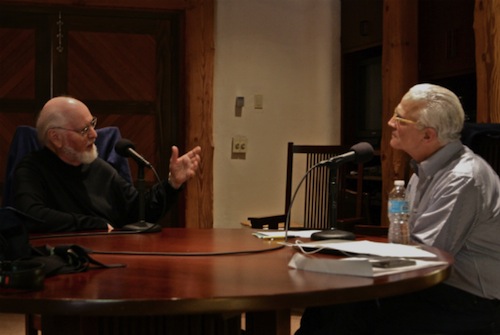 Peter Cummings interviewing John Williams
Host Peter Cummings interviewed Williams at the DreamWorks Studios backlot where the composer collaborates with Steven Spielberg, his artistic partner of 40 years. As composer and music director, he has created iconic scores for more than 130 movies including Schindler's List, ET, Jaws, Harry Potter, and Fiddler on the Roof.
Moving between Hollywood and the live stage, he has served as music director and laureate conductor of the Boston Pops Orchestra and holds the title of Artist-in-Residence at Tanglewood. Williams has also led such orchestras as the Boston Symphony Orchestra, the New York Philharmonic, the Chicago Symphony, and the Los Angeles Philharmonic.
Williams has composed numerous concert pieces including two symphonies, as well as concertos for flute, violin, clarinet, viola, oboe and tuba. These diverse projects include a concerto at Tanglewood, "Liberty Fanfare" for the rededication of the Statue of Liberty, the theme for NFL Football on NBC, and an arrangement of "Air and Simple Gifts" for President Obama's first inauguration.
Williams' countless awards include the National Medal of Arts, the Kennedy Center Honor, the Olympic Order, five Academy Awards and 48 nominations, 21 Grammy Awards, five Emmy Awards, four Golden Globe Awards, and 21 honorary degrees.
Tune in this weekend as John Williams discusses his first major motion picture composition for How to Steal a Million, the contrast between the Hollywood studio environment and the live concert experience, collaborating with George Lucas on Star Wars, and more.
LINKEDMusic airs on Sirius XM Pops (Channel 75) at 9AM EST on Saturday, May 18, and will replay on Sunday, May 19, at 8PM, and on Monday, May 20, at 11PM.