"JOHN WILLIAMS & STEVEN SPIELBERG"
June 14, 2014, Detroit, MI
The Detroit Symphony Orchestra conducted by JOHN WILLIAMS
Steven Spielberg, host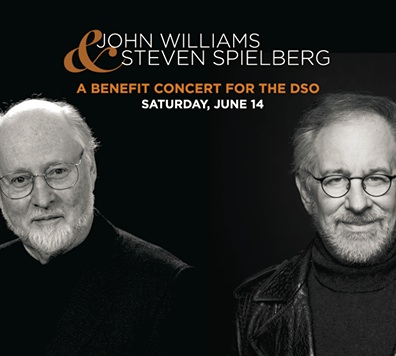 CONCERT PROGRAM
Hooray for Hollywood (arr. Williams)
Selections from Far and Away
Suite from Harry Potter and the Sorcerer's Stone
("Hedwig's Theme", "Nimbus 2000", "Harry's Wondrous World")
Dartmoor, 1912 from War Horse
Main Title from Star Wars
INTERMISSION
Theme from Jaws
Introduction by Steven Spielberg
Excerpts from Close Encounters of the Third Kind
Techniques of Film Scoring: The Circus Train Chase from Indiana Jones and the Last Crusade
Marion's Theme from Raiders of the Lost Ark
The Duel from The Adventures of Tintin
Theme from Schindler's List
Adventures on Earth from E.T. The Extra-Terrestrial
ENCORES
With Malice Toward None from Lincoln
The Raiders March from Raiders of the Lost Ark
VIDEOS
EXTERNAL REVIEWS
Detroit Free Press – What was quite clear from Spielberg's narration was just how central he feels Williams has been to the success of his films. "I can direct bicycles to fly over the moon, but the music makes them fly," said Spielberg, introducing an excerpt from "E.T. The Extra-Terrestrial." – Full review
Oakland Press – Truth be told, John Williams and Steven Spielberg could have simply shown up on stage at Orchestra Hall, waved to the crowd and walked off and still received a rapturous response. – Full review
The Detroit News – Everyone in the packed hall seemed thrilled by the star power of the two visitors from Los Angeles. Befitting the occasion, tuxedos and a rainbow of gowns, worn by those going to the after-concert dinner, mingled with the casual hip of others who came just for the concert. – Full review
Click On Detroit – Williams led Detroit's Orchestra through selections from some of his finest work; "Harry Potter," "War Horse" and "Star Wars." Watching his boundless energy, you'd never know he was 82 years old. Williams joked about currently working on his seventh Star Wars films, with its new "young" director, J.J. Abrams. He called himself one of the "survivors" still around from the original George Lucas films. – Full review
MLive.com – Soon into the performance, Williams announced a series of selections from the Harry Potter movies. "The greatest British export since the Beatles," he said before setting his conductor wand and the orchestra in motion. – Full review (includes photos)
JWFAN REVIEWS
Report by John Takis
This was a beautiful concert! The players really poured their hearts into it, and it was incredibly moving to see Williams and Spielberg together on stage. – Full report with program rundown
Review by 'seannyd' (original post)
What a fantastic concert. I've only seen Williams' music played once before, also at the DSO, but this time was even better. I felt like I was listening to original recordings of most of the pieces that were played. It was magnificent.
A few thoughts:
One of the most awesome things to see was despite the fact that Williams is a man in his 80s who needs to support himself a little bit when he gets on and off the podium, once he starts conducting, you'd never know it. It's absolutely brilliant. He has total control of the orchestra and seems to move so fluidly.
Spielberg was much stronger when he was just talking off the cuff. When he was trying to read notes, it just came across a little forced. I would have loved to just hear him tell stories about their time together over the course of 41 years. But after he came out, it was such a surreal moment watching Williams conduct the orchestra while Spielberg watched clips of Close Encounters being played. It's a sight I never expected to be able to glimpse in my lifetime, that's for sure.
I was really hoping for Jurassic Park since I've yet to hear it live, especially because it definitely could have fit in the program, which ended up feeling a little repetitious with the orchestra playing Marion's Theme and then having an encore of the Raider's March which has a significant portion of Marion's Theme in it. Although I will say that showing clips of classic film beauties during "Marion's", and the sword fighting montage during "The Duel" were really fun ways to mix it up.
All in all, I still don't know if it's really hit me what I saw. I have been a huge fan of both of these men for as long back as I can remember and having this opportunity was definitely a once in a lifetime experience.
BIZARRE SIDE NOTE: Kid Rock was there and when they finished playing "E.T." he yelled out "E.T!", looked at a guy sitting next to him, shrugged his shoulders, and then left, not even staying for the encores.