John Williams is debuting a new arrangement of "The Star-Spangled Banner" featuring choirs, trumpets, an orchestra and cannons on the National Mall, as part of the "A Capitol Fourth" Independence Day celebration concert.

A soloist normally performs the national anthem for the annual "Capitol Fourth" celebration, but this year Williams will lead the National Symphony Orchestra, the U.S. Army Herald Trumpets, the Joint Armed Forces Chorus and the Choral Arts Society of Washington in performing the new arrangement.
This year marks the 200th anniversary of the national anthem. Francis Scott Key was inspired by the sight of the flag over Baltimore's Fort McHenry in September 1814 after a 25-hour British bombardment.
"A Capitol Fourth" will be broadcast live on PBS from the West Lawn of the U.S. Capitol from 8 p.m. to 9:30 p.m. EDT.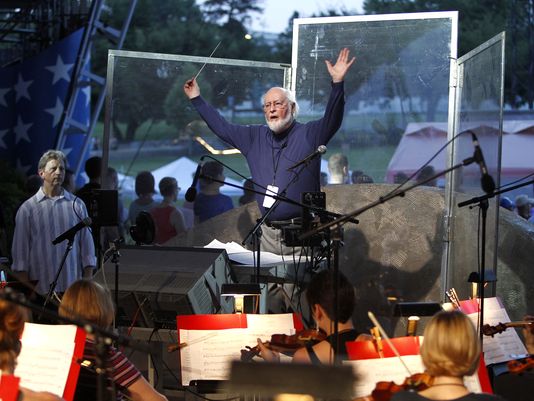 (Photo: John Williams conducts the National Symphony Orchestra and other musicians for the upcoming debut of a new arrangement of the national anthem on Capitol Hill in Washington on July 2, 2014. It will be performed July 4 on the National Mall before the annual fireworks show.)