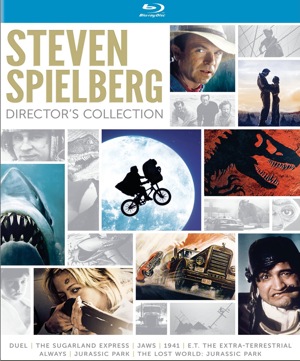 UPDATE: Interview with Mike Matessino about the new music
From producer Mike Matessino:
On October 14, 2014, Universal Pictures Home Entertainment will be releasing "The Steven Spielberg Director's Collection" on Blu-Ray and DVD. For the first time, the director's 1979 comedy "1941" will be available in Hi-Definition in both its original theatrical version and the "extended edition" which was previously released on Laserdisc and DVD. Both have been remastered from original film elements and look better than ever… but fans of the movie may notice that the soundtrack for the "extended edition" has been subtly improved.
After completing work on La-La Land Records' 2-CD limited edition soundtrack of John Williams's score for "1941," I proposed that the hi-definition release afforded an opportunity to restore the music for some of the extended sequences to how it was originally intended by the composer. I further suggested that the music on a few other sections (for which no score had been composed) might be adjusted to better suit the action and could also make use of material not otherwise heard in the picture.
Happily, the proposal was accepted and I provided the edited six-track music and supervised the remixing of six scenes, which were then approved by both Steven Spielberg and John Williams. I would like to thank everyone at Universal and at Amblin, and, especially, co-story & co-screenwriter Bob Gale, for making this happen. I hope viewers will enjoy this newly polished extended edition of "1941" as much as I enjoyed working on it.
The Steven Spielberg Director's Collection is available now at all Blu-Ray & DVD retailers.