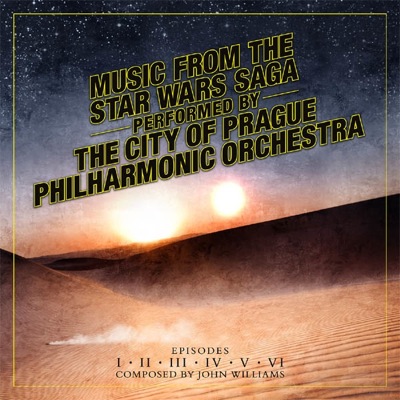 Silva Screen has reissued Music from The Star Wars Saga, a compilation featuring music from the 6 films performed by the City of Prague Philharmonic. The album was previously released as part of Silva's The Music of John Williams – The Definitive Collection, and is now sold separately for the first time.
Press Release – The City of Prague Philharmonic Orchestra
Music From The Star Wars Saga
SILVA SCREEN RECORDS PRESENTS
MUSIC FROM THE STAR WARS SAGA
Released to celebrate May 4th Star Wars Day and the mounting excitement for the December release of Star Wars Episode VII: The Force Awakens.
This compilation brings together selections from all six Star Wars films featuring John William's towering and epic scores performed by the renowned City Of Prague Philharmonic Orchestra. Highlights include The Imperial March, Forest Battle, Duel Of The Fates and The Throne Room/Finale, the latter the masterful ending to the original 1977 Star Wars and the Oscar winner for best score.
Tracklisting:
Star Wars Episode IV: A New Hope
01. Star Wars: A New Hope 05:24
02. Cantina Band 03:00
03. Princess Leia 04:46
04. The Throne Room / Finale 07:35
Star Wars Episode V: The Empire Strikes Back
05. The Imperial March 03:13
06. Han Solo and The Princess 04:11
07. The Asteroid Field 04:25
08. Yoda's Theme 03:52
Star Wars Episode VI: Return Of The Jedi
09. Forest Battle 03:52
Star Wars Episode I: The Phantom Menace
10. Anakin's Theme 02:51
11.The Flag Parade 03:18
12. The Adventures Of Jar Jar 03:26
13. Duel Of The Fates 04:11
Star Wars Episode II: Attack Of The Clones
14. Across The Stars 05:41
Star Wars Episode III: Revenge Of The Sith
15. Battle Of The Heroes 04:20
CD: SILCD1479
Release Date: 04/05/2015
Digital Album: SILED1479
Release Date: 04/05/2015
FOLLOW US ON
TWITTER: @SilvaScreen
FACEBOOK: https://www.facebook.com/SilvaScreenRecords
YOUTUBE: http://www.youtube.com/user/SilvaScreenRecords