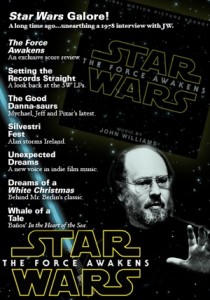 The latest issue of FSM Online features a 'vintage' radio interview with John Williams recorded in early 1978 amidst the success of his original Star Wars score.
The 50-minute program, which had not been heard since its original airing on London's Capital Radio in early 1978, was conducted while the Maestro was in the UK to perform a newly devised suite with the LSO.
Topics of the interview include the premiere performance of Symphony No. 1, Fiddler on the Roof, Earthquake, Cinderella Liberty, The Towering Inferno, Jaws, Star Wars and Close Encounters of the Third Kind. Williams also comments on starting work on Jaws 2 and Superman – The Movie.
You can listen to the interview by subscribing to FSM Online.
Below you can listen to a sample of the program, courtesy of Tim Burden.