FULL CONCERT NOW AVAILABLE AT WGBH.ORG — Direct link to MP3 stream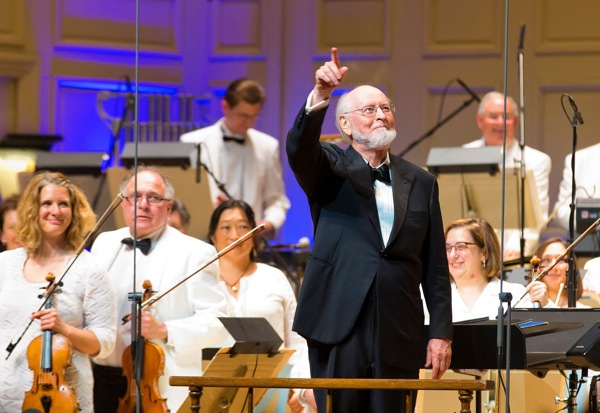 "JOHN WILLIAMS' FILM NIGHT"
May 12 & 13, 2016, Boston, MA
The Boston Pops Esplanade Orchestra conducted by Keith Lockhart and JOHN WILLIAMS
CONCERT PROGRAM
Keith Lockhart Conducting:
Prelude to Ben-Hur
Love Theme from Out of Africa
Main Title, Fountain Theme, and Chez Maxim Waltz from Gigi
Opening Sequence from Star Trek Into Darkness
Harry's Wondrous World from Harry Potter and the Sorcerer's Stone
The Raiders March from Raiders of the Lost Ark
John Wiliams Conducting:
Star Wars Main Title from Star Wars
Rey's Theme from Star Wars: The Force Awakens
March of the Resistance from Star Wars: The Force Awakens
Princess Leia's Theme from Star Wars
The Asteroid Field from The Empire Strikes Back
Luke and Leia from Return of the Jedi
Scherzo for X-Wings from Star Wars: The Force Awakens
The Jedi Steps and Finale from Star Wars: The Force Awakens (with accompanying film montage)
ENCORES

Yoda's Theme from The Empire Strikes Back
The Imperial March from The Empire Strikes Back
Flying Theme from E.T. The Extra-Terrestrial
JWFAN REVIEWS
Review by Jason LeBlanc (original post)

Despite having gone to Williams' Film Night concerts in May/June every year since 2008, I didn't think I'd be going this year at all until earlier in the week when a kind JWFanner sold me his ticket (both shows had originally sold out in a couple hours). I didn't even ask or care where my seat would be, and when I got inside Symphony Hall I was directed to what ended up being one of the very front tables closest to the stage. As everyone else at my table was already sitting down when I arrived, the sole remaining chair was in front; I spent the entire evening with basically my feet touching the wall of the stage and being able to only really see about 4-5 members of the string section. If I looked to the left I could basically see the back of the conductor (had a decent view of their face when talking, though).
I didn't realize (actually, I probably just forgot) that John Williams was only conducting the second half; Keith Lockhart conducted the first. The program told me he'd be performing this:
"And The Oscar Goes To…"
Miklós Rózsa – Prelude from Ben-Hur
John Barry – Love Theme from Out of Africa
Alan Jay Lerner & Frederick Loewe – Main Title, Fountain Theme, and Chez Maxim Waltz from Gig
"A Tribute To Paramount Pictures"
Alan Silvestri – Suite from Forrest Gump
Nino Rota – Selections from The Godfather
Michael Giacchino – Opening Sequence from Star Trek Into Darkness
But that isn't what ended up being played.
The night began with Keith Lockhart taking the stage, saying "Thank You", and launching right into the first piece:
Miklós Rózsa – Prelude from Ben-Hur
This is a score I'm unfamiliar with, but I understand its importance in the golden age of film scores. It was nice, and a nice way to settle into the evening.
Keith Lockhart then spoke for the first of several occasions:
"Good evening ladies and gentlemen and welcome to the 131st season of the Boston Pops. And welcome to "Film Night", this annual tradition here at Symphony Hall where we celebrate 90 years of great music performing the soundtracks of our lives and our culture. I have the great honor of being a warm-up act to the best person to be a warm-up act to today – perhaps the greatest film composer of all time, and the best known composer in the world, maestro John Williams." *applause* "I love saying that because then I get this incredible applause" *laughter* "Let me try that again: John Williams" *applause* "And as it befits sharing a stage with such an august personage in Hollywood history, we're starting off with some history-making music of its own. This is entirely all gold, the creme-de-la-creme, all the music you're going to hear is from films that have won Best Picture in the Academy Awards – these first three selections at any rate. In a little while we're going to go to one of the only 3 musicals to win both Best Picture and Best Score, Lerner and Loewe's classic 1958 Gigi." *several audience members murmur* "Oooh." *laughter* *sings* "'Thank heaven for little girls' – yea. But before that, I'd like to play the very, very beautiful and expansive John Barry overture and theme to the movie Out Of Africa from 1985. Meryl Streep, Robert Redford, and the African landscape – who could ask for anything more?"
And with that, the two pieces he described got played
John Barry – Love Theme from Out of Africa
Alan Jay Lerner & Frederick Loewe – Main Title, Fountain Theme, and Chez Maxim Waltz from Gigi
I liked the Out of Africa music quite a bit; It's a score I've been meaning to listen to for years and now I have another excuse to do so.  Looking forward to finally hearing it.  The Gigi music didn't make much of an impression on me.  When it was over, I expected him to grab the microphone and saying something about Paramount Pictures, but instead the screen came down from the ceiling, the opening logos of Star Trek Into Darkness started playing, and he launched the orchestra right into a 10 minute tour-de-force
Michael Giacchino – Opening Sequence from Star Trek Into Darkness
I have mixed feelings about this being a part of the program;  On the one hand, its a great score and a great part of the score, and really fun to watch and hear performed live, and nice to watch this part of the film with an audience.  But on the other hand, I'd seen it twice before in recent memory!  Two years ago we went to Philadelphia and saw the entire film scored live to projection, and last summer at Tanglewood, at a simliar concert where David Newman conducted the first half and John Williams the second, these same ten minutes of STID were performed as part of a Paramount tribute.  So I don't have much to say here; In all three cases the music was performed well and the audience launched into loud applause as the piece ended and the Star Trek logo appeared on the screen to end the piece.  Good stuff!
Lockhart, now sweating quite a bit, took the microphone to address us again.
"Medic!"  *laughter*  "Appreciate the thought.  John Towner Williams, um, I've been privileged to have as my predecessor and as my mentor for more than two decades now.  I've had the opportunity to perform some of the world's not only greatest but most popular symphonic music written in this last half-century.  Think of this, if you will; The talkie was invented in 1929, so therefore we have basically nine decades of soundtracks to deal with.  Of those nine decades, John has written movie scores – great movie scores – in seven of them."  *applause*  "And now, 5 Academy Awards later, 50 nominations for an Academy Award (the most of any living human), he's about to be recognized with the Director's Guild Lifetime Achievement Award, the first composer in history to (inaudible)"  *applause*  "So I thought 'Well why should John have all the fun of performing his music?' so I'm going to do a little of it too on this act of the program.  Some first of insights into the magical world both of childhood and the magical world of Harry Potter with music from John's score to Harry Potter and the Sorcerer's Stone set to scenes of the first 3 movies.  And then, a little bit from a little film called Raiders of the Lost Ark"  *applause*  "By the way, don't let this make you feel old: That film turns 35 years old this year.  And we are celebrating that by showing the entire film on this gorgeous big screen with live accompaniment by The Boston Pops, the entire score, on June 3rd and 4th so please come back and enjoy us then.  But first, Harry's Wondrous World".
John Williams – Harry's Wondrous World from Harry Potter and the Sorcerer's Stone
John Williams – The Raiders March from Raiders of the Lost Ark
Not much to say about these two pieces either; They've been a staple of Pops shows for 35 and 15 years respectively, and I'm sure most everyone on stage had a lot of experience with them.  So they were performed quite well, with no interesting alterations made at all.  The video footage for the first piece was actually a montage of the first 4 Harry Potter films (not 3 as Lockhart said), and for the second was footage of the original trilogy of Indy films, edited quite nicely to the pace of the March.  You know, despite the fact I've heard The Raiders March live so many times now, its still always fun because its such a timeless piece of music!
Lockhart said a few words before him and the orchestra left the stage:
"Thank you ladies and gentlemen!  I'm going to go get out of my jogging uniform and uh, enjoy the rest of the show.  I just wanted to tell you 'Thank You' for being here and please join me in thanking out very generous sponsors who make it possible for us to play great music for you night in and night out here during the Symphony Hall Pops season.  The Boston Pops 2016 Season is sponsored in whole by Fidelity Investments, bravo and thank you Fidelity.  And the John Williams Film Night series is sponsored by Arbella Insurance Foundation, thank you Arbella.  We'll be back in 20 minutes with John Williams and the Boston Pops!
And intermission began.
For the second half, the program listed the following:
"May The Force Be With You: The Music of Star Wars"
Star Wars Main Title
Rey's Theme
March of the Resistance
Princess Leia's Theme
The Asteroid Field
Luke and Leia
Scherzo for X-Wings
The Jedi Steps and Finale
And that ended up being exactly what was played!  I wasn't entire sure how to feel about an entirely Star Wars program at first, but by the end of the night I loved it!  The only thing that could have made the night better was a preview of BFG music, but in regards to what was played, I loved every minute of it!
So John Williams took the stage to a standing ovation to start the second half of the program, and launched right into the first piece:
Star Wars Main Title
This was of course actually the famous LP edit that combines the main title with the end credits.  I have heard this performed countless times, but like The Raiders March, it never really gets old.  It was performed with gusto and I think was a great way to start the second half and get the crowd excited for the rest of the show.
Then John Williams took a microphone to speak to the audience, and had the audience captivated and laughing for what wouldn't be the last time of the evening:
"Thank you so much, thank you ladies and gentlemen, firstly thank you for being with us tonight here at Symphony Hall, thank you for joining us.  I of course at the top of the list want to thank Keith Lockhart for being so generous and sharing the program tonight with me and allowing me to be here with you and our great orchestra which I love so much and miss when I'm in California."  *laughter and applause*  "I'm truly, truly happy to be here.  This past year I've been working on The Force Awakens, which is I think the seventh Star Wars film.  And they're making more of these films!"  *laughter*  "Kathy Kennedy and our producers at Disney have said to me 'Well, would you like to do the next one, the eight one next year?'  And I said 'Well, I don't know, I'm not sure if I can do that', but – to be perfectly honest, you remember Rey in the film, played by Daisy Ridley – I said to them 'I don't want anyone else to write music for Rey'"  *laughter*  "I would be very jealous, because if you've seen the film, Daisy Ridley captured, she absolutely commanded the screen with Harrison Ford for two hours – an incredible performance with comedy and athleticism, and serious drama… so a very very gifted, extremely gifted girl, who I became crazy about"  *more laughter*  "from the first frame of the film.  And she came to our recording, I didn't know who it was, here was this sweet girl, she was so young.  So I've written this theme for her, which is Rey's Theme, we'll played it for you now followed by The Resistance March from The Force Awakens.  Rey's Theme: "
I was laughing out loud at his story!  He's never been shy about talking about his love of certain on-screen women he's written music for (I remember him saying that Irina was his "type of girl" when introducing her theme at a concert in 2008) – And then I was thrilled that he more or less confirmed he's doing Episode 8!  I was in such a great mood now as the next two pieces were played
Rey's Theme
March of the Resistance
Well, these were fantastic!!!  Rey's Theme is not only a highlight of The Force Awakens' score, but his 2010s output altogether, and this arrangement was lovely – It was mostly the same as the OST version, but seemed a little different in the middle and at the end.  Since I was sitting so close to the stage, the string section was the only players I could really see, and I noticed and was surprised by how often plucked strings were used for the piece.  The March of the Resistance was fantastic, totally rousing and full of energy, another great performance.  In fact, I'd say both of these two pieces life had an energy to them that the studio recordings on the CD didn't capture.  After the Resistance March, he took the microphone again to say:
"Thank you so much.  Here is Princess Leia's Theme, from actually the first film.  I thought at the time that I wrote this film that it was a love theme between Leia and Luke…"  *laughter*  "George Lucas, he didn't tell us that – or he didn't know it – so it was, in a way, a kind of a mistake."  *laughter*  "But whenever I see Carrie Fisher, she says 'it's really OK'"  *more laughter*  "So I am wondering like the rest of you, maybe if you're Star Wars fans at all, who Rey's father can be.  Nobody seems to be willing to tell us, I haven't asked JJ Abrams… I think it must be Luke."  *more applause*  "You think so?  Your guess is every bit as good as mine.  Here is Princess Leia's Theme from the first film, when I thought her lover was Luke."  *laughter*
SO funny!  I had never heard the story about Princess Leia's Theme before, which was great!  He used it so nicely as a personal theme for Leia in the sequel scores, the fact that it started as a love theme for Luke and Leia is pretty funny.  And then for him to jump to random Rey speculation like he's one of us was one of the most surprising things I've heard him say.  I think he really is captivated by Rey / Daisy!  His final commentary as he was turning back around had me unable to contain my laughter.
Princess Leia's Theme
The Asteroid Field
Both were played very well!  Delicate passages can really be where you notice the difference of a live performance vs a studio recording that had multiple takes to perfect, and all the delicate passages in Princess Leia's Theme were nailed.  The Asteroid Field was not the OST version but the great concert arrangement (like on the Gerhard CD), which was REALLY fun!  Another wonderful performance and highlight.
"Continuing this confusing romantic situation,"  *laughter*  "here is Luke and Leia's Theme.  I think – I'm not sure if this was the second or third film, I can't remember their status at the time – but this seemed suitable to them.  I'm still concerned about Rey and her future, "  *huge laughter*  "not sure what to write next for her.  Here's Luke and Leia, back a few years"
If this isn't confirmation that Williams is intending to score Episode 8, I don't know what is.  Hooray!!  The fact that he brought up Rey AND writing for her again seems to me he's not only intending to do it, but its been on his mind as of late too.  Excellent!  And while I suppose it could be mildly concerning that he doesn't remember which Star Wars film Luke and Leia was written for, it was what, 60 films ago, not to mention 33 years, so I am not concerned.
Luke and Leia
I've heard this one performed multiple times in concert now as well, so don't have much to say about it except that its always lovely.
"Here's a little piece: Scherzo for X-Wings.  I wanted to play this because when you see the movie at the end, and the X-Wing fighters are flying through that, what we call a trench, and they're being pursued and trying to get to their targets, and its very loud, this is the music we play as the X-Wings go through the trench.  But you can't hear too much of it, because the sound effects are a little bit loud.  So I always think its fun to… I guess really to brag a little bit in a funny way…. but, when we go to the movies, and we hear an orchestra like this, an absolute virtuoso orchestra – again what they do is quite incredible.  "  *applause cuts him off*  "So we go to the movies and all this virtuosity happens and we really don't hear it most of the time.  But if we take it away from the film, [the film] loses so much energy.  In any case, here's what you might have heard as the X-Wings flies through the trenches, this was the scherzo that accompanied it"
The whole audience enjoyed his comments a lot once again!  I don't know if we've ever heard Williams actually discuss the balance of music and sound effects in films, let alone his films, let alone a Star Wars film!  So funny.
Scherzo for X-Wings
Brilliant, another highlight of the night!  It was performed faster than the CD version and sounded great!  The applause after this piece was probably the longest so far.
At this point the screen was lowered from the ceiling for the first time of the second half, and John Williams grabbed the mic to introduce the final piece of the main program:
"Here is something called The Jedi Steps and Finale.  It's a composite of some of the scenes from The Force Awakens which I thought you might enjoy, seeing in this form and hearing this assemblage of music.  So here is – it's actually the end credits of the film, musically, what you're about to hear, and its accompanied by a very cleverly done film clip that generally follows the narrative of the film which you will see if you remember.  Here is Jedi Steps and Finale"
I loved the way Williams emphasized "might" in "which I thought you might enjoy" – he's so humble!
The Jedi Steps and Finale
Wow!  Probably the absolute true highlight of the night. An almost 10 minute tour de force that one-upped the 10-minute performance from Lockhart's half.  This is not only a brilliant suite of all the new themes (plus the one-off Steps melody, plus the classic End Credits intro and new Force and Luke theme arrangements) for the CD and film itself, but its such a great concert piece too!  I had chills as soon as it began and the "Jedi Steps" melody was played perfectly, and the chills continued as the Force Theme came in.  That's the interesting thing about The Force Theme – though its a huge part of all the scores, its actually not a part of most of the concert selections Williams ever plays.  So it was REALLY great to hear it live, in this great arrangement from the end of the film.
And the greatness continued through the amazing end credits arrangement, of course including the Rey's Theme arrangement (that I like more than the separate arrangement that got its own track), Kylo's theme (very nice to hear bad guy music live that isn't Darth Vader!), Finn, Poe, Rey again and the brilliant ending.  The Finn's Theme part was extended – I was expecting the "headline news!" breakdown to come in at one point, but there was a few more bars of Finn's Theme first before it did.  The ending with Luke's theme was a perfect way to end the main program.
I should mention the video, which was extremely well done!  It was a mostly chronological arrangement of scenes from the film, perfectly set to the music.  That doesn't mean it was necessarily always showing the same character as the theme being played, but it always fit in tone.  I'd love to have this video arrangement available somehow, or at least re-created by a fan so we could sync it to the album track, cause it was seriously well done!  The very ending with Rey holding out to the lightsaber to Luke as the cool quiet new version of his theme played was really cool (and thankfully avoided that awful final helicopter shot!)
The applause after this piece was again the longest yet, and quickly turned into a standing ovation as Williams walked off the stage – but he came back in almost right away to more and more raucous applause.
Before starting the first encore, he quickly grabbed the mic to say:
"Thank you so much, its so nice of you.  This is Yoda's Theme"  *applause*  "Also, I don't know if he will reappear or not!… It's possible.  Here is Yoda's Theme".
Yoda's Theme
The Imperial March
I've heard both of these live before too, and there was nothing new done to them here, but its always nice to hear them.  I think the Boston Pops have probably played the Imperial March at least once a year for 36 years, and most of the guys on stage could do it without any sheet music in front of them.  After Imperial March, he walked off the stage again during another standing ovation, and when he came back I wasn't sure if he's play another piece or just do his classic "sleepy time" indication, but he came back and thanked us again before performing another classic:
Flying (from E.T.)
It was the OST arrangement, not the later concert arrangement (with the new ending), which was fine by me!  I have loved this music forever, and I love that whenever the Pops do it they have the lights in the Hall coordinated for it, and it was as great as always this time.  After this, Williams left, came back to do his "sleepy time" indicator, then left for the final time to the final standing ovation and the concert came to an end.  A wonderful, wonderful night all around!
____________
EXTERNAL REVIEWS

Billboard – Even while performing in front of a rapt crowd (not to mention his staggering 50 Oscar nominations), Williams didn't treat the experience as a loose victory lap. With the exception of a few moments, the orchestra executed his material (particularly from the original trilogy) with an astonishing exactitude. If you hadn't been watching him deftly conduct the assortment of brass, strings and everything else in front of your eyes, you could almost be convinced you were listening to the original soundtrack recordings — the performances were that precise. – Full review
Aint It Cool – I didn't take an exact count, but Maestro Williams received at least six standing ovations from the enthusiastic and knowledgable crowd. Mozart himself could have walked out and I don't think the audience would have been as excited as they were to welcome John Williams back to Symphony Hall. – Full review
Reports
For over 90 minutes, the composer who has scored all seven Star Wars movies to date performed the heroic, soaring "Star Wars Main Title", knocked it out of the park with fan favorites such as "The Imperial March," and went on to conduct material from the recent Star Wars: The Force Awakens film. In between sets, he joked that his "Scherzo for X-Wings" in Star Wars: Force Awakens was drowned out by the special effects in the film. Williams delivered the highlight of evening as scenes from 'The Force Awakens' film were projected on a large screen along with the amazing musical composition he wrote for the film's finale. He finally ended the evenings performance with encores of two additional "Star Wars" pieces as well. – Full article
In between the music the soft spoken Williams addressed the enthusiastic audience, playfully recalling writing his Luke and Leia piece as a love theme before knowing any better. It was within one of these breaks in the performance that Williams discussed being asked by Kathleen Kennedy to score Rian Johnson's currently in production, Episode VIII. Williams confided that he wasn't sure he was up to it, but left the door open by saying that he doesn't want anyone else to write music for Rey because he'd be jealous. – Full article
The program was excellent, loved hearing four huge new Star Wars pieces live.  I'm pretty sure they were all a little different from their CD counterparts. But what made it extra special was Williams' banter in between pieces; it really was the best and funniest I've seen him! His comments were all Star Wars related; he talked about how much he loved writing for Rey and how smitten he is by Daisy Ridley, how he wrote Leia's theme as a love theme (I'd never heard that before!), speculated about Rey's parentage, and more or less confirmed he's doing Episode 8! All his stories were ones I hadn't heard before, it was great! – (original post)
I went to the Thursday night show and it was great.
That being said, it's always hard to come up with disappointments from these shows, I mean they are magical evenings that I wish everyone could take the chance to experience.   And I didn't even mind that John Williams only conducted half of the night.  I understand with his age and everything.
But I was just disappointed in the fact that it turned into a Star Wars night, not a Film Night.  I was honestly shocked that JW's whole set (excluding one piece) was ALL Star Wars.
Don't get me wrong, it was amazing to hear The Asteroid Field and Jedi Steps, and Rey's Theme (which was fucking incredible).  But it was just too much Star Wars.
The Yoda's Theme/Imperial March/ Flying Theme from E.T. ENCORE was nice.  But I've heard that same encore before.
Highlight of the night for me was Rey's Theme, The Asteroid Field, and the opening to Star Trek Into Darkness.  That was awesome.  I was hoping we would get the Forest Gump suite that was on the program, but I'm guessing the Friday Night show got that.
All in all, it was still amazing as usual. – (original post)
____________
RELATED TWEETS

This man needs no introduction… The world's most famous composer. Mr. John Williams @TheBostonPops pic.twitter.com/HZi0KPzioE

— Loriann (@Loriann_Q) May 13, 2016
Don't mind me when John Williams comes on stage and blows my mind tonight… pic.twitter.com/wXdhg39ltF

— Indie Revolver – BLM✊ (@IndieRevolver) May 13, 2016
#JohnWilliams just gushed over #DaisyRidley. "I'm crazy about her… I don't want anyone else writing music for Rey. I'd be very jealous."

— John Orquiola @🏡 (@BackoftheHead) May 13, 2016
https://twitter.com/theshmaylor/status/730910364611809280
____________
CONCERT PHOTOS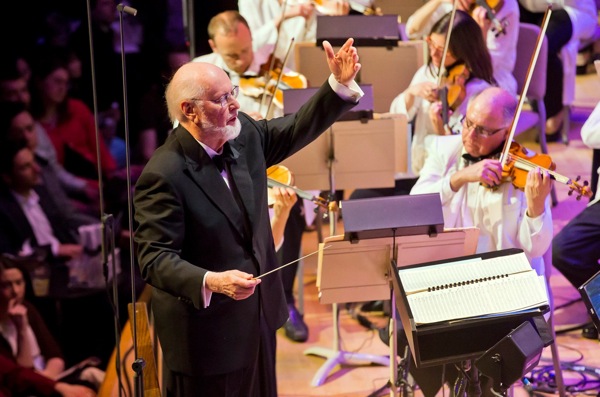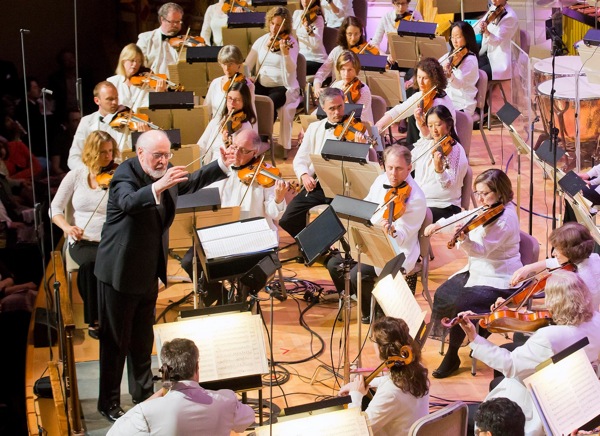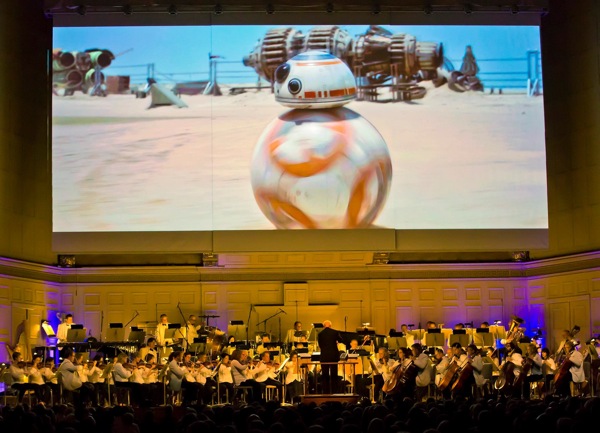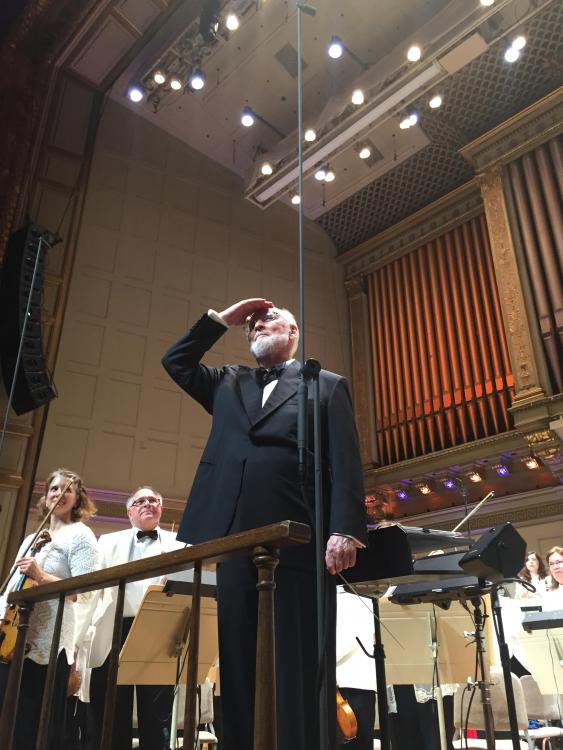 NEW PHOTOS (Original forum post)