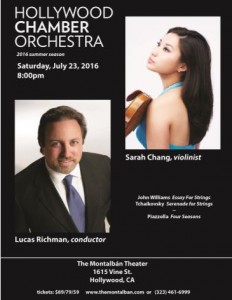 Montalban Theater (Hollywood, CA), July 23, 2016
Hollywood Chamber Orchestra conducted by Lucas Richman
The Hollywood Chamber Orchestra is honored to present a rarely heard composition of John Williams, which originally premiered in in December 1965 by André Previn and the Houston Symphony Orchestra.
In the composer's own words: "The work, for string orchestra, is in one movement and its character is essentially dramatic. After a quiet introduction, the main "rowlike" theme appears. This is followed quickly by just a suggestion of the driving 16th-note "motor" figure which eventually, after other development, moves the work into its final section. It is here that the main theme joins the "motor" figure and they combine to propel the piece to its conclusion."
Also on the program: Tchaikovsky's Serenade for Strings, and Piazzolla's Four Seasons, performed by violinist Sarah Chang.
Tickets on sale now at http://tinyurl.com/gqpc6cc