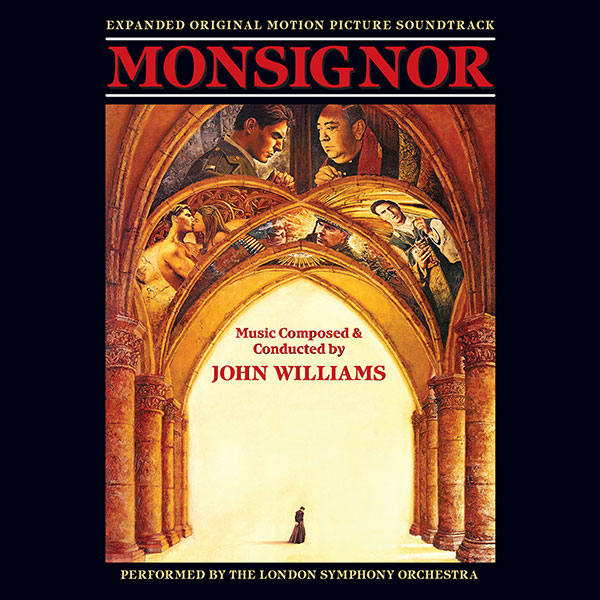 MONSIGNOR (1982)
Expanded Original Motion Picture Soundtrack
Music Composed and Conducted By JOHN WILLIAMS
LONDON SYMPHONY ORCHESTRA
INTRADA ISC 430
Barcode: 720258543004
Retail Price: $19.99
SHIPPING 6/6/2019
Intrada's latest release from 20th Century Fox and UMG is an expanded edition of John Williams' 1982 score to Monsignor. This new release features two programs. The first is the original Casablanca LP program (previously released on Intrada), but with improved mastering as well as the complete score in film order, including additional music not heard on the LP program.
In the early 1980s, John Williams composed the scores to one blockbuster after another (the Star Wars sequels, E.T., Raiders of the Lost Ark), not to mention carving out time as principal conductor of the Boston Pops. And yet, Williams found time for another project with the London Symphony Orchestra, a drama, in which Christopher Reeve plays John Flaherty, an ordained priest who, once summoned to Rome and assigned to the position of Cardinal within the Vatican, becomes involved with black marketeers and has an illicit romance with a nun. John Williams' score remains one of the truly memorable aspects of the film some 37 years later.
With Mike Matessino at the helm, this new release sources the LP program from the first-generation master stored at UMG in London and the 1-inch, 8-track masters stored in the vaults at 20th Century Fox. Both source elements featured very different mixes, so Matessino elected to include the two aforementioned programs. The album-only material includes "The Meeting in Sicily" and "At the Forum" which were recorded specifically for the LP at a later session, while the complete program includes some previously unreleased tracks, including "The Vatican" and "The Book Shop." One of the score's highlights featured in both programs is "Gloria," a set piece featuring 500 costumed extras in Rome's Basilica of Saints of St. John and Paul — a five-minute musical sequence with no dialog or sound. The main theme itself is a haunting melody, first heard for solo trumpet, performed by long-time LSO trumpet player Maurice Murphy.
At last collectors can enjoy John Williams' score in this definitive presentation from Intrada.
TRACK LISTING
THE ORIGINAL SOUNDTRACK ALBUM
01. Theme From Monsignor (3:28)
02. Reunion In Italy (1:36)
03. Forgotten Vows (4:13)
04. The Meeting In Sicily (3:55)
05. Audience With The Holy Father (3:44)
06. Gloria (5:16)
07. Monsignor (2:14)
08. Appolini's Decision (3:15)
09. Santoni's Compassion (5:03)
10. At The Forum (5:10)
Total Original Soundtrack
Time: 38:01
THE FILM SCORE
11. Theme From Monsignor (3:27)
12. Monsignor (Main Title) (2:14)
13. Seeing Rome (1:41)
14. The Vatican (0:47)
15. You're My Mystery (1:35)
16. Reunion In Italy (1:35)
17. Meeting In The Rain (1:25)
18. Forgotten Vows (Film Version) (2:48)
19. Gloria (5:17)
20. Love Theme (2:33)
21. The Book Shop (1:47)
22. Santoni's Compassion (5:03)
23. Audience With The Holy Father (3:45)
24. Appolini's Mistake (1:56)
25. End Title (2:55)
Total Score Time: 39:05
Total CD Time: 77:18