Reviews and pictures of the John Williams concerts in New York on Sept. 14-16, 2007.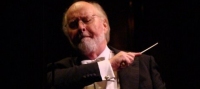 This concert is to be broadcast locally on 96.3 FM WQXR on Thursday, January 3, 2008 at 9:00 p.m."
JOHN WILLIAMS AND THE NEW YORK PHILHARMONIC
September 14-16, 2007
OPEN REHEARSAL (Friday, Sept. 14, 2007)
Review by 'pi':
Rehearsal was excellent. The NY Phil low brass and tpts are worth the price of admission alone. Best comment of the day after a question asked by the low basses about a note which they said sounded wrong, "It might not be very good but it's correct." Also JW dictated mistakes in the parts on the Harry Potter Suite, which means the signature edition has mistakes on it (He conducted to that score).
The problem with Avery Fischer is that the shell is all powerful. The Brass and woodwinds and perc (anyone towards the back of the stage) really project into the house and sound as if they are close mic'd. The strings on the other hand do not project much at all. This mix is very similar to the Revenge of the Sith balance, way different from say Empire where the strings sound very close mic'd. However you had to strain to hear the violin/cello solo. I've never heard a violin concerto at the hall but you would have to thin the orchestra down to hear it. The orchestra really played Aunt Marge's Waltz differently, sounding VERY VERY classical with the rubato and phrasing, but Star Wars sounded exactly like the soundtrack. Hedwig's theme the strings kind of rushed there fast passages, you could see it on JW's face, but he made no comment of it.
PS the violin solo in fiddler was horrible, i hope that guy goes and practices
Really fun rehearsal.