"JOHN WILLIAMS: MAESTRO OF THE MOVIES"
August 30 & 31, 2013, Hollywood Bowl, CA
The Los Angeles Philharmonic Orchestra conducted by JOHN WILLIAMS
Julie Andrews, special guest narrator
Monica Mancini, special guest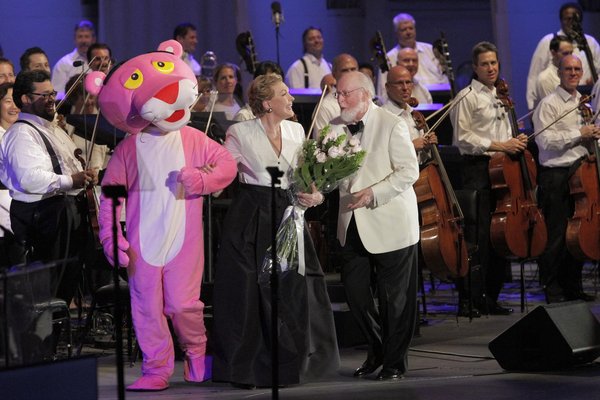 VIDEOS
EXTERNAL REVIEWS
Los Angeles Times – If you listened carefully in the hills and canyons around the Hollywood Bowl on Friday evening, you could almost hear a simple ostinato built around two bass notes that evoked the ominous feeling of an imminent attack by a predatory shark. Da-dum. Da-dum, da-dum, da-dum. Run for your lives, here it comes! Something deep, dark and ageless — at least in pop culture terms — indeed swept into the Bowl on a very warm summer night. But it wasn't the Oscar-winning theme from "Jaws" by film composer John Williams, who conducted his annual concert "John Williams: Maestro of the Movies" (the show also plays Saturday night). – Full review
SciFiPulse.Net – Again, Williams addressed the audience, stating that he and other composers always get asked where they get their ideas for themes. He said since we were all friends, he had a video to show the secret: a Lego animated clip of Darth Vader instructing a Lego-Williams on a piano what his theme, the "Imperial March," should sound like. After a few misses, Williams gets it and Vader is pleased, until Lego-Yoda barges in belting what he wants his theme to sound like. The video stopped, the lights on stage came up, and the Star Wars opening theme blasted across Hollywood. The audience of the Bowl then exploded into a cornucopia of light as lightsabers ignited and waved in the crowd. – Full review

JWFAN REVIEWS
Concert Review by 'scallenger' (original post)
Well I just came back from it… what a cool concert! I accidentally left the program in my friend's car who met up with me there, so I'll just go by what I remember.
The first hour was purely devoted to a Henry Mancini tribute that featured a medley of his Peter Gun/Hatari!/Charade themes (set to clips), the Pink Panther theme (set to some funny video clips from the films), "The Days of Wine and Roses" sung by Monica Mancini, parts from Victor/Victoria, and even an arrangement of "Moon River" from Breakfast At Tiffany's. In-between all of this was a song from a Julie Andrews film (this one I forget which it was), although she didn't sing it herself (just the film's vocal). But she did appear and introduce many of the Mancini segments and told a couple of stories about the pairing of him with the director and her. It was overall a well-done and fun look at Mancini, and it ended with Julie Andrews being walked off the stage by a guy in a Pink Panther costume, who she kissed on the nose. Cute. 

Now onto Williams' work…
From what I recall, it started off with… Flight To Neverland (concert arrangement) from Hook! This was probably my favorite of the night. It was performed wonderfully, and it was such a joy to just feel the energy of one of my favorites pieces in person!
Then… there was a special little surprise. Much like how last year he performed the final 15 minutes of E.T. to the film, he did the same thing this time with the later part in Raiders Of The Lost Ark in the In The Idol's Temple/Flight From Peru scene! Pretty awesome! However, I honestly think he should have chosen a more impressive scene to perform live to than the film's opening (like maybe one of the later action scenes). It was then followed by Marion's Theme (concert arrangement) and then I believe the Raider's End Credits (which features clips from all 3 Indy films… yeah… they totally skimped out on the 4th. LOL).
After the Indy music, we were treated to With Malice Toward None from Lincoln.
And then… it was basically just all about Star Wars. He started off with Clash of the Light Sabres from Empire Strikes Back (but for some reason I think it was some arrangement of it). Then it was followed I think by Parade Of The Ewoks from Return Of The Jedi, which I don't think is a common one for him to do these days, is it? Then there was, of course, the Star Wars Main Title arrangement. For some reason I feel like there may have been one more of this set, but this may have been it. There was also this cute moment where Williams said "here is a video clip of a normal day for me at work" or something like that, and it shows a LEGO VERSION OF JOHN WILLIAMS on the piano with a Lego Darth Vader, and Vader is trying to tell Williams how he wants his theme to be played on the piano. It was REALLY cute.
Now onto the encores… we got three! The first one was Yoda's Theme from Empire Strikes Back. After that they performed The Imperial March from Empire, as well. The final encore was… Flying Theme from E.T.! Definitely some good encores here! The audience really wanted more but he made the "go to sleep" gesture, and that was it, lol.
I'm pretty sure the above is pretty accurate (despite me being pretty tired, lol). But I can verify tomorrow, hopefully. However… I was honestly a bit bummed there was no Jurassic Park music performed at all, considering it's the 20th Anniversary. 

 And I wasn't the only one! I heard A LOT of people actually voicing out loud "Where was Jurassic Park?!" after it was all over. Maybe he is saving that for the San Fran concert with Spielberg? So yeah… honestly a bit bummed.
But hey, it was definitely a nice selection of themes. My only true complaint was that it was too Raiders of the Lost Ark and Star Wars heavy. I mean, even two of the encores were Star Wars… I had only expected one of them to be. I wonder if tomorrow night's performance will have different encores? I won't be there to find out, but I know someone who will. I'll ask her tomorrow!
A friend who attended the concert did take some videos he may put on Youtube tomorrow. I believe he captured the entire concert (at least the Williams portions), although sadly his camera malfunctioned during the Star Wars Main Title part. 

 Not that we haven't heard that performed a million times, though.