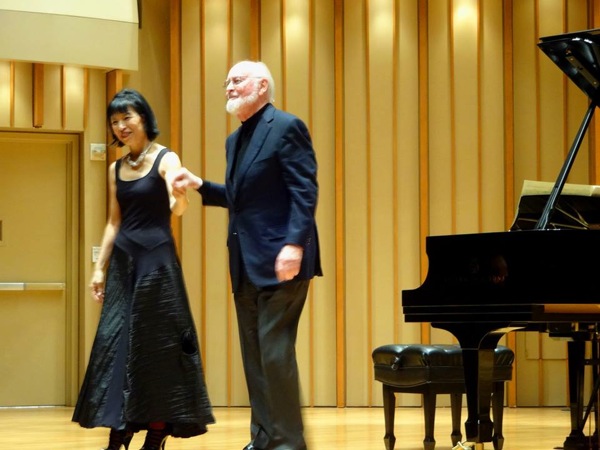 On November 12, Grammy-winning pianist Gloria Cheng premiered the third and fourth movements of "Conversations", a concert piece for piano solo written by John Williams in 2012. The first two movements had been performed by Cheng at Tanglewood  (August 10, 2012) and the Mendocino Music Festival in California (July 22, 2013).
The four-movement chamber piece premiered at the Piano Spheres recital in Los Angeles, a solo piano series whose mission is committed to introduce major new works for the piano, along with original works by Bruce Broughton, Don Davis, Alexandre Desplat, Michael Giacchino, Randy Newman, and Olivier Messiaen.
CONCERT PROGRAM (full program here)
John Williams Conversations (2012-2013, world premiere)
I. Phineas and Mumbett
II. Claude and Monk
III. Chet and Miles
IV. Strays, Duke … and Blind Tom
PROGRAM NOTES (thanks to Noah S.)
I've always wanted to write something for Gloria Cheng. I originally intended to write a series of "water pieces" for her, but I got distracted.
Instead, while at Tanglewood… and for no reason that I can explain… I began to think of what a conversation might be like between the great jazz pianist Phineas Newborn, Jr. and Elizabeth Freeman, known as Mumbett, a resident of western Massachusetts and a former slave who sued the state of Massachusetts in 1781 for her freedom… and she won! Two strong personalities, one pianistic and the other most surely vocal and hymnal… meet for a chat. I imagined them having their conversation near the Sedgwick Pie in Stockbridge, Massachusetts: Visit it, if you can.
Next came Claude and Monk. Not the Claude you might think I mean, but Claude Thornhill… a seminal figure in jazz history, principally remembered for his mentoring of Gil Evans. Thornhill, who loved Debussy, and who I knew during my childhood, understood the sea change in piano sonorities discovered by Debussy, and those equally radical ones invented by Thelonious Monk. It's delicious to imagine an exchange between these two giants.
Chet Baker and Miles Davis possessed markedly opposing personalities, however they did have much in common. They both eschewed bravura and needless display, and always revealed their art with the barest minimum of fuss. They could be brief and often quiet, but their message was invariably brought forth with great force and power.
Finallt, "Strays" (Billy Strayhorn), Duke (that one, of course…) and Blind Tom, another former slave and somewhat forgotten 19th-Century figure in American pianistic history… here gather to unravel the secrets surrounding the birth of "stride".
And dear listener/reader, if you're still with us… don't listen tooo intently to identify the voices named within. Theirs will remain inimitable and incomparable. However, that we might be permitted to overhear these luminaries chatting in some undiscovered time zone… unrestrained by such things as clefs and bar lines… is a notion that is indeed enciting, and I hope that these minor musings might, in some small way, be worthy of the memory of these notable antecedents of ours.
— John Williams
INTERVIEWS:
Classical KUSC interviews John Williams, Bruce Broughton and Michael Giacchino in advance of the November 12 Piano Spheres recital:
John Williams—who has fought the stigma of film scoring for the past 40 years and has also written a large body of concert work—recognizes the disparity between the two worlds, but sees reason for optimism. "There is certainly still a divide in the functions and a divide in the requirements of the two fields," he says. "There are a few people who manage to do very well in both areas, but precious few I think. Some of our greatest composers still feel very constrained by—and they're right to—the limitations and restrictions in writing for film. And it takes a particular touch and affinity, I think, to be able to do many films well."
"One difference between now and earlier decades," he says, "is that many of the brightest young people studying composition, or the brightest young composers, are interested in audio-visual couplings, and film music if you like. They think of it as part of their toolbox. This was never the case decades ago. They want to know how it's done, they want to test themselves, I think, in doing it, and whether they want to write for ballet or theatre or choral music or media film music—whatever—many of them want to be familiar at least with the challenges and even the techniques of all these varying aspects of writing music. And as a result of this, many of these things are actually taught at universities and conservatories—unknown thirty or forty years ago. So the attitudinal differences certainly have changed somewhat, I think, but these other differences are profound ones, I think. Profound differences." – Original article
REVIEWS
Concert review at the Los Angeles Times:
Williams imagined conversations among jazz musicians he admired over the years, several of whom he'd known and worked with. Thelonious Monk did peek through in a Debussyan "conversation" with Claude Thornhill, a mentor of Gill Evans. Two former slaves — Mum Bett (aka, Elizabeth Freeman) and Blind Tom were among the ghosts. So, too, Duke Ellington, Billy Strayhorn, Chet Baker and Miles Davis. The tone was wistful Williams not epic Williams, the composer creating the mood for imagining music history rather than re-creating it cinematically.- Full review
Concert report at the FSM Board:
Her name is Gloria Cheng. She is a petite Grammy winning pianist who "is noted for her devotion to tapping the emotional core of contemporary music". In other words, all music, as I learned from Morricone, has an attitude and emotional charge and if you do not play it with that in mind anything can sound abstract or cold. So when there is dissonance in a piece as there is in the first two pieces obtained for last night's concert, Bruce Broughton's "Five Pieces for Piano" and John William's "Conversations", she plays that with anger or hysteria or anything to make that music tangible and meaningful. It sounds simple but it is not all that easy. That is what makes her so extraordinary and why she has been used in so many film scores from The Matrix to The Adventures of Tintin. – Full review and discussion
PHOTOS (From Gloria Cheng's Facebook)