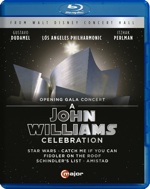 UPDATE: TV channel Arte has made the video available online for French and German viewers until August 24.
On June 30, Naxos' subsidiary label C-Major will release on Blu-ray and DVD 'A John Williams Celebration', a 90-minute video featuring the 2014/15 Opening Gala Concert by the Los Angeles Philharmonic led by Gustavo Dudamel, with John Williams as guest conductor and Itzhak Perlman on violin.
Selections include the first official release of Soundings, composed for the Walt Disney Concert Hall in 2003, Olympic Fanfare and Theme, Schindler's List, Fiddler on the Roof, Catch Me If You Can, Star Wars, Amistad and The Empire Strikes Back. More details at NaxosUSA.com.
Pre-order your copy from Amazon.com: Blu-ray – DVD
(High res artwork – Back cover)
Watch the promotional video below: