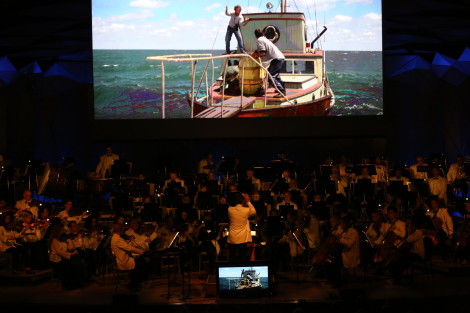 "The summer of 2015 marked the first time in 35 years that John Williams, having withdrawn this year on account of a back injury, failed to appear at Tanglewood. So, what's film night without John Williams?"
"JOHN WILLIAMS' FILM NIGHT"
August 22, 2015, Tanglewood, MA
The Boston Pops Esplanade Orchestra conducted by David Newman and Keith Lockhart
CONCERT PROGRAM
David Newman conducting
Suite from Forrest Gump (Silvestri)
Suite from Sunset Boulevard (Waxman)
Theme from Sabrina (Williams)
The Wild Ride from North by Northwest (Herrmann)
Selections from The Godfather (Rota)
Opening Sequence from Star Trek Into Darkness (Giacchino)
ENCORE
Theme from Mission: Impossible (Schifrin)
INTERMISSION
Keith Lockhart conducting
Theme from Jurassic Park (Williams)
The Barrel Chase Sequence from Jaws (Williams)
Tango from Scent of a Woman (Gardel, arr. Williams)
Theme from Laura (Raksin, arr. Morley)
Excerpts from Fiddler on the Roof (Bock, adp. Williams)
Throne Room and Finale from Star Wars (Williams)
ENCORE
Imperial March from The Empire Strikes Back (Williams)


EXTERNAL REVIEWS
The Berkshire Edge – So, what's film night without John Williams? It's a thoroughly entertaining show, even when the Pops' Conductor Laureate is absent from the podium. For one thing, Williams wasn't entirely absent, because the Pops' film nights always include a generous helping of his best-known film music. – Full review
MassLive.com – In explaining the role of a film score to the audience, Newman likened it to the rhythm section of a band with the movie action and dialogue being the lead singer. To illustrate his point, he led the Boston Pops through the opening scene of "Star Trek Into Darkness" as the footage with dialogue played on giant screens inside Koussevitzky Music Shed. – Full review
JWFAN REVIEWS
Concert Review by Stefan Cosman (Original post) – INCLUDES VIDEOS
I had arrived in the small town of Lenox, MA after having spent a delightful 6 days in Maine, staying with my dearest friend and MB member Ren and her family.
Jason and his fiancée Marcy were gracious enough actually get me to the concert venue.
Lenox and the whole area around Tanglewood really is beautiful. The morning of the concert I spent some time just exploring the place and found myself moved by it's serene beauty. It's a completely different environment for a concert compared to the busy bustle of Boston.
The venue itself is a mixture of stately and casual. The "barn" itself is very elegant in it's simplicity. And since tickets had also been sold for the lawn, the venue basically filled up with people dressed for a pick nick. with fold up chairs, blankets, food and snacks etc. I was surprised to not see a full blown BBQ.
MB Member Francis (Foxfan) had also arrived and picked me up on West Street. We shared an (overpriced) beer before the concert, and hooked up with Jason and Marcy shortly before the show.
The orchestra was The Boston Pops Esplanade Orchestra, which is sort of the "tag team" of the Boston Pops, who were performing at the Proms in London that night. The conductor for the first part of the evening was composer David Newman.
The concert opened with Suite from Forest Gump. Not a piece I was really familiar with, since I had not seen the film, and haven't heard the score in over 15 years. The music was accompanied by a montage of great Paramount film. It was a very nice way to open this film music concert.
The second piece was the impressive Suite from Sunset Boulevard by Waxman, again with a montage of clips from that film. Some stunning shots there. This is a film I should watch soon.
Next up was a lovely rendition of the theme from Sabrina. That nights first Williams piece. Piano solo by Bob Winter. I've never heard anything from this score performed live, so it was really nice.
The famous theme from North By Northwest followed. I had heard this once before in Ubeda, Spain. Conducted by Joel McNeely. But the orchestra really lost it's shit there. This was a more polished performance of a really fabulous piece.
This was followed by the always welcome Theme From The Godfather. Also a piece I had heard done before. But it's just so beautiful in it's melancholy and simplicity that I would gladly hear it another dozen times in concert before i'd tire of it.
The second to last piece before the intermission was the opening scene from Star Trek Into Darkness, performed live to screen.
Fun! I've always loved the films opening, probably the closest to traditional TOS that JJ Abrams has gone, and Gia's music works very well in support of it.
David Newman's encore was a sprightly rendition of Schifrin's Mission Impossible theme. The first time I heard it in concert. Nice!
The intermission came and went and Keith Lockhart came on stage to conduct the second part, which would have been done by John Williams originally.
Lockhart opened with Theme From Jurassic Park.
Conducting it fast ala Williams, which IMO always takes a bit of the awe from it. That plus the fact that it's a piece that I've heard quite a few times now makes this one of the lesser ones of the night. Though there wasnt actually really anything wrong with it.
He then grabbed a Mike and started telling something about John Williams.
His second piece was probably my favourite of the evening. I had heard the theme from Jaws a few times, But to hear Man Against Beast from Jaws (named The Barrel Chase in the concert booklet) was a real delight. This piece was performed to picture. And even though I've seen the film countless times, the last one being just a few days ago in Maine I really loved it. Fun to see the audience reacting to the appearance of the shark and Brody's immortal line.
Next up was the "Presenting Gil Shaham" part of the concert.
World renowned violinist Gil Shaham played 4 pieces in total.
First up was Por Una Cabeza, the famous tango featured in Scene Of A Woman and Schindlers List. Well performed but nothing spectacular. I heard a better rendition by the Dutch Metropole Orchestra
Following this was Theme From Laura, by Raskin. Performed to a montage of famous screen femme fatales. Another decent but far from stand out part of the evening.
Next up came one of the highlights though. Bock: Excerpts from Fiddler On The Roof, a lengthy piece performed with gusto by the orchestra and especially Gil Shaham, who did some insane virtuoso work here. Really a stunning piece which was loved by the crowd.
Shaham's final piece wasnt in the program. Theme from Schindlers List. A staple of John Williams themed concerts, and film music concerts in general so one of the pieces I've heard the most. But again the delicate solo work by Shaham made it worthwhile.
This highlight was followed by another one. Like Jason I had heard Throne Room and Finale more then a few times, but this performance really was excellent. Brilliantly capturing the celebratory feel of the piece.
After that Lockhart gifted us with one encore. A very solid reading of The Imperial March (I knew this was coming, since i heard a brass player practising a few bars during the intermission).
And then the concert was done. Francis., Marcy, Jason and I hooked up and did a little bit of post concert chatting. No drinks sadly since apparently everything was closed for the evening.
Jason and Marcy kindly drove me back to my hostel. (Lenox' serene West Street really becomes a problem when you have a thousand or so cars wanting to go home all at once)
All in all it had been a worthwhile evening with a strong concert. It didnt have the magic (for me) that my 2 Boston concerts had 2 years earlier. But that was impossible anyway without Williams conducting at least part of it. I'm glad I went, and I hope I will be able to go again with John Williams actually there.
Who knows….
Concert Review by Jason LeBlanc (Original post)
FIRST HALF OF THE SHOW: CONDUCTOR DAVID NEWMAN
Silvestri, Suite from Forrest Gump
Waxman, Suite from Sunset Boulevard
Williams, Theme from Sabrina
Herrmann, The Wild Ride from North by Northwest
Rota, Selections from The Godfather
Giacchino, Opening Sequence from Star Trek Into Darkness
ENCORE: Shifrin, Theme from Mission: Impossible
Tanglewood has a series of screens set up so people on the lawn can see the musicians, since every show is filmed to be put on those screens.  So it was no surprise to see them when we sat down, however it turns out they were mostly used to show film footage throughout the night rather than the musicians (which was fine for us because we had real seats and could see the stage anyway).  The whole first half of the show ended up being a tribute to Paramount Pictures, and actually started with a montage of Paramount's logos throughout the years, set to a suite from Alan Silvestri's Forrest Gump.  I surprisingly didn't even recognize the music; I didn't look at the booklet until after the show was over, haven't seen the film in almost 20 years, and never owned the OST CD!  It was very nice music, though!
After that David Newman introduced himself and mentioned how many awards the various other Newmans have won (has he won none himself? He didn't mention any).  He shared some nice stories about growing up in such a musical household, and seems he didn't really even get into film scoring much until after his father Alfred had passed.  He then mentioned a bit about the next two pieces he would play: Music from Sunset Boulevard and Sabrina.  I was not super familiar with either piece, but enjoyed them quite a bit.
Next came North By Northwest which was very fun!  Newman introduced it by saying something like it was a spanish jig to open the film, which makes no sense but works brilliantly.  I wish I remembered his exact words, or had recorded what he said.  For The Godfather he mentioned how there was very little music in those films, but what there is is great – and he's write, it sounded really nice.  It was set to a montage of scenes from all the films.  His portion of the show ended with the entire opening of Star Trek Into Darkness, set to picture – complete with dialogue and sound effects.  Now, Star Trek is a huge part of Paramount's lineage so of course it deserved a spot, but I was surprised it was this music and not, say "The Enterprise" by Jerry or something.  Also, I had already seen the entire Star Trek Into Darkness film live to projection in Philadelphia last year, so it wasn't as amazing to me as it otherwise would have been, but its still cool because I like this music quite a bit, and its always nice to see The Enterprise up on the big screen!
After leaving the stage, he came back to do an encore; A concert arrangement of Lalo Schifrin's Mission: Impossible Theme.  I am only used to the 1-minute versions that each film composer has put together for their entry, so it was very interesting to hear this much longer arrangement (it was probably 3-4 minutes).  Its a great theme but I dunno if it should be stretched to such a long arrangement!  I'm glad it was played though, another big Paramount franchise for sure!
SECOND HALF OF THE SHOW: CONDUCTOR KEITH LOCKHART
Williams, Theme from Jurassic Park
Williams, The Barrel Chase Sequence
Gardel (arr. Williams), Por Una Cabeza
Raksin (arr. Morley), Theme from Laura
Bock (adp. Williams), Excerpts from Fiddler on the Roof
Williams, Throne Room and Finale from Star Wars
ENCORE: Williams, Imperial March from The Empire Strikes Back
Keith Lockhart came out for the second half and did the basic Theme from Jurassic Park arrangement we've heard a million times.  Something happened here which annoys me at live concerts – people started clapping like 45 seconds in when they recognized the main melody after the intro portion was over.  Grrr!  Next came Jaws – and thankfully, it wasn't the theme arrangement like usual (which would have annoyed me because people always laugh at that one for some reason).  It was, like the Star Trek music from the first half, set to picture complete with sound effects and dialogue.  I should clarify: The program said "The Barrel Chase Sequence", it wasn't the later scene where they are chasing it around with multiple barrels; It was the first scene where they first find the shark in the boat and attach the first barrel – the cue called "Man Against Beast" on the Decca CD and Sea Attack Number One on the LP Re-recording.  This makes sense, as its the longest cue in the score by far, and features a wide range of emotions.  The presentation started with Brody throwing the chum in the water, and they didn't censor the "shit", which I found surprising.  The audience gave nice laugh at "you're gonna need a bigger boat", and a few other key moments.  Overall, it was a blast watching this scene with an audience, and the live orchestra just made it better.  I wanted it to just keep going and cover the rest of the movie

Somewhere around here (I think before Jaws actually) Lockhart talked for a while, saying how Williams was the most modest person he knows, so he'd take the opportunity to talk about John since he never would himself

 He had a little index card in order to rattle off the amount of Oscar, Grammy, etc awards and nominations he's earned, complete with a "partridge in a pear tree" joke.  And discussed the modestry of programming a concert with 3 selections not even written by him (and one not even arranged by him) in his portion of the evening.  So with that we were off to Por Una Cabeza, the famous tango from Scent of a Women, Schindler's List, and True Lies.  Lockhart told us the story of the odd name before playing it, and introduced violinist Gil Shaham who handled that as well as the next two pieces – the Theme from Laura and Excerpts from Fiddler On The Roof.  Williams would have approved of the former's video, which was a montage of femme fatales from all the decades of Hollywood cinema.  Fiddler was one of my favorite pieces of the whole night – I actually don't own this OST and am not too familiar with the music, but I really liked what I heard a lot, and the orchestra completely nailed the whole performance.
Finally the night ended with Throne Room and Finale from Star Wars, which was the longer arrangement as heard on the Skywalker Symphony CD, and the Revenge of the Sith OST.  This was another one of my highlights of the night, surprisingly!  I wouldn't have guessed since I've heard this piece so many damn times in my life, but the orchestra totally nailed it, it just sounded great.  Gotta love that Force Theme!
After leaving the stage and coming back, the encore was The Imperial March, and there's really nothing more that can be said about that.  They made it seem like there was going to be another encore, with Lockhart leaving the stage and coming back again, but there wasn't.
Overall, a perfect night for a concert – the weather was gorgeous – not too hot, not too cold, and the orchestra sounded great.  Wonderful evening all around!  It's quite a lovely part of the state, and I hope to visit it again soon!