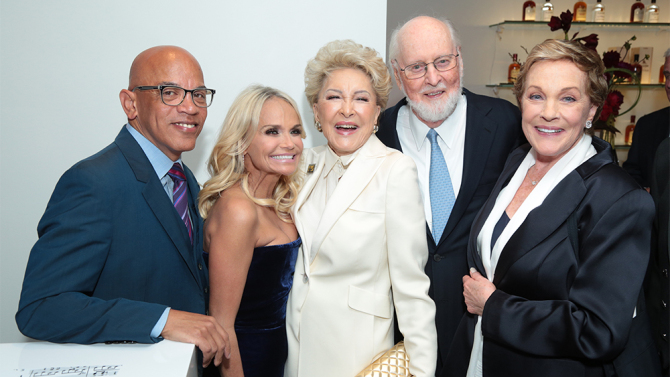 Nearly $1 million was raised for the Wallis Annenberg Center for the Performing Arts during a star-studded tribute to the music composer Henry Mancini Saturday night at the Wallis theater in Beverly Hills.
Approximately 450 attended the event, which featured many of Mancini's movie and TV hits, from the Oscar-winning songs Moon River and Days of Wine and Roses to his hit themes for The Pink Panther and Peter Gunn.
Two other film-scoring giants, Quincy Jones and John Williams, joined forces for a crowd-pleasing finale: the jazzy, Grammy-winning "Gunn" TV theme. Jones conducted the 55-member Henry Mancini Institute Orchestra, and Williams (who performed on the original 1958 recording) played piano.
Williams told Variety that Mancini's music was "part of the American musical fabric" and, during his early days as a pianist on many Mancini dates, "he always impressed me with his calm, self-confident assurance."
When composer Williams took the stage, after conducting Chenoweth in an arrangement of "Moon River," he too directed his memories at Ginny.
"I was all of 25 years old when Henry invited me to Universal Studios to play in his orchestra for a film session," he recalled. "And apparently, it went very well, and I began to play with Henry on all of his recording sessions. He frequently had a chorus, and there was a beautiful young girl I kept noticing on session after session. One day I said to one of my musician friends, 'Who is that fabulous blond girl up in the chorus? The third one in from the left.' And he said, 'Forget it. That's Ginny, and she's married to Hank.'
"So when Ginny invited me to be her date tonight, after I think 60 years" — Williams savored the pause — "I feel like I have finally made it."
Full article at the Los Angeles Times
https://www.youtube.com/watch?v=wKagg4c_fp8
https://www.youtube.com/watch?v=atYVXiEri-Y
VIDEO: Quincy Jones conducting, John Williams on piano, Dave Kos on sax and Abraham Laboriel on guitar, with the Henry Mancini Institute Orchestra.